The world is changing and with it comes the opportunity to innovate. How brands can innovate is in itself being disrupted, but the principal idea remains the same; brands that innovate in a Meaningfully Different way will win out. This is especially relevant in times of crisis as brands that are perceived as innovative grow their value seven times faster than those that aren't (Source: BrandZ).

One category that is seeing an abundance of new product development is Ready to Drink (RTD) beverages like pre-mixed cocktails, spirits, and hard seltzers. For instance, this year alone, alongside many others, we have seen the launch of Vita Coco's & Captain Morgan, Jack Daniels & Coca-Cola, and Spiritless' no alcohol cocktails.

This wave of new products comes with huge potential for sales, with the RTD category showing consistent penetration growth, even beyond the covid-induced spike in 2020/2021. For instance, in GB over past year we have seen a 6% growth in value for the off-trade RTD category (Kantar Worldpanel; Past 52 weeks, GB), with the category more broadly showing strong potential for growth in the next few years.

RTD's offer a huge opportunity for growth
Research from Kantar's BrandZ database shows the 'Hard Seltzer' market alone is set to grow by $10B in the next few years. With Kantar Worldpanel finding currently RTD's are the fastest growing alcohol beverage category in off trade BWS (Beer, Wine, Spirits) in GB. A key factor driving this category growth is the brands more innovative positioning, with the trend setting nature distinguishing RTD's from traditional alcohol sectors like Beer.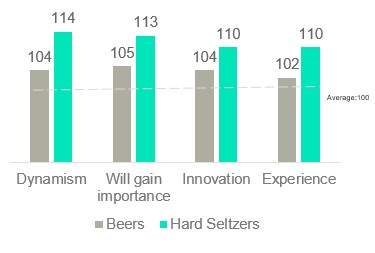 (Source: BrandZ data, US Hard Seltzers 2020, US Beers 2020, Source projected value: Grand View Research report via Forbes)

While not the ignitor, Covid-19 brought to the forefront a 'new' drinking occasion outside bars/clubs, (be that individually or socially). The convenience of Ready to Drink cans gave people the freedom to enjoy the same great taste in their own home, or anywhere really, for a fraction of the price. And, as on-trade sales recover post-covid, they also offer a great alternative to pricey cocktails – An increasingly relevant option if the cost of living continues to rise (BrandZ Global 2022 report: Alcohol Category).

RTD's also present a greater variation in offer, especially for those who are moderating (e.g., offering low or no alcohol options) and those with intolerances (e.g., gluten free options). Which when coupled with their super convenient, and often more eco-friendly, recyclable packaging makes RTD's a beverage for the modern age, and the modern consumer.

With lots of brands moving into this space, it is important to be Meaningfully Different

With this new category opportunity, we are not only seeing new players launching in market but also established brands expanding their portfolio, including Coca-Cola, ABInBev and Diageo. Given the competitive landscape, brands, both young and established, are going to need to work hard to stand out.
At Kantar we know differentiation is key. If you want to build a brand that is not only strong, but profitable and long lasting you need to be Meaningfully Different, with research showing to consumers difference is worth paying more for.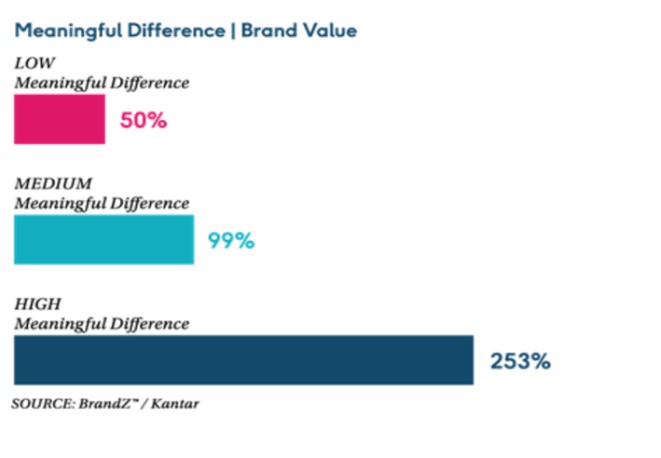 How you achieve this positioning will somewhat differ by category. For instance, for Seltzers, Convenience, Superiority and Distinctiveness are among the most important factors driving Brand Power (BrandZ US Hard Seltzer 2020). But in any case, (and especially as the market becomes more saturated) it will be increasingly relevant for brands to find their own unique Meaningfully Different space (Source: Kantar, How brand strength supplies resilience for rapid recovery and future growth).

For example, in the US where the hard seltzer market is more advanced, traditional beer brands that had extended their portfolio were not fairing as well compared to standalone labels like White Claw and Truly. This was influenced by the fact the more established Seltzer brands were not only more Salient, but also considered more Meaningfully Different.

So, for those new to market (and those defending their positioning) effective advertising around the brands unique personality/offer proves to be more important than ever. It is not enough just to be entertaining; adverts need to go a step further and truly champion the brands core proposition in a distinctive way.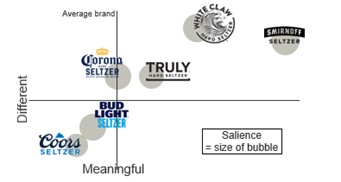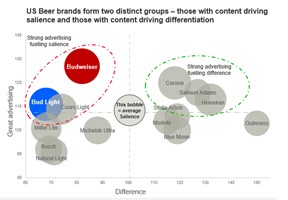 (Source: BrandZ data, USA Spirits 2020, USA Beers 2020)
While a challenge, it is worth championing, as innovation executed well can be a great way to distinguish the brand and drive growth. For instance, in 2021 Coca-Cola introduced a new seltzer 'Topo Chico' to the European market. This innovation was noticed and appreciated by consumers, leading to an increase in Coca-Cola's 'Innovation Index' between 2020 and 2021. This new beverage contributed towards greater differentiation from key competitor Pepsi, therefore driving up brand value.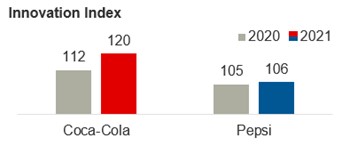 (Source BrandZ data: brand value from US ranking 2021, Meaningful Difference from US Soft Drinks 2020 vs 2019, Innovation from global US data 2021)
What can we do to stand out in this growing market?
Packaging has a big role to play…
With the ever-expanding selection of products on offer both in-store and online, packaging is becoming increasingly important to consumer decision making. Packaging needs to do more than simply stand out on the supermarket shelf, it needs to feel unique to the brand, support the brand values, be relevant to the usage moment and consequently help to convert sales.

Take for instance the role of sustainability in decision making. As people become more environmentally conscious, they are paying more attention to the wider product journey i.e., is it recyclable, ethically sourced etc. Considering RTD's (generally) are sold as single-serve, brands need to seriously consider if they are innovating sustainably and in a way that feels true to the wider brand purpose. A brand that has done this well is Inch's, who successfully tapped into consumers growing desire for authentic, environmentally conscious products by promoting the fact their apples were sourced within 40 miles of production. This approach helped Inch's distinguish themselves in a purposeful way, in turn landing them 8th in Kantar Worldpanel's Top 10 NPD's of 2021.
How you present your product is crucial, especially when it comes to tapping into personal relevance…
People are looking for products that represent their own unique personalities, they want products that are felt to meet a need in a way that feels relevant to them. And often, they want that product to feel premium. As such, how a brand communicates its unique offer thought advertising is key.

Smirnoff Vodka Seltzer did this well with their 'There's Seltzer Then There's Smirnoff Vodka Seltzer' advert. Smirnoff used on trend stylising and a superiority message to help the brand stand out, leading to a win in the OOH category of the 2021 Kantar Effectiveness Awards (Agency: Leo Burnett & Prodigious - Print/Outdoor, Australia). Creating this type of dynamic advertising that generates buzz for the product is important, as research has indicated 'Talkability' is among one of the strongest factors motivating people onto trial.


It is also worth considering the actual offer you are bringing to market; Is it inclusive, is it forward thinking?

Having a more inclusive offer and in turn capitalising on growing trends and offering products that are organic, gluten free or low/no alcohol can help a brand stand out. Flying Fish opted for this approach, as while the brand sits in the more traditional beer category, it tailored its offer to target those interested in alternatives, meeting a relevant need, and promoting the brand as one that sets the trend in market.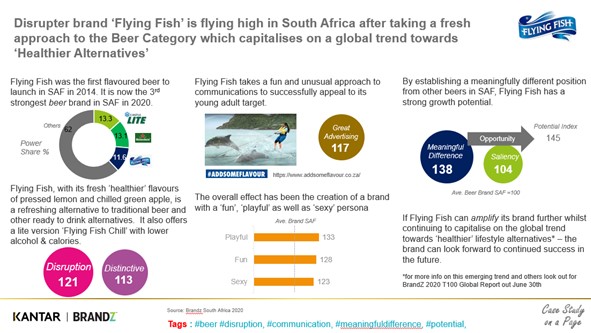 Interacting with consumers in a meaningful way though product experience…
Data from the Kantar Global Monitor (2021) showed 72% of consumers are looking for ways to make their life simpler. RTDs are convenient to buy, carry and drink which when coupled with their lower price makes them the obvious 'easy choice'. This worked well when off-trade was the only option, but as we migrate back to on-trade drinking occasions, experience becomes increasingly relevant to choice. Therefore, it's important establish to your brand as one that can provide a great experience no matter the context.

Take for example Aperol. The brand faced similar challenges to others during covid with a decline in on-trade sales because of lockdown. Despite this, brand value in Italy increased 54% between 2020 and 2021 as the brand capitalized on in-home drinking occasions. Leveraging its strong brand equity, Aperol pivoted its comms towards 'homemade cocktails', keeping the brand in mind and on trend during the pandemic.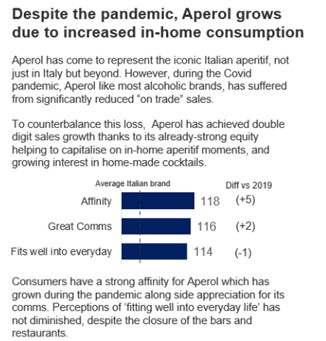 (Source: BrandZ Spirits Italy 2021 vs 2019)

Other alcohol brands have taken the idea of modernizing the drinking experience even further, such as Heineken's Virtual Sliver Beer, or Jose Cuervo's meta-distillery. Miller Lite even went so far as to create a virtual bar in the metaverse to air their 2022 Superbowl campaign (Source: Wundersman Thompson Intelligence: New Realities; into the Metaverse and beyond). While not the traditional drink-in-hand experience, these are great examples of distinguishing through distinctive ideas and meeting consumers where their interests lie.


Engage with consumers though sensory experience…
"Brands that understand the power and strategic role of flavour will set themselves up for success" – Kantar Consulting.

When approaching flavour innovation, many address it functionally or as an added feature – whether that is through portfolio expansion or short-term incrementality. However, flavour is highly sensorial and if used in the right way it can evoke emotion, capture memories and forge connections. To quote Mark Schatzker, "If music is emotion conveyed through the medium of sound, flavour is emotion conveyed in the medium of food" (The Dorito Effect: The Surprising New Truth About Food and Flavor)

Flavour offers huge potential to drive Meaningful Difference when used strategically, and therefore can help to strengthen brand equity. A few questions we ask our clients are, do the flavours suit your brand's personality, do they tap into culturally relevant emerging trends, are they unique or are they cannibalising your pre-existing portfolio, and are the verbal/visual cues use in comms evoking this desired mood/emotion? (Source: Kantar Consulting; Reimagining the World of flavour).

So, what do you think? Are you communicating your brand offer in a Meaningfully Different way?

Getting these elements right can help your brand stand out and build long lasting value. To learn more about how to effectively stand out in market, reach out to our experts at Kantar. We have a number of tools specifically designed to tackle elements like packaging, advertising, touchpoint synergy and much more. To look at our offer in more detail click here