According to our smartphone OS data for the third quarter of 2021, Huawei continues to struggle to resurrect its market share in all reported markets, challenged by a multitude of obstacles from US sanctions to chip shortages, and more. This has opened opportunities for original equipment manufacturers (OEM) competitors to steal sales share and reshape the competitive landscape.
It's been a great sales quarter for iOS, particularly in China (+6.4 percentage points year on year), US (+4.6 percentage points year on year), and EU5 (+4.3 percentage points year on year).
This quarter, even with Samsung holding stable performance across Germany, Great Britain, Spain, Australia, and the US, and having strong performances from Xiaomi and Oppo, this has not been enough to compensate for the share contributions Huawei made last year to Android, and to offset performance from iPhone.
Despite the threat from Huawei slowly fading, there is still much for iOS to watch out for with the rise of other Chinese brands, namely Xiaomi and Oppo. In Q3 2021, Xiaomi takes 41% of sales share in Spain and grows across all other reported markets, except in Italy where the OEM holds stable, and in the US where its presence is limited. Both Xiaomi and Oppo demonstrate impressive growth in France, +11 percentage points year on year and +4 percentage points year-on-year, respectively. France is a market where smartphone resale is much higher than other markets, so it is unsurprising that lower price point smartphones perform well in this market. Oppo's growth in China, Japan, Spain and Italy sits at least 4 percentage points higher this quarter vs. a year ago.
In Q3 2021, the iPhone 12 model is the #1 sold smartphone model across all reported markets except in Japan (ranking #2), Italy (ranking #2), and Spain (ranking #10). In US, Germany and Australia, all four models from the iPhone 12 series rank within the top 10 models sold. Despite being a 2019 launch, the iPhone 11 remains popular among smartphone buyers, continuing to place in the top 5 models sold in all reported markets except Japan.
In EU5, 67% of iPhone 11 buyers were driven by the "camera quality", and it over-indexes on this feature by 131 vs the average smartphone bought. 40% were attracted to the iPhone 11 due to its "reliability/durability"; this is 127 times higher than the average smartphone sold. It's no wonder that Apple are continuing to sell the iPhone 11 alongside their latest launch of iPhone 13 models.
Samsung S21 5G also proves popular in Germany (ranking as the #3 model sold) and is the #6 model by sales in Italy and the US. Samsung sales in Q3 2021 are also driven through Galaxy A series models, with at least two models ranking in the top 10 in France, Germany, Italy, Spain, and Australia. This, and the growth of brands like Xiaomi and Oppo, demonstrates consumer appetite for more affordable smartphones that still offer the latest technology.
Contrary to what the industry has chimed for many years, that "smartphones are getting more expensive", the average price paid for a smartphone handset has actually declined vs. 2 years ago in the US, Australia and Japan, for both Android and iOS. Despite smartphone technology advances such as 5G enablement and camera quality, the cost to consumers has remained accessible; for example, the iPhone 13 mini starts at $699 US and is classified in the premium price tier, as opposed to traditional new launches landing in the super premium tier. The Samsung Galaxy A series, Xiaomi and Oppo also offer various 5G models and compete outside of the super-premium tier. There's more pressure across competitors to win share amid a narrower window of opportunity due to consumers continuing to hold on to their smartphones for longer, so OEM's must be competitive in technology as well as price.
Between 34% and 66% of smartphone buyers across all reported markets cite "cost of handset" in their top 3 overall reasons for purchase. However, only 8% to 17% of buyers say it's their primary overall reason for purchase. "Handset brand/model" tops the primary reasons for most buyers across all reported markets except Japan and Spain, but this has trended down year-on-year, suggestive of potential brand loyalty risks. This presents an opportunity to steal share from competitors but also highlights the need to ensure customer satisfaction is attained.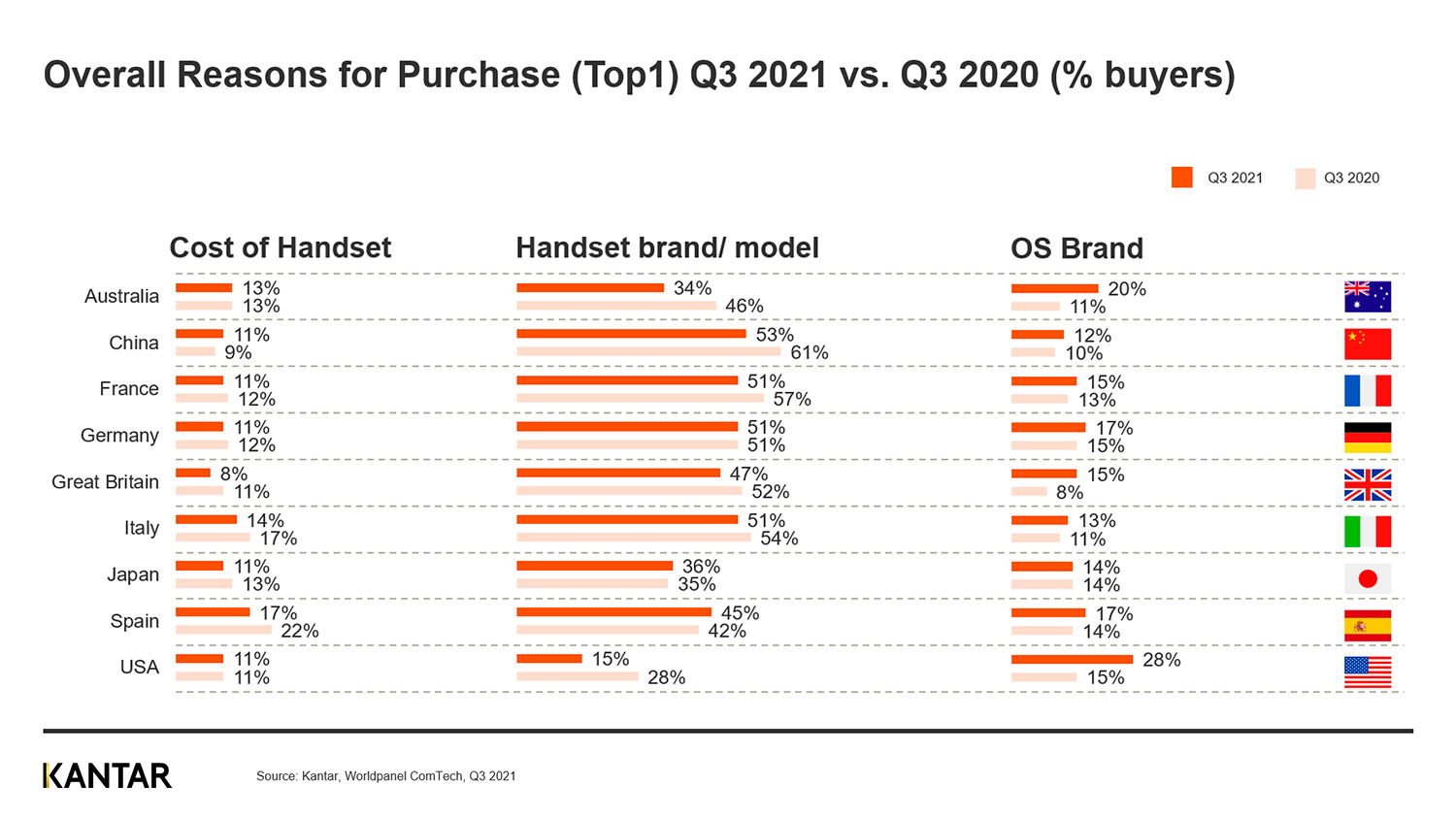 Access our data visualisation tool to view and analyse smartphone OS market share data online. The latest sales share figures for the major operators can be viewed and compared with historical figures here.