Every once in a while a brand or product category decides it has to reinvent itself when faced with dramatic change in its sector. Visa, the #7 on the Top 10 Kantar BrandZ Most Valuable Global Brands (the 6th most valuable American brand) had no change in brand value from 2020 - 2021, coming in at $191 billion, but in the face of digital payment apps, decentralized banking and crypto currency infatuation decide to do a brand refresh. Payments is literally a transactional category and differentiation with rivals like Mastercard is tough. Visa hired famed branding firm Weiden & Kennedy to reassert its power and pop its navy/gold brand colors into a brighter blue for the digital age. The new creative and tagline come on the heels of memorable campaigns like "it's everywhere you want to be" to now simply state: "meet Visa." Their brand value in Kantar's top 100 rose 23% in 2021, likely related to these global marketing initiatives.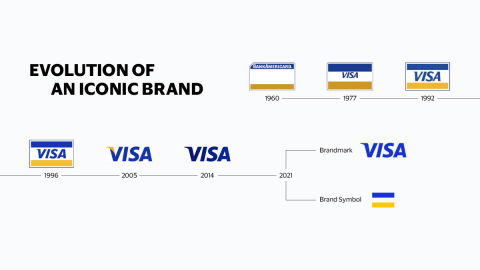 Visa's meaningful difference
Visa leads in terms of number of cardholders for 2021 at 361 million to 274 million for Mastercard. Visa brought in revenue of $22 billion in 2020, compared to rival Mastercard's $15 billion. To understand why Visa is in the lead, we turn to Kantar's Meaningfully Different framework. Using millions of consumer surveys administered globally, along with corporate financial data, Kantar ranks Visa at an index of 153 for Meaningful, 93 for different and 162 for Salient. Salience is a measure of how meaningfully different a brand is to the consumer and is often expressed in how it becomes top of mind when a need arises or a category is considered. Compare that to Mastercard, which ranks at 117 for Meaningful, 83 for Different and 117 for Salient. Visa clearly triumphed over Mastercard for brand building in 2021.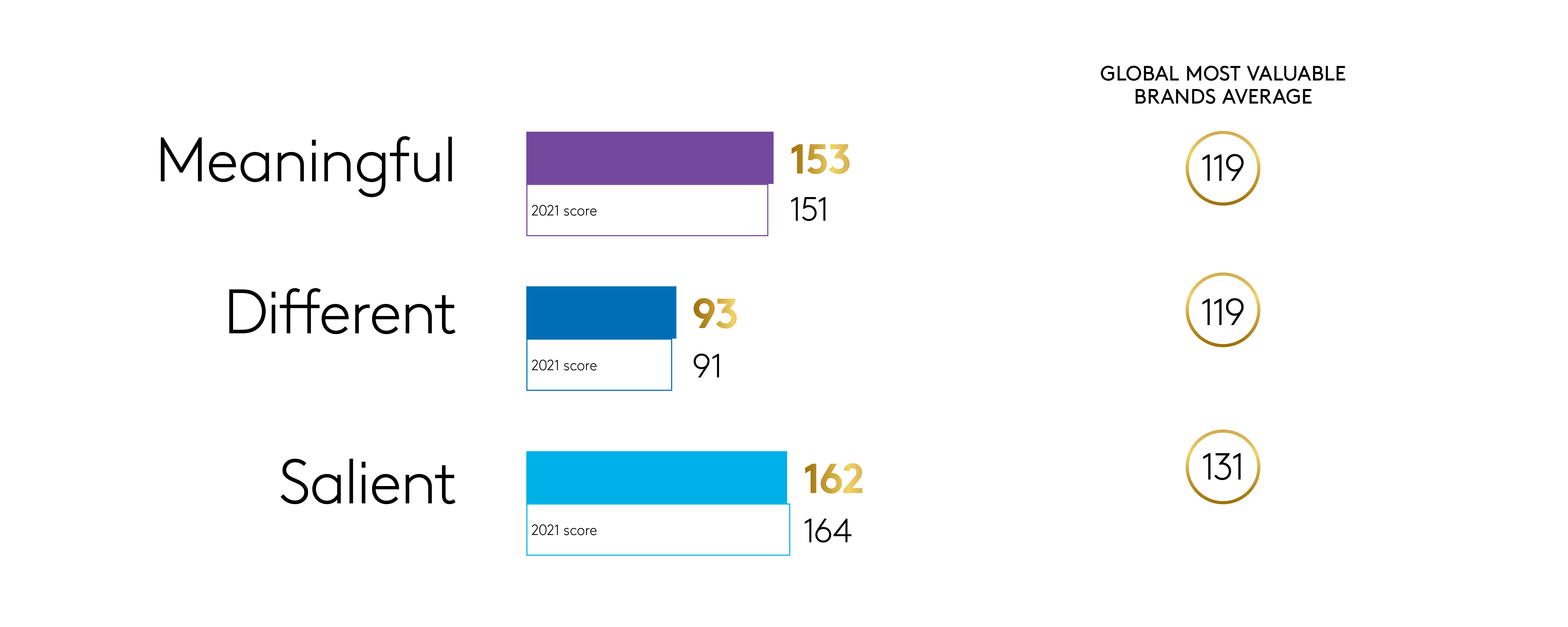 Another key factor is how Visa is rated for trust metrics. In challenging economic times, when some are turning to credit cards in order to keep up with inflation, Visa had an index of 125 for consumer trust, 135 for superior performance and 121 for fits well in everyday life.
Turbulent times call for strong brands
Kantar BrandZ shows that brands building strong equity perform better both during and after economic disruptions. The credit card sector has experienced whiplash, first from the pandemic and now inflation. Initially, with consumers stuck at home during 2020, people lowered their card spending. In 2021, Visa's rising revenues reflected consumers excited to get out and about again and spend money on retail and travel. Now, in 2022, with inflation hitting 40 year highs, consumer credit card debt is near an all-time high in the US which benefits Visa, the category leader. 
What's behind the rebranding
As covered in Kantar's global financial services report, traditional financial services, including banks and credit card companies, have been under siege from innovations in the fintech sector that have won over younger cohorts. Need to pay a small vendor at a concert? Gen Z and Millennials are likely to whip out their phones and use Venmo or Apple Pay. Klara, Europe's first unicorn fin tech, rose on the scene with their divide up into easy payments that do not affect your credit. Their 2020 valuation of $10 billion was eye popping and they have had their challenges in 2022, but they have had a remarkable rise by offering an update to an old concept. 
Visa's new brand campaign seeks to assert that this is not just your grandmother's credit card company, but a versatile payments platform fit for contemporary lifestyles. The one-minute introduction to the brand refresh is worth watching here.
As their corporate announcement with the new campaigns says, Visa is the evolved brand you need to "meet" and is focusing on "expanding access and moving the $17 trillion spent in cash and checks globally to digital payments…New payment flows, including cross-border person-to-person payments and a range of value-added services that help businesses of all sizes navigate today's landscape."
Then there's crypto
Anyone who watched the 2022 Super Bowl, might have wondered what was up with all those celebrities schilling crypto currency. Academy Award Winner Matt Damon chided potential investors to step up as "fortune favors the brave." And while crypto valuation volatility has recently been seeming like the latest dotcom bust, the global interest in blockchain based, non-banked currencies has proven too hot for Visa to ignore. 
In 2020, Visa attempted to buy Plaid, whose API software enables start-ups to connect to users' bank accounts and works with Venmo, mobile investing app Robinhood and cryptocurrency exchanges Coinbase and Gemini. The deal was worth $5.3 billion but it was blocked by the Department of Justice in early 2021 for potential restraint of trade issues.
Visa then made their next crypto move by joining archrival Mastercard as an investor in Deserve. They launched a Visa credit card backed by cryptocurrency financial services provider BlockFi in July of 2021 that is now approaching $2 billion in annualized transaction volume.  BlockFi cardholders are projected to spend roughly $30,000 per year, 50% above that of average credit cardholders, according to their CEO. The card pays at least 1.5% back in Bitcoin on every purchase.
In 2022, whether card holders are looking to traditional banks for their credit card needs or want something hotter and newer like a crypto-backed card, millions are sure to meet up with Visa.