In August 2022, Kantar surveyed 1000 respondents in each of ten countries to evaluate key issues relevant to physical and emotional health in the post-pandemic era. We evaluated global results and also analyzed the data in terms of gender, age, and national effects.
Our new report, Connecting with the Health & Wellness Community, provides rich insights into the state of global health today, as well as how consumers are using technology to monitor and improve health.
The report also evaluates global and national uptake and use of health and fitness apps and subscriptions.
The data shows that consumers reap benefits from using fitness apps for both physical and emotional health. However, a majority of parents are concerned about the impact of smartphone use on the emotional health of teenagers and children.
Here we explore some of the key insights.
Daily smartphone usage
The use of smartphones is now embedded in consumer behavior. 20% of our total respondents say that the first thing they do each day on their smartphone is check their personal email. 17% open a social media app first.
Age does influence how people first use their smartphones each day. For example, Boomers are most likely to check their personal email (27%), read the news (18%), and send a text message (11%). Gen-Z, the youngest cohort, has a different pattern, with 25% first opening up a social media app, 13% checking personal email, and 12% listening to music first.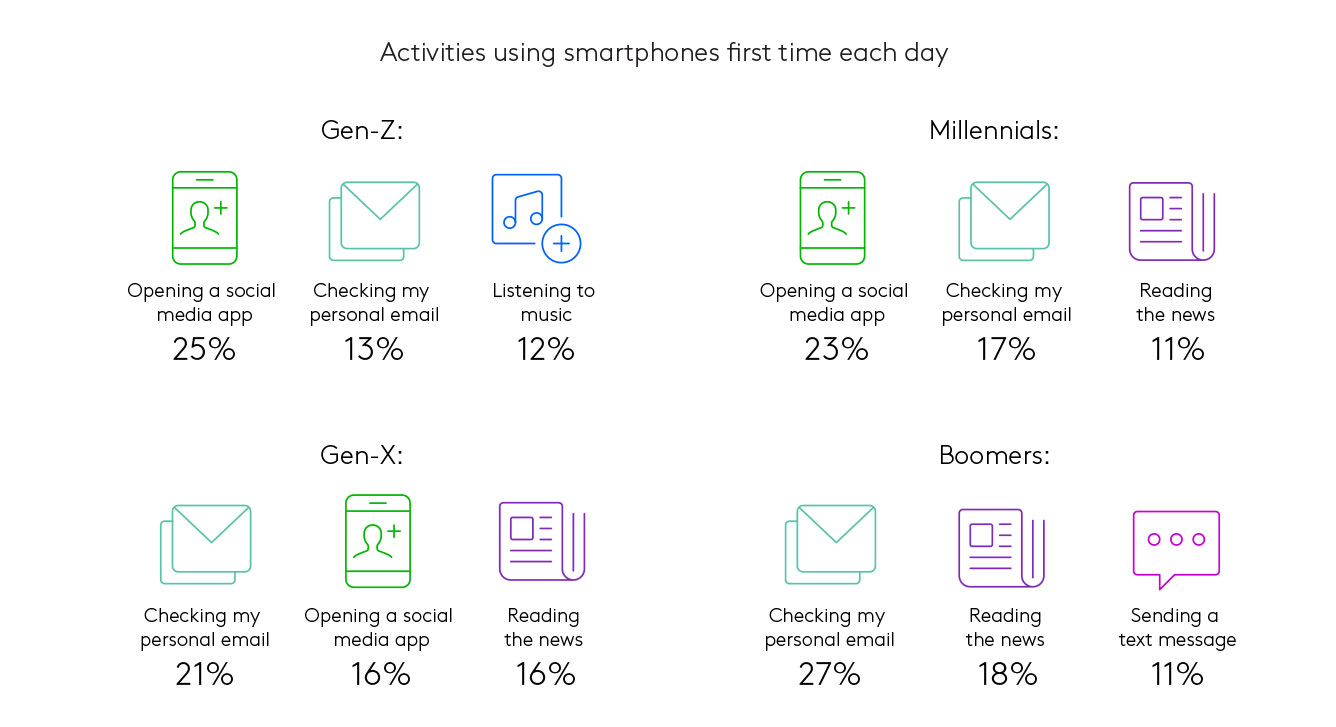 Globally, women report spending an average of 4.95 hours a day on a smartphone, compared to the male average of 4.4 hours.
Germans spend the lowest amount of time on their smartphones, with German men averaging 2.66 hours per day and women averaging 3.37 hours per day.
South Africa shows the highest levels of smartphone use for both men and women. Men use their phone an average of 6.38 hours per day, while women are on their smartphones 6.76 hours per day.
Age cohort plays a key influence on smartphone usage and decreases sequentially from the youngest consumers (Gen-Z) to the oldest (Boomers). Gen-Z respondents reported spending an average of 6.37 hours on their smartphones. Daily average use then declines, from Millennials (5.57 hours) to Gen-X (4.4 hours), to Boomers (3.38 hours).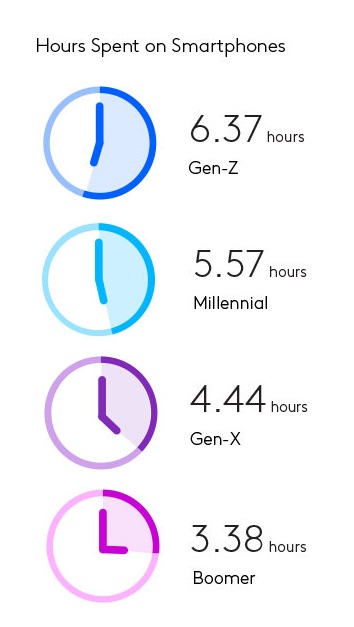 Consumer's stress levels rise when they cannot find their smartphones
As the use of smartphones permeates daily life, consumers often experience higher stress levels when they cannot find their phones. This result also differs by generational cohort, though even one-third of the Boomer respondents experience a stress level of six or higher (on a 10-point scale) when they cannot find their phone.
Millennials are most likely to experience stress in this situation, with 63% of these consumers reporting a stress level of six or higher. This is followed closely by Gen-Z at 60%, and Gen-X at 51% reporting stress at this elevated level.
Conversely, only 8% of both Gen-Z and Millennial respondents report a low-stress level (one or two) when they cannot find their phone. 15% of Gen-X experience low levels of stress in this situation, compared to 32% of Boomers.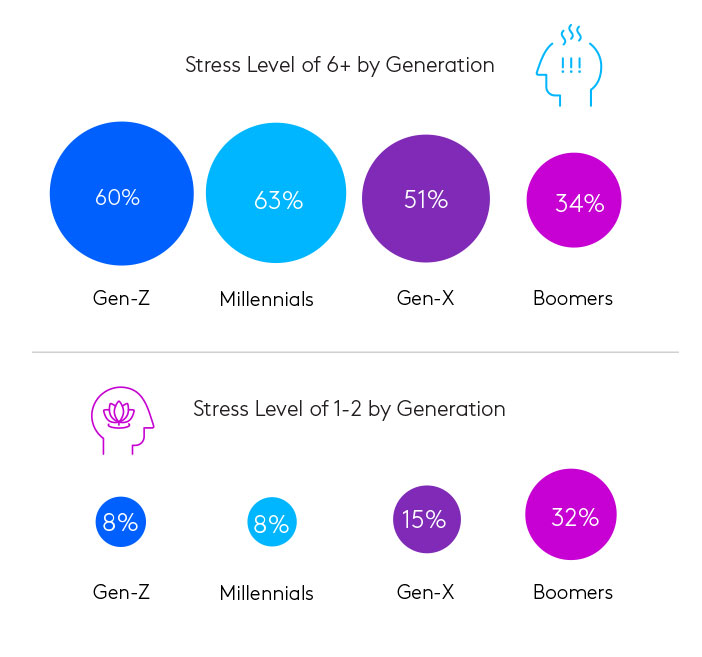 Parents believe that smartphones have a negative effect on children's emotional wellness
The data also supply insights into how parents perceive the health effects of smartphone use on children.
We asked parents whether or not they felt that the use of smartphones (the child's use, the parent's use, or both) had a negative impact on children.
Globally, more than 70% of parents believe that smartphone usage has a negative effect on the emotional wellness of children aged 0-17.
With respect to very young children (aged 0-4), South African parents had the lowest overall level of concern about smartphone use, though over half (62%) of these respondents concur that smartphones have a negative impact. India had the highest level of concern for this age bracket, with a remarkable 89% of parents feeling that smartphone usage diminished emotional wellness.
Parents also felt that the emotional wellness of children (aged 5-12) and teenagers (aged 13-17) were negatively affected by the use of smartphones. Singapore and India were the most concerned in both cases, with 88% of Singaporean parents concerned about the emotional wellness of children and 85% concerned about teenagers. 85% of Indian parents were concerned about both age groups.
We also asked parents about children aged 18-21. While the percentage of parents showing concern dropped in each country for this group, the numbers remained high. Spanish parents had the lowest level of concern at 45%, while India and Brazil topped the list at 78% and 70%, respectively.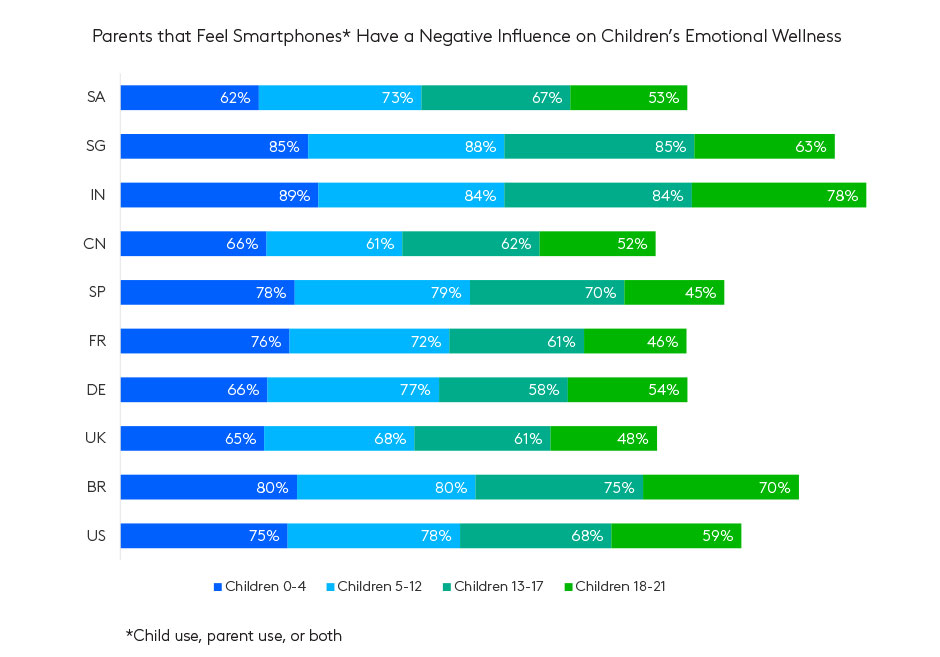 Get more answers
For more insights from this comprehensive study, access the complete Community Report: Connecting with the Health and Wellness Community.
Find more generational, gender, and country-specific insights on the impact of the pandemic and the cost-of-living crisis on emotional wellness and the ways in which respondents use digital technology to access wellness resources.
This research was conducted online using 10,000 respondents (1,000 per market) sourced from the Kantar Profiles Audience Network across ten global markets: US, Brazil, UK, Germany, France, Spain, South Africa, China, India, and Singapore.
All interviews were conducted online in August 2022 and collected based on local census distributions for age and gender. The generational cohorts were defined as follows: Gen-Z (18-24), Millennials (25-39), Gen-X (40-55), Boomers (56-75).