How has the pandemic impacted patients in the long-term? While most people suffering from coronavirus illness recover within weeks, some continue to have symptoms long after recovering.
Add to that the issues that arise due to the pandemic, such as isolation and delay of care, diagnosis of medical conditions and treatment. The combination has led to some long-term health issues.
In a recent study Kantar conducted among our global physician panel, we set to explore the impact of the COVID-19 pandemic from the perspective of primary care physicians. Here are some symptoms or conditions they report seeing since the start of the pandemic:
Significant weight gain
Topping the list in most countries represented was an increase in weight. Physicians in all markets reported this being significant, 76% said they have observed more patient weight gain since the start of the pandemic.
Harvard Medical School estimates that the average range of weight gain was over 12.5 lbs in the U.S. In addition, they state that 10% of patients gained more than 27.5 lbs.
More chronic fatigue
Physicians in several countries voiced concerns about chronic fatigue, as well. This may be a result of the isolation, according to the American Medical Association (AMA). Chronic fatigue was the condition that increased the most in Germany, with 84% of surveyed physicians reporting they have seen an increase since the start of the pandemic.
Shortness of breath
Physicians across all countries reported an increase of shortness of breath. This was highest in Spain, with 83% of physicians reporting more shortness of breath among their patients.
Other findings
There were many consistencies among physicians, regardless of where they are based, beyond increases in patient weight gain, chronic fatigue, and shortness of breath. For example, physicians in every country said they have seen an increase in chronic neck and back pain, most of them at close to 70%.
Some issues seemed more isolated, though. For instance, Italian physicians said they have seen more of an increase in heart palpitations (75%) than other markets, whereas 62% of French physicians say they see about the same number of patients
40% of U.S. physicians and 39% UK physicians say they are seeing more patients with diabetes since the start of the pandemic, whereas 77% of French physicians and 68% of Italian physicians report that they see about the same.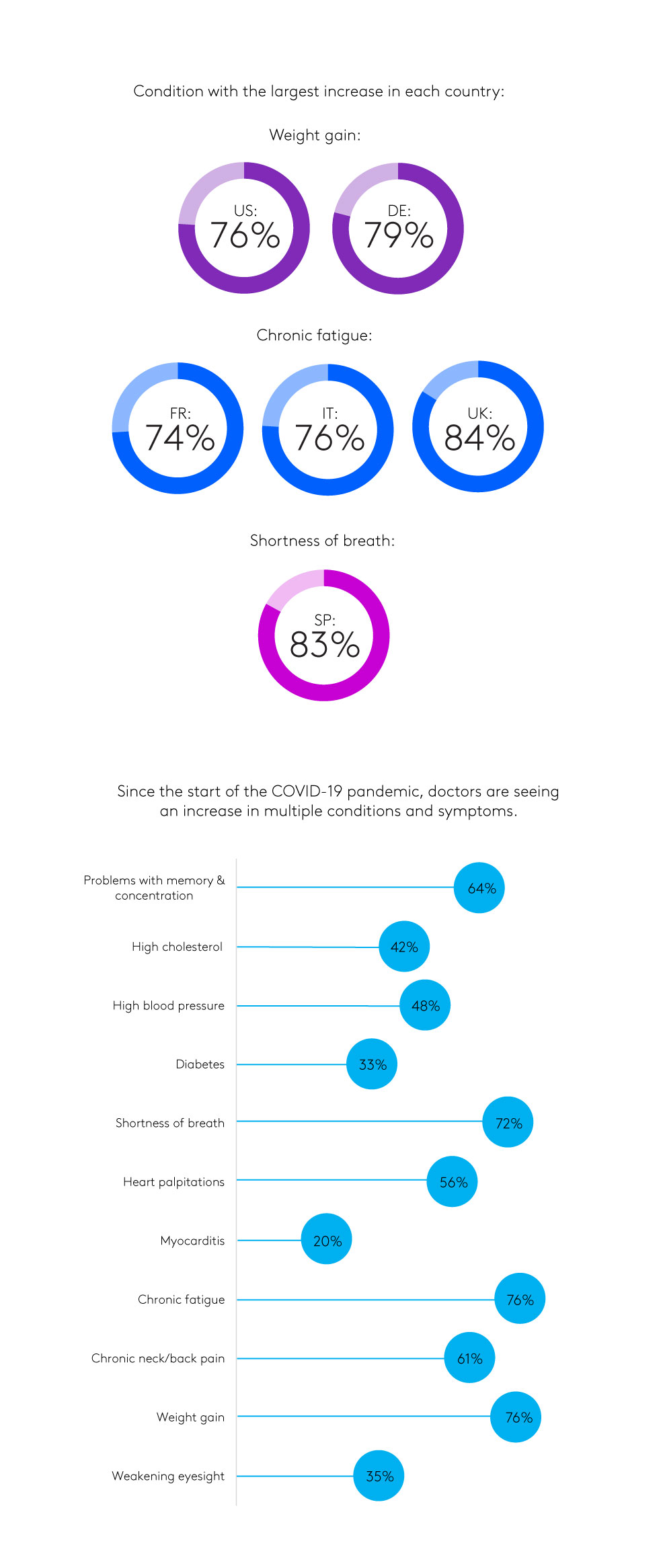 About This Study
This research was conducted online using 1,253 primary care physician respondents from the Kantar Profiles Healthcare Panel, part of the Kantar Profiles Audience Network, between February 15-21, 2022.
Markets included: US (286), UK (274), Germany (86), Spain (266), Italy (216) and France (125).
Learn more
Find more about this study, learn about our Healthcare data collection services or our proprietary Physician Panel, contact us.