The line between offline and online has blurred in consumer journeys over recent years. Consumers search for products online and buy them in an offline store later, or vice versa. Commerce touchpoints are more integrated into the omnichannel path to purchase than ever before, with sophisticated targeting capabilities and digital platforms becoming a more integral part of consumers' day-to-day life.
Insights from Kantar's media databases show that given the interaction of online and offline touchpoints, marketers need to align media and advertising strategies across both to maximise brand building and improve marketing ROI.
The last chance to influence consumers
Point of Sale (POS/in-store) ads are one of the channels where consumers are most receptive to advertising, helped by its non-intrusive nature. POS advertising is the last chance for brands to influence consumers at the point of purchase and will remain essential for brand building.
Kantar's CrossMedia database shows that POS ads are efficient in brand building across different KPIs and consumers are receptive to these ads. When run alongside paid media campaigns, POS ads are very cost effective for building brand equity. Kantar's Media Reactions 2022 study ranks point of sale ads as consumers' fourth most preferred place to see ads. And campaigns are seven times more impactful amongst receptive audiences.
Top-ranking media channels - global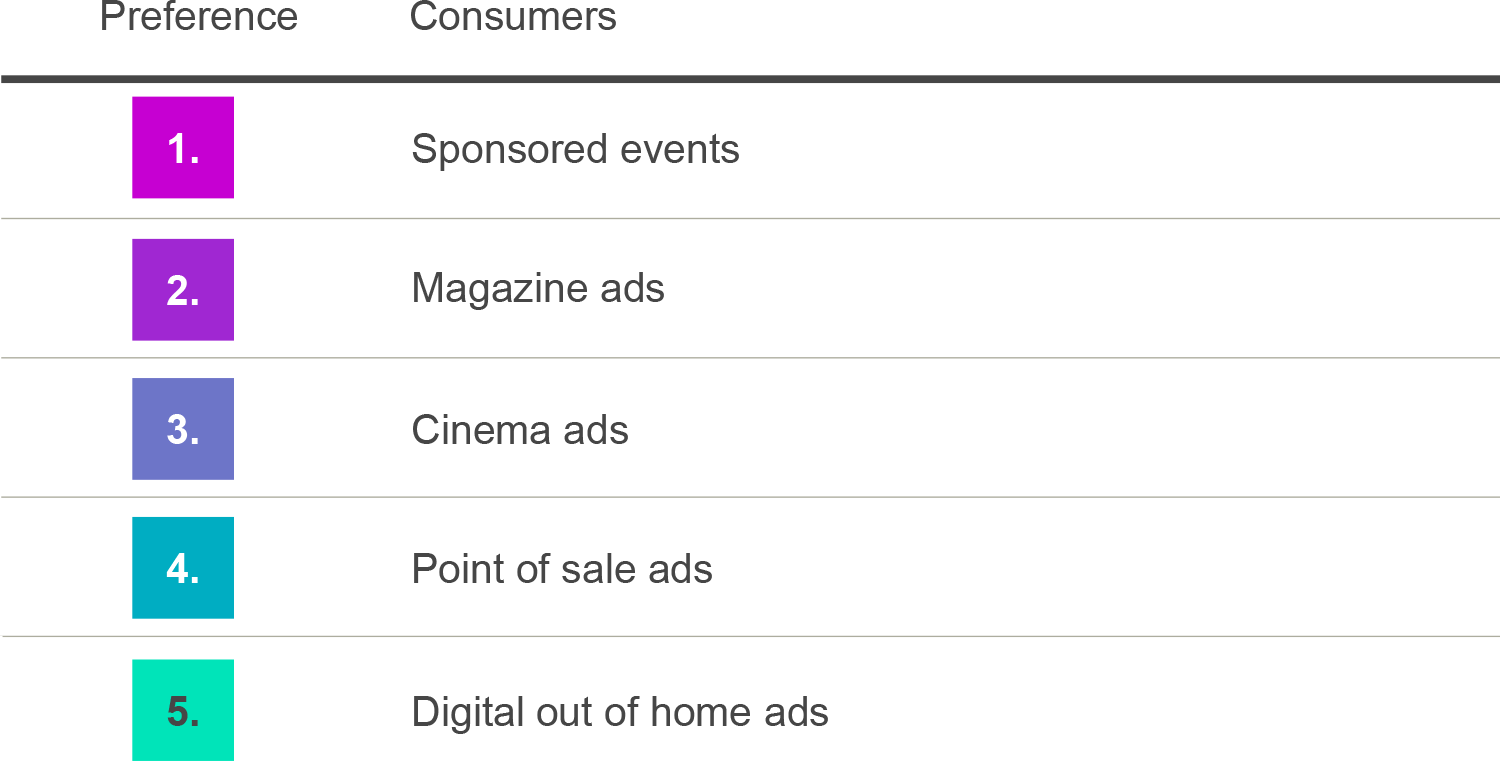 Source: Media Reactions 2022
Align POS ads with other touchpoints
Our analysis shows that synergies with above-the-line ads are key to cost-effective brand-building. Successful integration of POS ads across media channels and brand touchpoints is characterised by the use of distinctive brand assets, and the reiteration of key marketing messages. Messaging in POS ads must be carefully adapted to shopper mindsets, needs and priorities to influence brand disposition.
Online marketplace ads have become an important part of media plans, especially for brand-building campaigns. Although this trend is stabilising, the COVID-19 pandemic accelerated ecommerce growth with more shoppers worldwide buying online. Despite a reputation for excessive targeting, advertising on specific ecommerce platforms is well-received by consumers compared to other online channels. Our research for Mercado Libre, a giant online marketplace in Latin America, determined that the engaged mindset of consumers while shopping in their online store has enormous potential for generating brand awareness and building brand perceptions across different categories and campaigns.
In addition, Kantar's Media Reactions 2022 shows that ecommerce giant Amazon is the global media brand consumers are most receptive to seeing advertising on.
Top-ranking media brands - global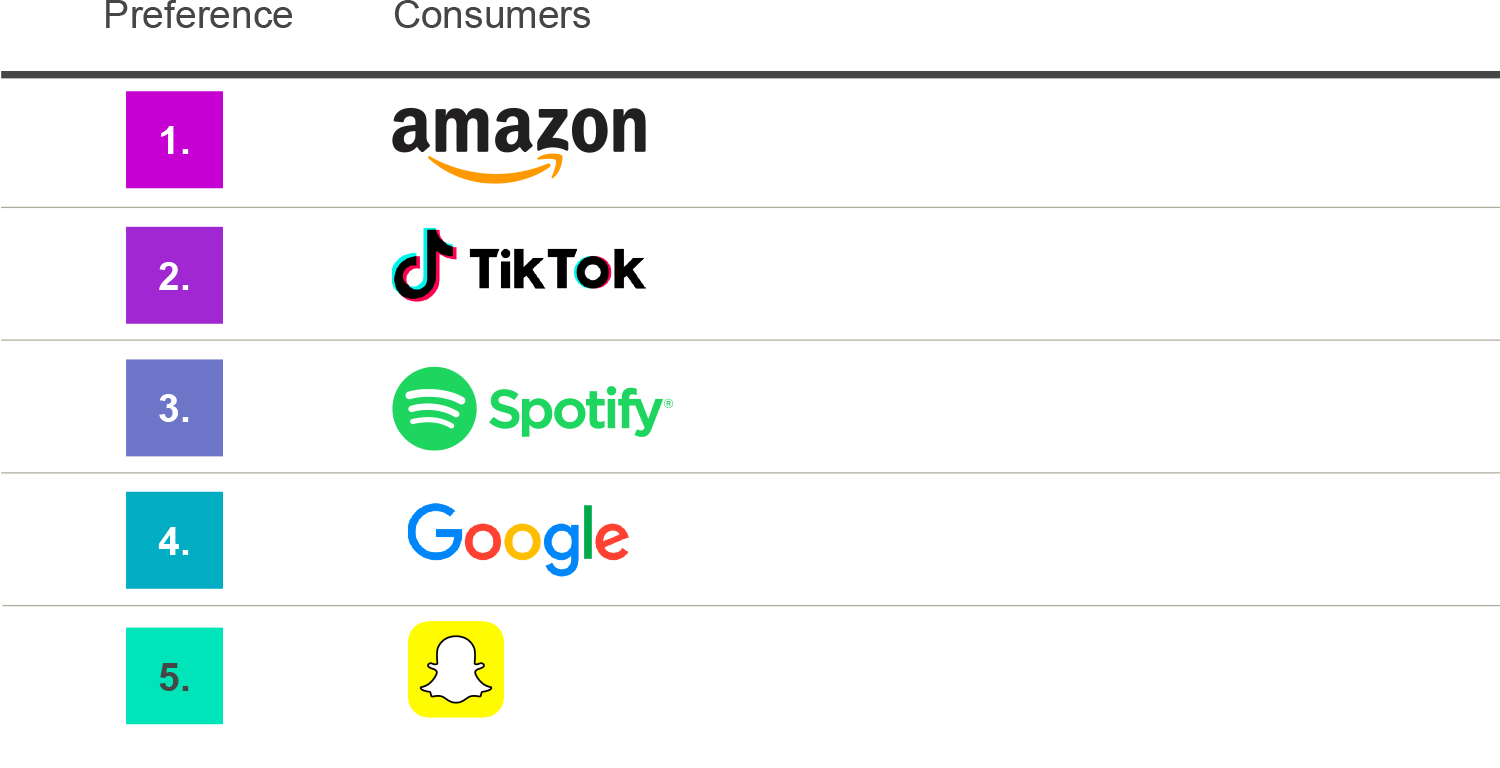 Source: Media Reactions 2022
Websites and apps drive brand building
Kantar's Connect database shows that brand websites, including online stores, boost brand strength more than other commerce touchpoints like brand stores and POS ads. Brand websites provide consumers with more product details than other channels and consumers are highly receptive when researching on the website or online shop. If marketers manage to deliver long-lasting experiences on the brand website, this touchpoint can be one of the most relevant for their brand.
Brand apps are increasingly used to simplify consumers' brand experience and shopping journey. This trend is stronger in some markets and enhanced by the increasing use of mobile devices: According to Kantar's eCommerce On 2022 study, 60% of ecommerce shoppers globally now use rapid grocery delivery services - ranging from 91% in Vietnam to just 15% in Germany.
Social commerce also gives marketers opportunities to integrate commerce ads into social media. Kantar's Media Trends and Predictions 2022 shows that 61% of online consumers say they are likely to buy from social sites in the future.
How to leverage ecommerce ads
Successful ecommerce ads have content that is optimised based on how, when and where the platform is most accessed. To increase synergies among online channels, marketers need to tell a coherent story across the brand website, online marketplaces and other touchpoints, in particular on social media. Content from ecommerce touchpoints should be aligned with other paid media. A great TV spot, for example, is more impactful if the website seamlessly builds on the story from the TV ad.
The future is integrated
Even with the growth of ecommerce, Point of Sale remains an important touchpoint as consumers take omnichannel shopping for granted, mixing online and offline shopping as it suits them. POS ads are very cost-effective for building brand equity and benefit from high consumer receptivity. Distinctive brand assets across POS ads and other channels are key to success.
At the same time, online marketplaces and brand websites are gaining more relevance in brand building. The engaged mindset of consumers while shopping online provides many opportunities for long-lasting experiences.
The line between offline and online in consumer journeys has blurred over recent years and this trend may continue. Marketers need to know the specifics of commerce touchpoints in their industry and country to effectively build brands.
Power of Connection is an annual analysis of Kantar's global media and creative databases to provide an understanding of the evolving media landscape and an understanding of the effectiveness of different touchpoints. Get in touch for this year's free guide to optimising commerce touchpoints.