I was still in school when Gordon Brown (co-founder of Millward Brown, now Kantar) launched the original Link creative test, back in 1989. Since then, I've seen this amazing product go from strength-to-strength as we have continued to innovate. We were pioneers in online research methods, adding digital capabilities, integrating neuroscience and embracing automated testing among many other major enhancements along the way.
More than 30 years later, it's a huge privilege to launch the latest evolution in this industry-leading solution. LINK+ on Kantar Marketplace is the most powerful way to make creative work. That's primarily because LINK+ is more flexible than any other automated ad test in the industry, so the trade-off between speed of delivery and getting the insight you need is now a thing of the past.
The ad testing landscape of today is nothing like it was back in 1989. Advertisers and their agencies are creating more assets, for more media, so they need insights as early in the process as possible. Development and production cycles are shorter, so insights and actionable recommendations are needed faster than ever. The current macro-economic environment is putting pressure on insights budgets like never before. Every single research dollar needs to deliver return on investment. Yet despite these pressures, advertisers cannot afford to sacrifice quality, because they need to make decisions based on measures they can trust to deliver against business outcomes. Brands need their ads to garner attention in a highly cluttered and fragmented media landscape.
With great power comes great responsibility
Your ad is unique and now your ad evaluation can be unique too. As my colleague Vera Sidlova discussed recently, one size fits none when it comes to ensuring you will get the diagnostic insights you need to make your ads better. That's why LINK+ has been designed to deliver unparalleled flexibility in setup and delivery, giving you the fit and quality of a bespoke, tailored suit at the speed of an outfit you can choose off the peg.
When you're tailoring your LINK+ ad test with Kantar, you're in safe hands. While we've revolutionised how LINK+ is designed and delivered, the product is still built on the familiar and established Link communications framework based on over 30 years of understanding how ads work. As demonstrated by the best-in-class examples in this year's Kantar Creative Effectiveness Awards, ads should aspire to be emotionally engaging and deliver meaningfully different brand associations which will power the brand forward in the short and long-term. All LINK+ studies provide this core level of creative understanding.
How to build on that firm foundation is then up to you, in collaboration with the Kantar creative experts ready to help you on your way. For example:
Want to understand the emotional engagement with your latest execution in a long-running campaign?Just add the LINK+ facial coding feature.
Repositioning a brand with a new celebrity campaign?Just add the LINK+ executional diagnosis to understand how people are responding to that character.
Launching a new product variant, and want to understand whether and why the ad will motivate trial? Just add the LINK+ persuasion diagnosis.
These, and many other tried and tested features can quickly and easily be added to your tests, delivering more actionable insight, without slowing you down. This is music to the ears of global advertisers.
"At Heineken we need actionable advertising insights we can trust, fast, in order to help us maximise the impact our advertising has on our brands. We have been working closely with Kantar for years to evaluate, diagnose and optimise our early stage and finished film ads. We are excited about the new flexibility which Kantar has added with LINK+ to give us even greater ability to customise tests to meet our needs while maintaining speed."
Sander Bosch
Global Head of Brand & Communication Insights
The HEINEKEN Company
Leading organisations such as Heineken know you have a much better chance of developing winning creative if you inject consumer insight as early in the process as possible. That's why we are excited that LINK+ also introduces a new capability enabling the rapid quantitative testing of storyboards which can ultimately appear across digital, TV and other video formats. LINK+ also integrates seamlessly with our qualitative capabilities for developing early-stage creative concepts such as this award-winning ad from Cadbury in the UK.
I feel the need, the need for speed
Link has long been faster than other ad tests, and Kantar were early to embrace automated ad testing. LINK+ runs via Kantar Marketplace which brings together the best of technology and human expertise in a powerful market research platform, so you get decision-quality insights in as little as 6 hours.
LINK+ adds to that fast study turnaround with a new, more comprehensive dynamic dashboard delivering rapid insights. Based on extensive client feedback, the LINK+ dashboard has been re-designed from the ground up to start with a simple results overview, and then enable drill downs into detailed performance diagnostics. This intuitive, highly visual data interface provides ready-to-use, actionable insights, making this the first port of call for results conversations as soon as the fieldwork is complete. And because backwards compatibility is important, the comprehensive LINK+ ad library also enables easy comparison between new ads and those you have tested in the past.
The intuitive LINK+ dashboard puts insights at your fingertips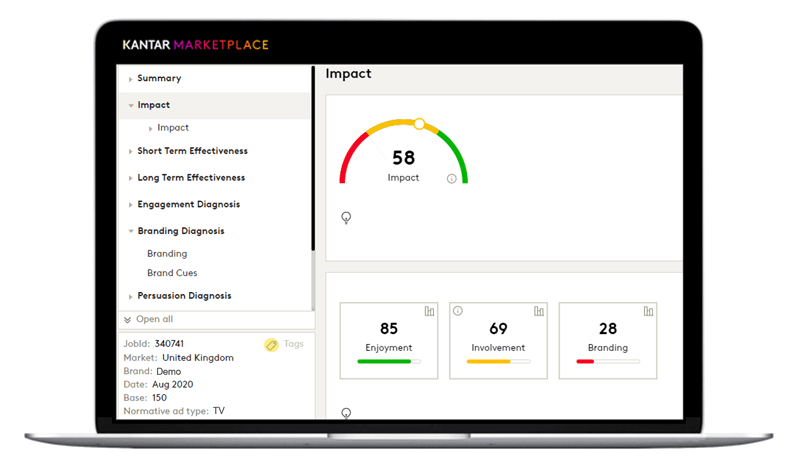 If you can't wait even 6 hours for results, LINK+ is complemented by our industry-leading Link AI solution which delivers results for digital or TV videos in just 15 minutes! This powerful partnership between the human-based LINK+ and machine-based Link AI products means you can test creative at both depth and scale across a wide range of creative effectiveness use cases.
And now folks, it's time for Who Do You Trust?
Kantar has a fine history of validating Link creative quality metrics through to short-term sales impact and long-term brand equity outcomes. LINK+ has added to that confidence with two recent validations based on the volume of sales impact, and the degree of long-term campaign profitability.
By connecting Link copy testing results through to our clients' sales modelling outcomes, we have proven that an ad with a high Short-term Sales Likelihood (STSL) score in LINK+ will typically generate 33% more sales than an average ad, while an ad with a low STSL score will typically generate 27% fewer sales than average.
Beyond delivering sales in the short-term, Kantar has strong evidence that ads also need to build a meaningfully different brand to drive long-term growth. LINK+ is backed by the latest Kantar and WARC evidence which proves that creative and effective ads generate more than four times as much profit.
LINK+ is also underpinned by the world's largest ad testing database, which now contains over 250,000 ads from over 100 markets. Over 60,000 of those ads have also been tested using facial coding, giving us the world's richest insights into advertising attention and emotional response levels.
At a macro-level, this database enables powerful learnings on topics such as the importance of humour in advertising, how to get sustainability right, and how to harness the power of emotion in digital advertising. But on a day-in-day-out basis, this also ensures you can compare your own ad testing results against a more reliable context than with any other ad testing supplier. Using contemporary, market-specific and media-specific benchmarks, you can be confident that LINK+ measures will tell you precisely where your ad is doing well and where you have room to improve.
At Kantar, we pride ourselves in being the best at getting better, and LINK+ is a perfect embodiment of that ongoing passion. To make your ads stronger, and your business outcomes greater, just add LINK+. It's the winning formula for your modern ad testing needs.

To find out more about how LINK+ can elevate your ad testing, check out our product page, contact your Kantar representative or register here to join the LINK+ launch webinar or watch on-demand.