Improving an ad's creative quality from average to great can increase the return on investment by 30%. Ad pre-testing plays a hugely important role in the overall effectiveness of campaigns, to make sure the ad creates an emotional connection, builds your brand and meets your sales objectives. Effective ad testing provides rich insights to help make good ads better and to help you select which ads to air. Every detail can enhance the ad experience and impact; how well are your characters and storyline working? Is the ad communicating the relevant messages? And much more. The quality and granularity of the research solution and its underlying evidence really matter.
You need a solution that is validated with real-world data to be confident that your ad pre-testing drives your ultimate goals of brand-building and short and long-term sales. The word 'valid' originates from the Latin 'validus' and the French 'valide', both meaning strong. And who doesn't want a stronger ad testing solution?
Evidence-based ad testing
When Gordon Brown revolutionised the ad testing space back in 1989, he launched a product called Link because it set out to provide a link between marketers' instinctive reactions to an ad, and whether it has a sales effect. Much of the product's early success was thanks to a validation of the Awareness Index metric which linked ad pre-testing results with the outcomes observed in continuous brand tracking studies. Real evidence that the research results indicated what was likely to happen in market.
In 1999 the first Link sales validation was published, and we have been building on this proud legacy ever since. At Kantar, we are privileged to work with some of the best advertisers around the world and our Link database now holds over 230,000 ads. In 2022 we are pleased to share comprehensive new evidence about how Link ad testing predicts sales outcomes.
Predict sales volume - not just likelihood
Kantar's ad testing solution, Link, contains a validated measure called Short-term Sales Likelihood (STSL). As the name suggests, this measure has been proven to predict the likelihood of a short-term sales share increase, expressed as a percentage. In 76% of the cases where a Short-term Sales Likelihood is predicted in the top third of our database (high), we see a short-term sales increase in the 8 weeks following the advertising launch. This compares with just 28% of brands seeing an increase with ads in the bottom third.
Original validation: Link is proven to predict likelihood of a sales share increase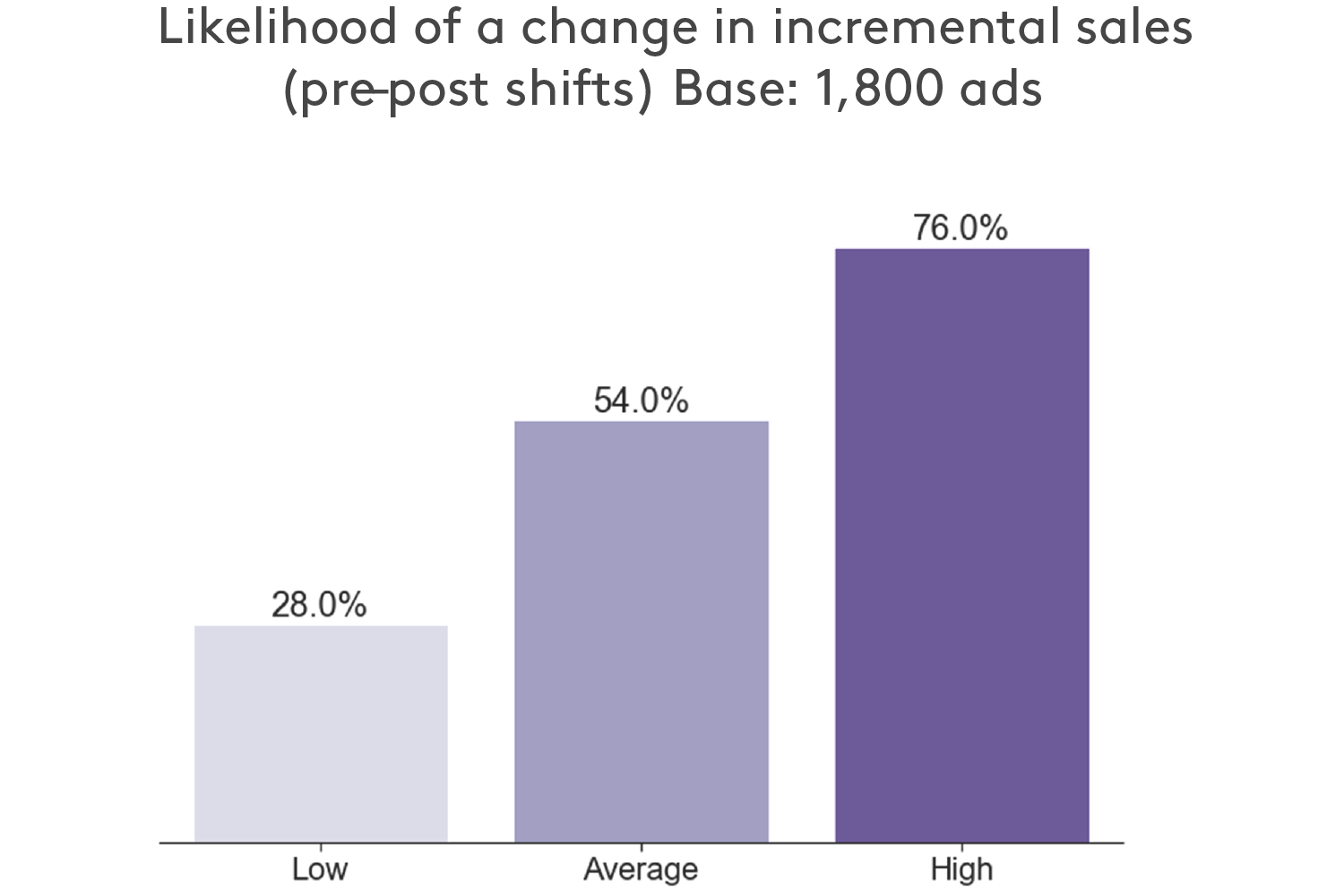 Source: Kantar Link database
Powerful as this is, many clients have challenged us over the years to refine the validation, asking us to predict not just the likelihood of a sales response, but also how large that sales increase will be. To achieve this, we worked with many global advertisers to validate their copy testing results through to modelled sales outcomes.
The magnitude of ad-driven sales effects is a trickier question to answer, since we need to account for factors like ad spend, and many other category and brand-specific factors. All of these 'volumetric validation' clients have benefitted from a richer understanding of the sales effects they can expect when they achieve certain benchmarks with their ad tests.
To bring this insight to a wider audience, we aggregated the learning across these client projects. We compiled all the individual validations into a new ad-level dataset and homogenised the method for all 970 cases.
We can now say that an ad with a high Short-term Sales Likelihood (STSL) score in Link will typically generate 33% more sales than an average ad (index of 133). And an ad with a low STSL score in Link will typically generate 27% fewer sales than an average ad (index of 73).
New validation: Link is now proven to predict sales volume increase and likelihood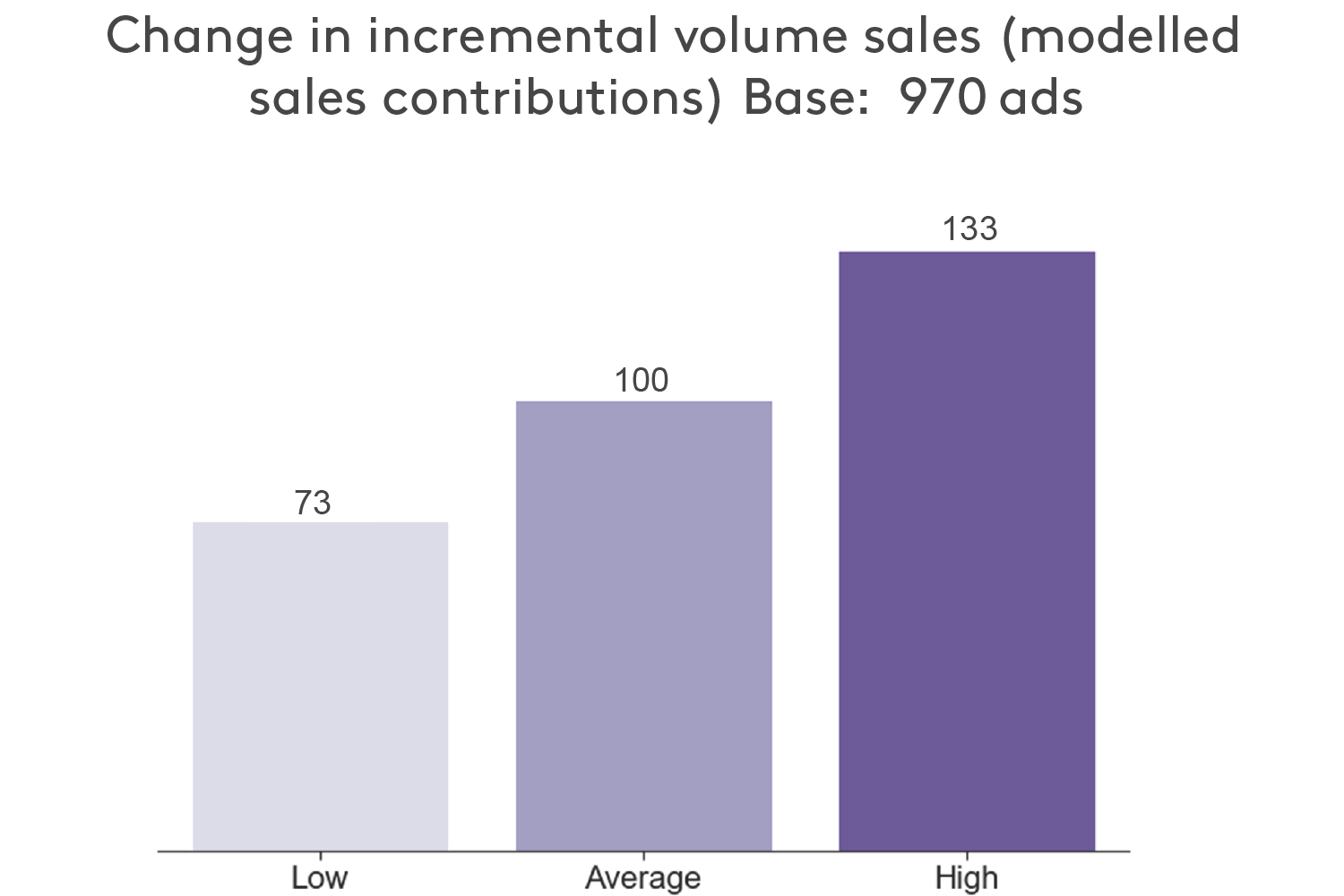 Source: Kantar Link database
The robustness of this dataset allows us to break the validation down by subgroups. The dataset contains ads from 27 markets around the world, and the aggregate validation holds true within the US and other markets. The validation applies across both FMCG and non-FMCG sectors, with the dataset containing ads from categories including beauty, beer, cereals, confectionary, drinks, finance, healthcare, personal care and restaurants, among others. The validation also holds true across ad lengths. The STSL predicts sales volume increases for both shorter and longer ads, but shorter ads (less than 20 seconds) are particularly effective when they perform well on the STSL metric.
Ads are not just for the short-term
Driving sales in the short-term is important, particularly in times of inflation. But most smart marketers will also consider long-term effects. Alongside the STSL metric, Link contains a Power Contribution metric which has been validated against shifts in long-term brand equity. Given the importance of emotional response, the validated metrics include an Expressiveness metric collected via facial coding. The test also includes validated attention metrics that assess digital behaviour in specific contexts.
This latest sales volume validation, therefore, adds to a comprehensive battery of existing validation evidence to help you get the best marketing ROI. Perhaps most reassuring of all, you don't just need to take our word for it, because the predictive validity of Link has also been independently verified by the MASB (Marketing Accountability Standards Board).
So, please do get in touch to discuss how to get the most out of your ad testing by using validated metrics.