TikTok has revolutionised social media and Kantar's Media Reactions 2022 study shows it is the second most preferred digital channel amongst consumers – and the fourth for marketers.
Music conveys strong emotions and is a key way TikTokers engage with their audiences emotionally through content. So, what can brand owners learn from this? How can they resonate with their audiences more effectively through music on TikTok?
Recognise the power of music
Since its launch in 2016, eMarketer estimates that TikTok now has 843 million users, more than doubling its user base between 2019 and 2021. With such phenomenal growth TikTok now represents a huge audience either viewing content or using the platform to create content. It has spawned a new generation of influencers and creators too – TikTokers.
A unique aspect of this phenomenon is how TikTok relates to music. It offers SoundOn for music promotion and distribution, becoming a platform for music discovery and a place where fans can interact with their favourite artists. We've also seen how TikTokers have picked up 'revived' classic songs made popular by TV series, for example, music from the series 'Stranger Things' and 'The Last of Us'. Alongside this, Kantar research shows how sound and music favourably enhance the TikTok viewing experience. Sound is better received; it stops the scroll and it inspires creativity. Much of these dynamics relate to emotion and music's role in delivering this.
Styles that suit your brand
On a deeper level, users can experience a wide range of emotions when using TikTok. These range from happiness, excitement, nostalgia, sadness, to anger and even silliness. TikTokers often use music to express these emotions through content. For example, angry or aggressive music evokes anger or frustration, but music with a humorous tone dials up light-hearted or joyful feelings.
To make sense of this, Kantar's NeedScope emotional framework based on psychology, helps us explore the relationship between music and emotions on TikTok. In general, we look for music to alter or capture our mood on an occasion. Sometimes we might want more energy as a pick-me-up, or we may just want to chill out. Other times we might want to feel moved or express something unique or discerning. These dynamics create six emotional need states that form the basis of our NeedScope framework. These six need states are…
The NeedScope music model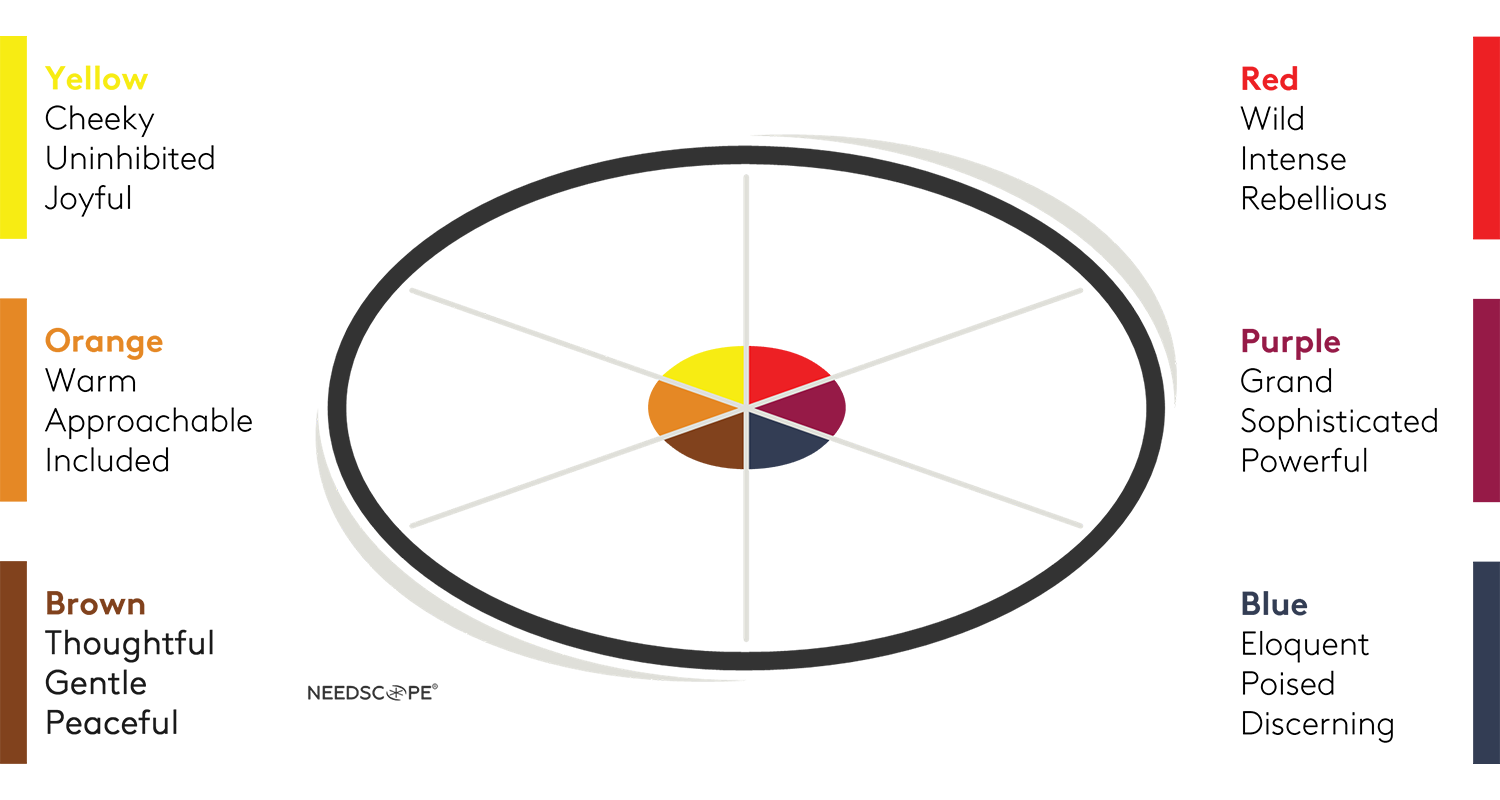 NeedScope Music AI identifies the emotion specific music tracks evoke. It analyses the nature of the music post itself – the rhythm, tempo, pitch, tones, arrangement, lyrical tone and melody.
To explore how to use music effectively on TikTok we identified the 50 most popular music tracks on the platform for the last year – cross-referencing TikTok charts, Billboard charts and independent TikTok measures. We ran these through the NeedScope AI decoder and plotted them on the NeedScope positioning map. Here's what it shows…
NeedScope positioning of music on TikTok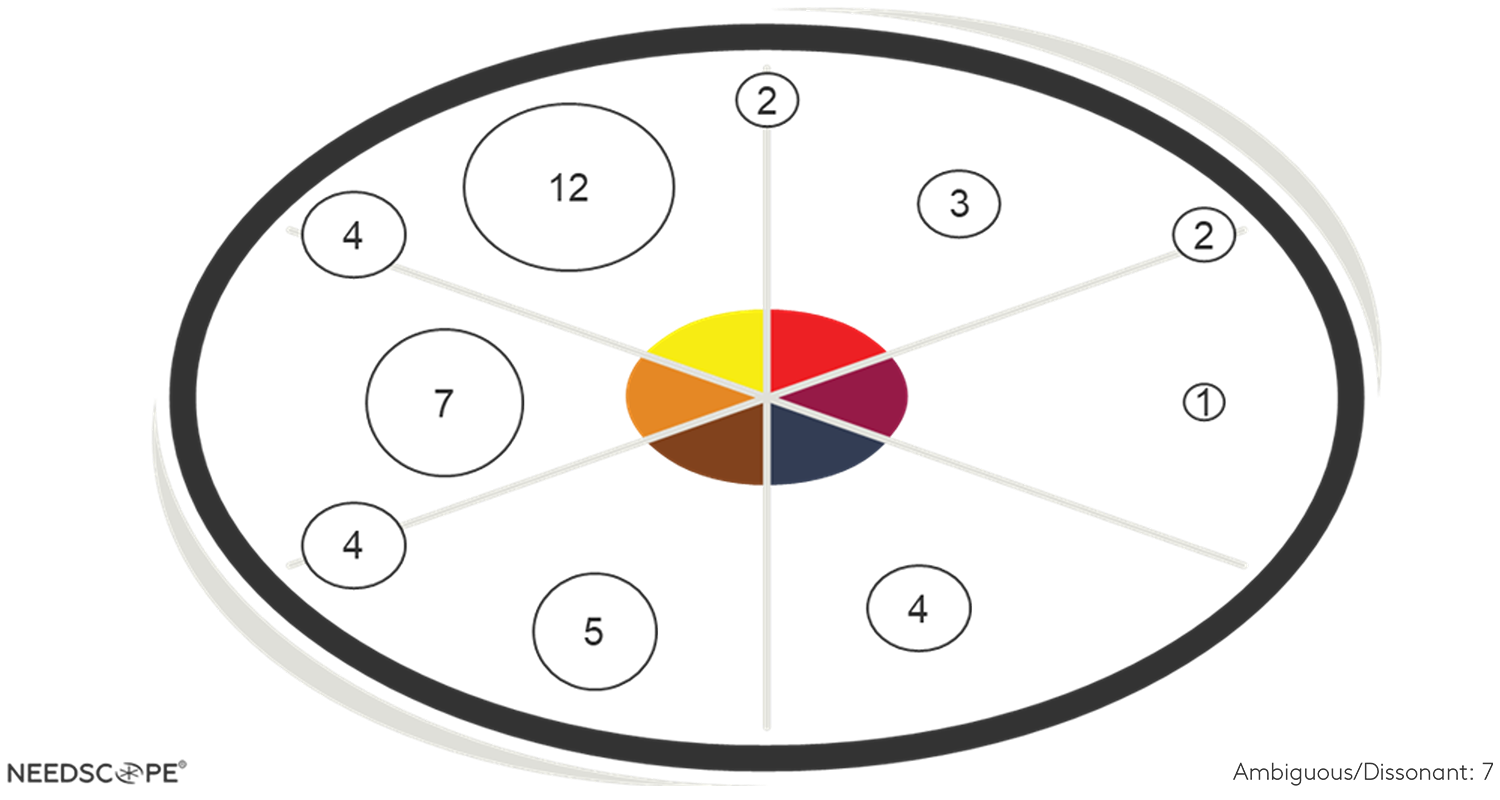 Several things are evident:
The music used on TikTok tends to express a clear emotion. Very few tracks target dissonant or ambiguous emotions. Posts mostly fall in one space on the model or share an adjacency.
Whilst people do use music to express a range of emotions, TikTok posts skew to Yellow and Orange spaces with uplifting cheeky/joyful, warm and inclusive themes. More assertive Blue, Purple and Red emotions are sparsely represented by comparison. The Yellow space is a heartland for TikTok music - upbeat, light-hearted and vibrant. The tempo is much higher here too – perfect for fast-cut TikToks.
To illustrate, here's an example of a post in the higher energy Yellow needstate. Compare this with the more chilled-out vibe of a post in Brown and the bolder, assertive emotions of a post in Purple.
It's clear that TikTok largely reflects popular music preferences. Popular music choices are an easy way for TikTok content creators to resonate with viewers. But are there other influences at work?
Platform image sets content expectations
The nature of the platform also plays a role in content experiences too. Kantar Media Reactions 2022 shows there are clear image dimensions associated with TikTok as a platform brand compared with others. TikTok has a sense of being fun and playful. Whilst these are not unique to TikTok, they do provide an emotive backdrop, setting an expectation of the kind of experience you'll likely get on the platform. Music is part of this.
Brand personality – digital channels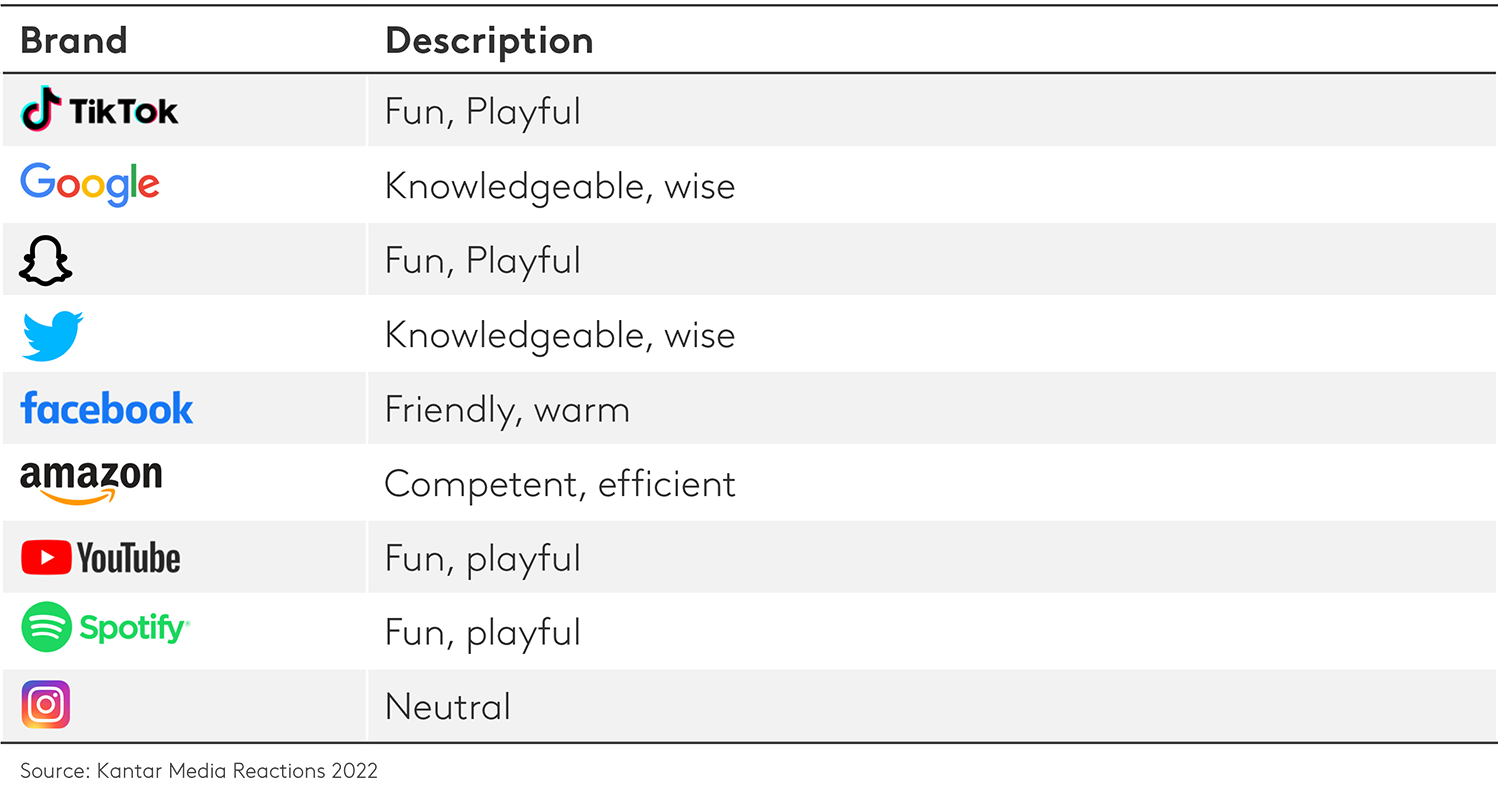 Given TikTok itself is a fun, playful brand, this in part explains why high energy, free -spirited, fun and humorous music styles work so well on the platform. TikTok content creators intuitively recognise this. It also explains why other emotional spaces are less represented.
With this in mind, brand content creators have a clear opportunity to tailor their content delivery to the platform, particularly when making music selections for Tik Tok.
Tips marketers can learn from TikTokers
TikTok offers marketers access to a potentially large and well engaged audience. Here are three things brand owners can learn from TikTokers to help reach and engage their audiences through music.
Recognise the power of music in delivering emotion on TikTok. Music selection shouldn't be an afterthought but a key consideration when creating brand content to evoke specific emotions.
Play to TikTok's strengths when it comes to music – high energy, free-spirited fun and humorous music styles work particularly well. Brand owners should consider whether these styles suit their brand.
Above all select the musical expression that aligns with your brand positioning in a way that is relevant and meaningful on TikTok.
Download the NeedScope AI music whitepaper or get in touch to find out more about choosing impactful music that connects with your brand ambition.