Our latest figures show that take-home grocery sales in Ireland increased by 5% in the four weeks to 30 October 2022, driven primarily by an 8.5% increase in the average prices paid by shoppers.

In the last 12 weeks to 30 October 2022, grocery inflation rose to another record-breaking high of 13.4%, as grocery sales increased by 4.7% thanks to a 4.3% rise in shoppers returning to store and an 8.7% increase in price per pack, contributing an additional €115m to overall market performance.

In the last month, online sales saw a return to growth, up 13.1%, with two important factors driving this increase in sales. The first is a rise in the number of new shoppers contributing €2.4m to the channel's overall performance followed by an increase in the average number of online shopping trips by young families, sitting at 11 compared to just four last year.

Emer Healy, Senior Retail Analyst at Kantar comments: "As food and drink prices continue to climb alongside a rise in household bills, the impact on shoppers' budgets is unavoidable for many Irish consumers. With inflation standing at 13.4% for October, the average annual grocery bill will go from €7,019 to €7,960 – an increase of €941 a year if consumers don't make changes to what they buy and where they shop. At a basket level, that's an extra €3.80 on top of the cost of the average shopping trip, which currently stands at €28.20. Irish households are looking to manage budgets through a 'little and often' approach to shopping. On average, families are adding one extra trip per month, we're seeing a 9% increase in these smaller trips where less than €30 is spent. In comparison, the extra-large shopping trips where households spend more than €150 have declined by 4%."
Own label accounts for nearly half of Irish grocery sales
Sales of own label jumped 9.4% over the latest 12 weeks with shoppers spending an additional €115m year-on-year. Own label now accounts for almost half (46%) of the overall grocery market in Ireland. Value own label ranges saw the strongest growth, up 27% with shoppers spending €13.3m more year-on-year. Dairy products have the biggest market share (42.2%) within these value ranges.

Emer Healy adds: "It's interesting that shoppers are also beginning to seek out premium own label offerings as they move their out-of-home spend in-home as a means of controlling their discretionary spending. As a result, shoppers are spending an additional €5.3m on premium offerings, including spending an additional €902k on toiletries, €800k on fruit and €676k on chilled ready meals."
Halloween sales down while Christmas fails to come early this year
Halloween brought some festive relief for consumers, while only 18% of households bought a pumpkin this year compared to 24% in 2021, Irish consumers still spent an additional €2.2m on chocolate confectionary and crisps and €1.8m on sugar confectionery.

While it seems that Christmas starts earlier and earlier every year, this year fewer people are stocking up for Christmas in October. "This time last year 30% of Irish households had already purchased seasonal biscuits, whereas only 23% have this year. And this also rings true with chocolate as shoppers are spending €2.1m less on gifting chocolate and €1.2m less on seasonal chocolate. The exception to this is mince pies, as consumers have already spent an additional €220k on these festive treats compared to this time last year", comments Emer Healy.
Retailers meet demand as consumers look for the best deals
Retailers seeing growth during the period are meeting consumer demand for better deals through own label products and by offering shoppers club card or vouchering for shoppers while instore.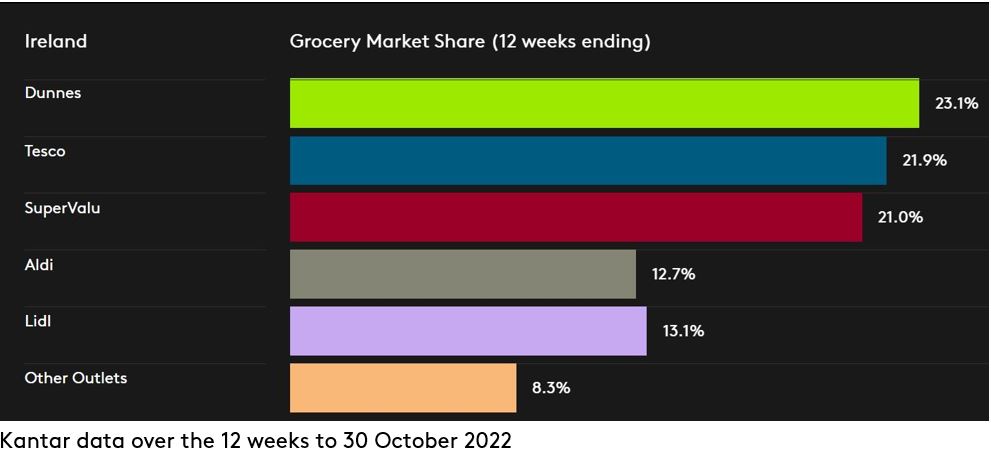 Dunnes has the biggest share of the market at 23.1%, growing 7.8% year-on-year. This growth stems from a 3.5 percentage point increase in new shoppers to store, contributing an additional €35.1m to its performance.

Tesco holds 21.9% of the market, increasing by 0.4ppt compared with last year. Sales growth of 6.6% has been boosted by more frequent return trips by customers. SuperValu posted particularly strong results across the first year of the COVID pandemic and the latest data is the first period of growth since April 2021, with sales up by 0.5%.

Lidl holds 13.1% share, growing 7.3% year-on-year as new shoppers in store and existing shoppers returning more often contributed a combined additional €17.7m to the overall performance. Aldi holds 12.7% of the market, growing 3.5% year-on-year, with existing shoppers returning to store more often contributing to its overall performance.