Our latest take-home grocery figures show that supermarket sales fell by 5.9% over the 12 weeks to 17 April 2022. For the first time since the pandemic began, sales are also in decline by 0.6% compared with two years ago, as the period now includes the start of the first lockdown when only essential shops were allowed to open.
Like for like grocery price inflation is at 5.9% this month, its highest level since December 2011. The average household will now be exposed to a potential extra £271 per year. A lot of this is going on non-discretionary, everyday essentials which will prove difficult to cut back on as budgets are squeezed. We're seeing a clear flight to value as shoppers watch their pennies.
The level of products bought on promotion, currently at 27.3%, has decreased 2.7 percentage points as everyday low-price strategies come to the fore. The major retailers are listening to shoppers' concerns, with Asda launching its Just Essentials line, Morrisons announcing that it is cutting the price of many everyday goods, and Tesco locking in savings through its Clubcard strategy.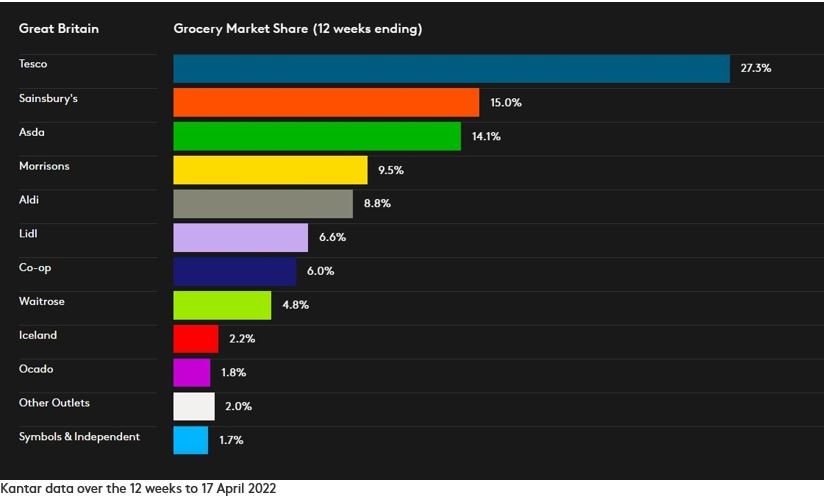 Aldi is the fastest growing retailer this period. The grocer's sales increased by 4.2% over the 12 weeks to 17 April, followed closely by Lidl which was up 4%. Over one million extra shoppers visited Aldi and Lidl respectively over the past 12 weeks compared with this time last year. Both retailers achieved record-breaking market shares, with Aldi now holding 8.8% while Lidl stands at 6.6%. Collectively, the two discounters account for 15.4% of the market – up from just 5.5% a decade ago.
Sunflower and other oil sales jump
The war in Ukraine has increased public awareness of supply pressures and there was evidence of some stocking up as consumers prepared for limited availability along with higher prices. Last weekend several supermarkets introduced restrictions on cooking oil purchases as concerned consumers filled up their cupboards. The combination of rising prices and increased demand saw the cooking oil market grow by 17% over April. Sunflower oil, Britain's most popular choice for frying, and vegetable oil grew even faster, up by 27% and 40% respectively.
Despite rising prices, people treated themselves in the lead up to Easter Sunday, which this year fell on 17 April. There was still evidence of shoppers making the most of the long Easter weekend and splashing out a little bit more to make it special. Premium own label products performed better than any other lines, with sales jumping by 6.5%.
Basket sizes fall but no extra shopping trips
This month's numbers should also be considered in the context of lockdown easing. Sales over the latest four weeks fell by 4.1% as people returned to the office, as well as restaurants and pubs. It is to be expected that sales are down compared with last year when restrictions were still in place. While the number of trips we're making to the supermarket has remained steady this year, people aren't buying as much when in store and the average basket size has dropped by 4.5% to £22.39.
Online grocery sales were down by almost 15% compared with 2021 and over April online's share dipped by 1.5 percentage points. While online shopping is definitely here to stay, it's less of a necessity now. Shopper confidence about heading out and about and getting back to store has gone up and half a million fewer households bought over the internet compared with last year.
Aside from the discounters, Tesco was the only other retailer to gain market share this period, growing by 0.3 percentage points to hold 27.3% of total grocery sales. Sainsbury's accounts for 15.0% of the market, followed by Asda at 14.1% and Morrisons at 9.5%. Co-op, Waitrose, and Iceland have shares of 6.0%, 4.8%, and 2.2% respectively. Ocado's share remains steady at 1.8% and its sales were up 13.9% compared with two years ago.