Take-home grocery sales in Ireland increased by 10% in the four weeks to 25 December 2022 as the average price per pack soared 13% and visits to store increased by 7%, according to our latest figures. The first Christmas since 2019 with no Covid-19 restrictions saw shoppers spend an additional €119m, making it a record-breaking month with sales of €1.3bn, and the strongest growth since February 2021.

Grocery inflation now stands at 15.4% for the 12-week period ending 25 December 2022, the highest level yet and even higher than in UK, which currently stands at 14.2%.

A significant increase in average price per pack saw shoppers spend an additional €95.31 compared to the same time last year. But while value sales were up 6.7%, grocery price inflation is the real driving factor behind this rather than increased purchasing, as volumes fell by 4%.

Christmas was certainly different this year. Even though 46.5% of buyers claimed they would spend less than previous years, the cost-of-living crisis didn't stop Irish families from looking for ways to keep spirits high, with the average shopper spending €58 more on groceries during December than they did last year.

Nearly half of the population stocked up on festive treats on Friday 23rd December, the busiest shopping day of the year, with €94.4m going through the tills. This was €8.6m more than the busiest trading day last year (Thursday 23rd December).

Sales of festive treats or niceties such as chocolate, cheese and paté rose by 9.9% and mince pies by 15.5%, but all declining in volume. Wine bucked the trend with shoppers spending an additional €13.3m year-on-year with strong volume growth of 7.3%. Smaller Christmas gatherings in 2020 and 2021 led to more households opting for rolled turkey, but this year 25k more households tucked into whole turkeys, reflecting the 32% of buyers that planned on having 5-7 people for Christmas dinner.

During December, sales of cold and flu products, as well as household cleaners, also grew as Irish shoppers spent an additional €828,000 on cold treatments and €547,000 on vitamins. A restriction- free Christmas also meant that more people were hosting others and cleaning their homes, resulting in shoppers spending an additional €6.8m on household and cleaning products.

In December, online sales remained strong, up 8.5% year-on-year, with shoppers spending an additional €4.7m. Online share now sits at 4.6%, up 2.5% points compared to December 2018, but the impact of inflation is evident as the average cost of a virtual basket is now €88.79, up €11.70 compared to 2018.
Festive premium ranges help drive own label growth
With Irish consumers keeping a close eye on their spending but also wanting to enjoy the festive period, they continued to trade down to supermarkets' own label products, with sales rising 11.1%, well ahead of the 4.2% increase in branded lines. The Irish grocery market is more competitive than ever before and over the Christmas period the supermarkets were keen to retain and attract shoppers with offers on their premium private label lines of festive alternatives, reaching record sales of €149.7m.
Irish retailer performance update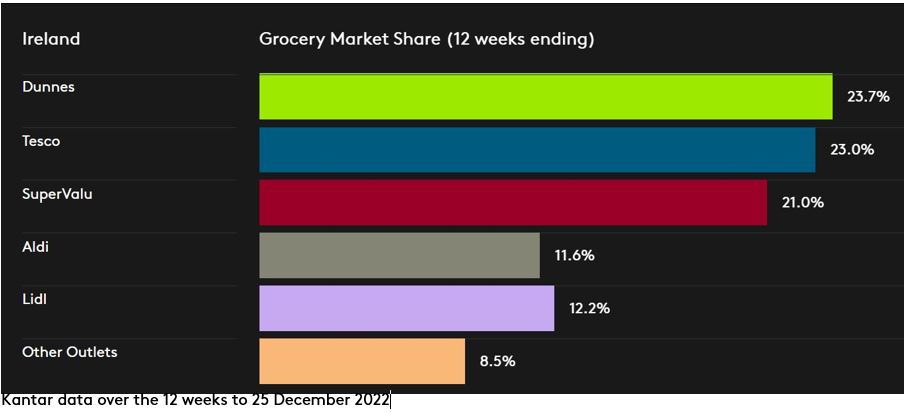 All retailers saw strong value growth in the 12 weeks to 25 December. Dunnes continues to hold the highest share amongst all retailers at 23.7% with growth of 9.6% year-on-year. Amongst all the retailers, Dunnes had the strongest growth in retailer premium own label offerings, up 22% year-on-year. Tesco holds 23% of the market with growth of 8.9% year-on-year. Tesco also has the strongest frequency growth amongst all retailers of 10.6% year-on-year.

SuperValu has 21% of the market and growth of 1.2%, registering the highest number of trips to stores at 21. Lidl holds 12.2% share with the strongest growth amongst all retailers of 10.1% year-on-year, driven by an influx of new shoppers and more trips contributing an additional €32.4m to overall performance. Lidl also saw the strongest growth of value own label sales, up 47.2% year-on-year. Aldi has 11.6% of the market, growing 7.1% year-on-year, as new shoppers and more trips contributed an additional €25.9m.