There has been plenty to think about over the last 18 months, but that has not derailed sustainability on its path up the priority list of UK consumers. According to our Who Cares Who Does? study, the proportion of UK households that are the most environmentally conscious, the Eco Actives, rose for the second year in a row to 29% – a growth rate that outstrips the global average (22%). This increase is reflective of increased government action and legislation in this area, alongside more activism with companies heavily promoting their eco credentials.
With a 6 percentage point jump from last year, Eco Actives are now worth £37bn to the British grocery market – providing opportunities of growth for brand and retailers to tap into and connect with them on their sustainability needs. The study segments households into three categories based on the actions they are taking to reduce their environmental impact: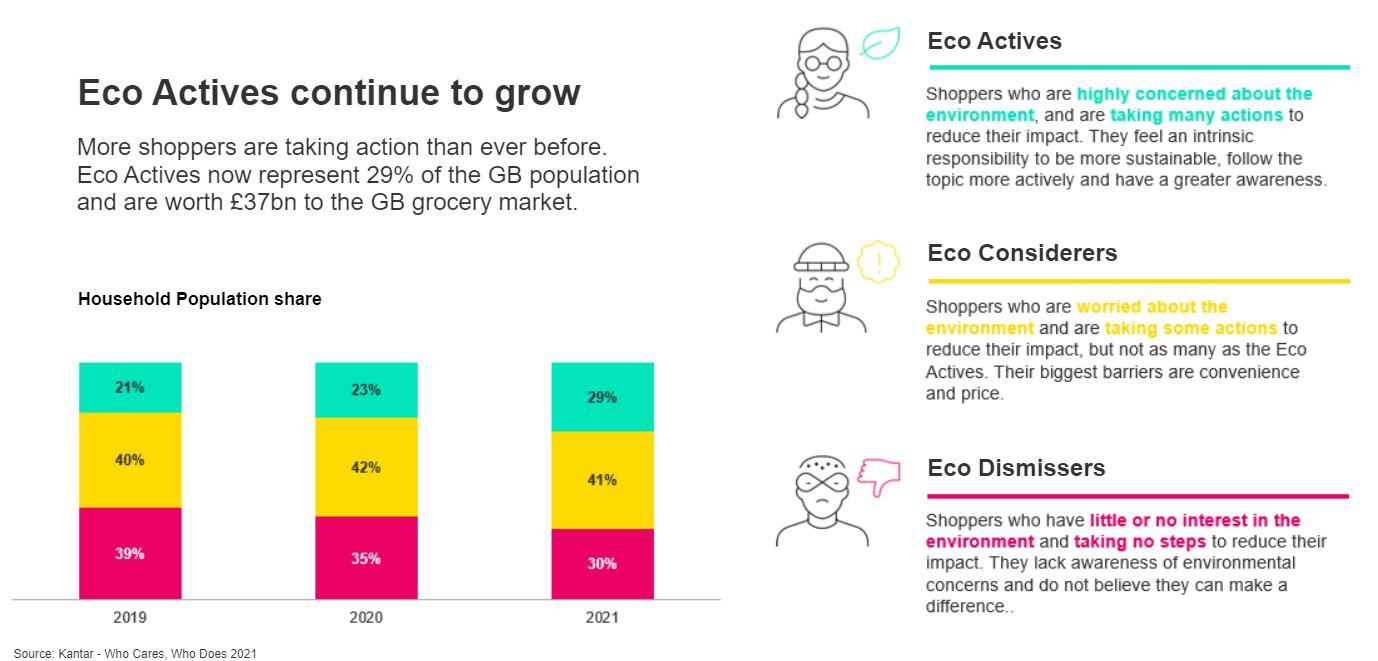 To win with Eco Actives, it is imperative to understand who they are, and what is important to them, along with their motivations and barriers to being sustainable.
What matters to Eco Actives
We are seeing a shift in the importance of environmental concerns of consumers. Even though plastic waste remains the biggest issue for British consumers for the third year in a row, it has fallen 10 percentage points compared to last year. Other traditionally biggest concerns like climate change deforestation are also becoming relatively less important, but this is due to other issues like food waste, water pollution and water waste rising up the agenda.

There are many sources of influence when it comes to sustainability, but getting the correct messaging on product packaging is key. On-pack messaging related to the packaging is the top thing that shoppers look for with recycling information being the most important, i.e. if the packaging has been made of recycled material or can be recycled. But that is not the only thing that gets considered: we see consumers are also concerned about where the product has been sourced and what it contains. Brands that win with Eco Actives typically have multiple sustainable features.
We can see the value of focusing on specific issues by looking at a couple of examples. Meridian peanut butter has majored on the fact that they do not include palm oil in any of their products. Shoppers who specifically look for palm oil-free products are almost twice as likely to buy Meridian than the average shopper (13% vs. 7% penetration), and in turn Meridian is twice as likely to be picked up by an Eco Active than an Eco Dismisser (10% vs. 5% penetration). This has resulted in the brand overperforming from a penetration perspective with a 7.4% brand growth year on year, with a 10% penetration amongst Eco Actives.

BrewDog has focused on the fact that their business is now carbon negative and that has been very appealing to shoppers who are looking for carbon zero products. This has resulted in the brand overperforming with Eco Actives, delivering an impressive growth rate of nearly 22% year on year.
The practice of labelling on environmental impact is growing amongst brands trying to tap into the Eco Active market. There are now over 400 ecolabelling initiatives within the FMCG industry. Examples include Garnier's Sustainability Index, Nestle's partnership with Foundation Earth, and Lidl's Foundation Earth and adoption of Eco-Score labelling. Amazon has also rolled out its own environmental labelling program, Climate Pledge Friendly, enabling more informed consumer product choices. Companies need to consider how they label, bringing more clarity than the symbol-based system we have today.
Implications for brands
If Eco Actives continue growing at the rate they have been over the past two years, 62% of the British population will be an Eco Active by 2030. Brands and categories that currently under-perform with Eco Actives face a big loss as this shift in the population increases.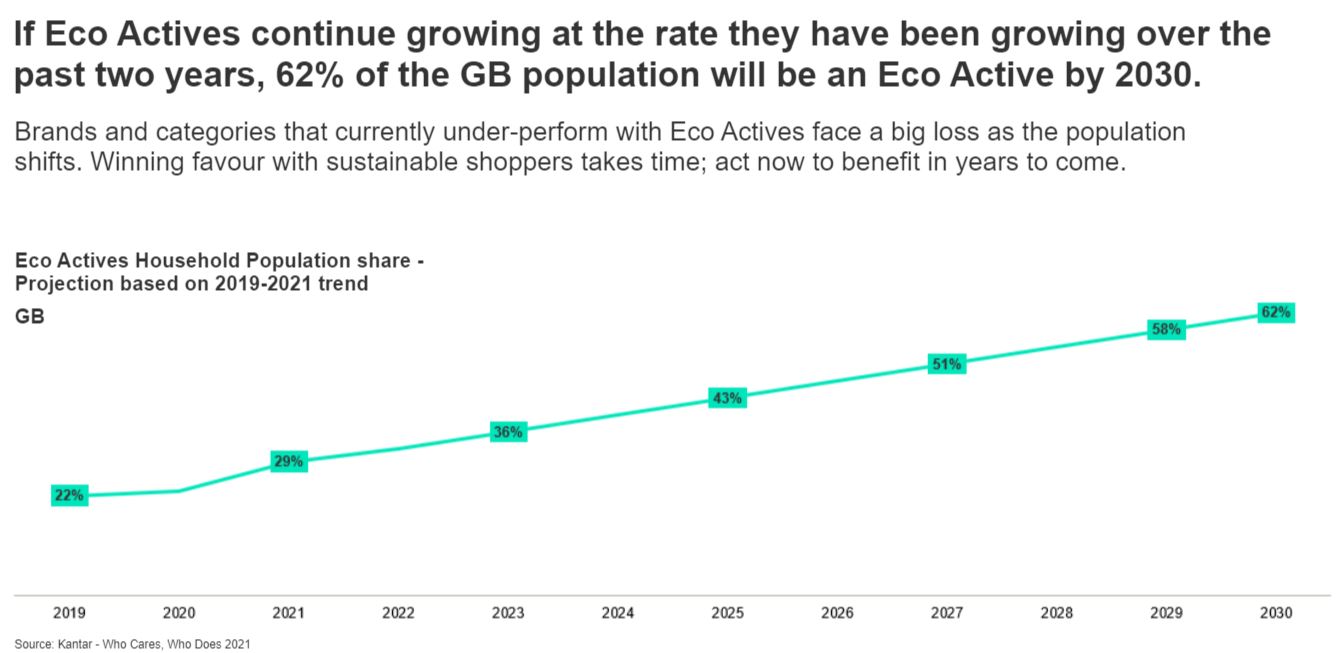 This growth is good news for companies that have pledged to reform their packaging and restrict their carbon footprint, but we know that winning favour with sustainable shoppers takes time. Brands and retailers need to act now and ensure their sustainable message is heard, so they can build a competitive advantage .
Brands need to tap into the needs of the Eco Actives and shift the sustainability perception of categories at risk. Irrespective of which end of the spectrum your brand sits at, understanding how you can position yourself sustainably is critical for winning with this group. We are already starting to see these trends in purchasing behaviour – categories that appeal to Eco Actives such as Chilled Vegetarian Meals (+14%) are outstripping the overall FMCG growth of 3% over the past decade. This presents opportunity for some categories while putting others at risk.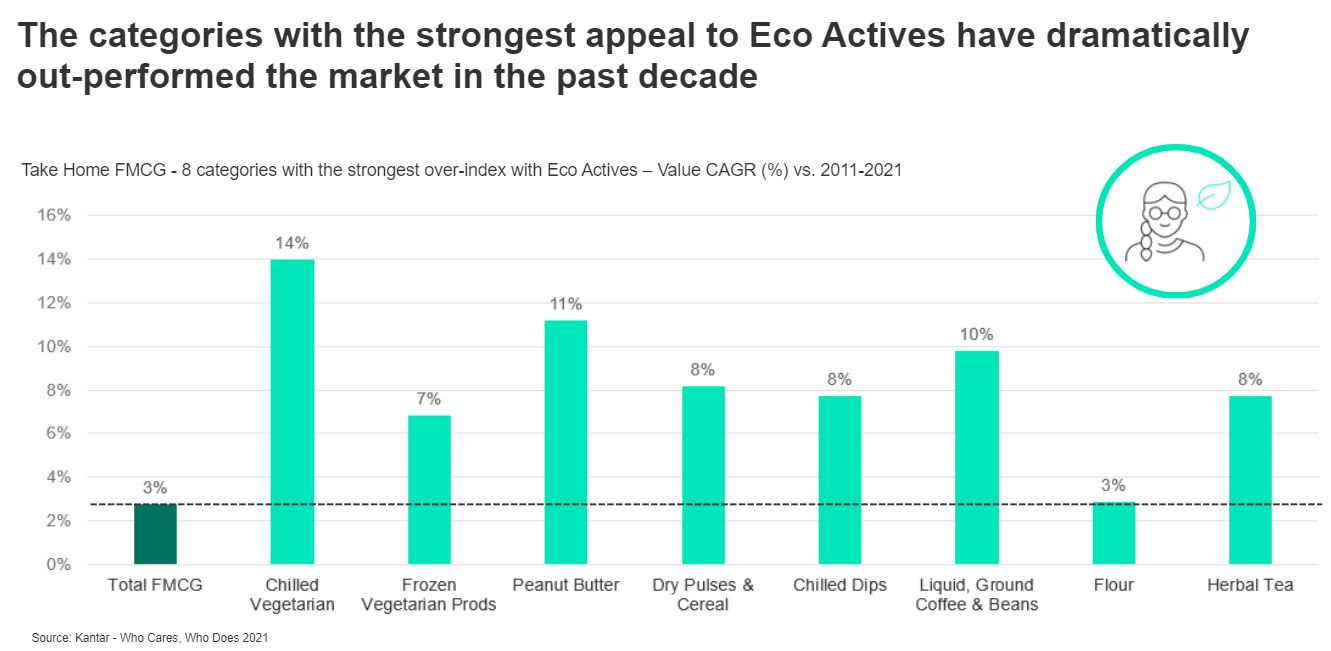 The strongest brands with Eco Actives are invariably those with sustainability at their heart, with the top 20 Eco Active brands growing at more than double the rate of FMCG – thus highlighting the importance of looking at sustainability as a growth lever.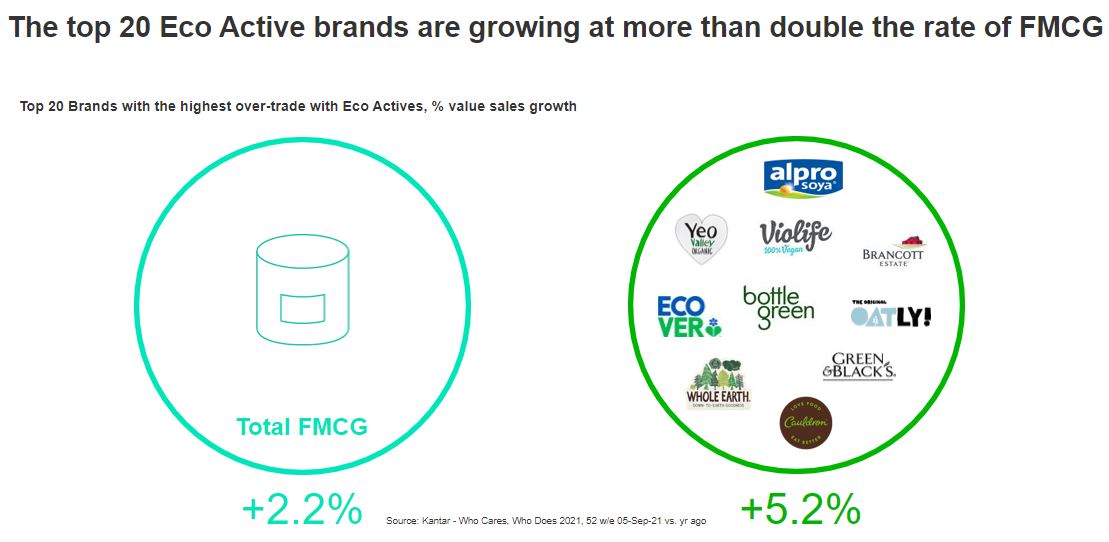 Brands that already have sustainability at their core will obviously bear an advantage. Tony's Chocolonely has grown rapidly with sustainability at its core, with 50% of sales continuing to come from Eco Actives and a 6% increase in sales since 2019. The brand's mission is to make chocolate 100% slave free, not just within their own company, but all chocolate worldwide. These credentials resonate with Eco Actives, with a brand penetration 38% higher amongst this group than with the average shopper. But the brand isn't winning just with this segment. Seen as good for the environment and society, the brand penetration across all segments is growing at 220%.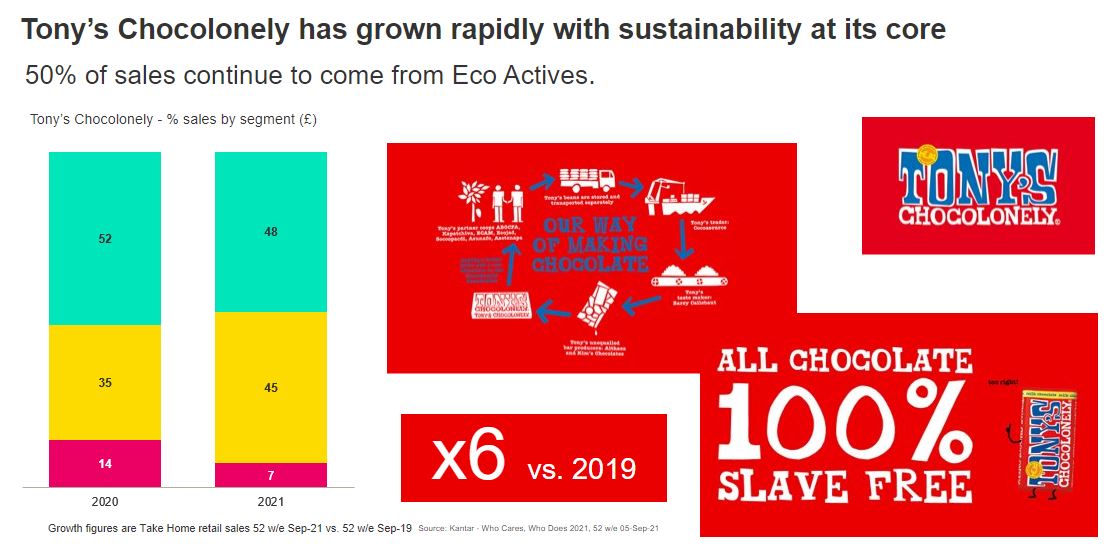 Behind those people regularly shopping sustainably, there is an unmet need of the Value-Action gap – people who would like to shop sustainably but cannot. Sixty seven percent of total shoppers in the UK find it difficult to be more environmentally friendly because environmentally friendly products are either harder to find or more expensive. The gap accounts for 34% of the UK population and is worth £44bn to the FMCG industry. It denotes a substantial unmet demand, which is an opportunity for brands and retailers to focus on. If shoppers have more options to purchase sustainably, they will.
Impact on retailers
Environmental factors have an impact not only on what people buy, but also where they shop. While 28% want no plastic packaging for fruits and vegetables, 33% want to see retailers taking action to reduce food waste and 31% feel that retailers need to make sustainable products more affordable.
Bringing packaging changes to market will increase production costs in many cases, and manufacturers and retailers will need to pass price rises onto consumers. Some shoppers are willing to pay extra; we know that Eco Actives are more likely to buy sustainable brands, which tend to be more expensive. However, most are not willing. Manufacturers and retailers will need to work together to effectively communicate the value of the product to justify its price premium, alongside understanding the consumers' barriers of cost and fears of compromised product quality.
Looking at Morrisons as an example, the retailer has put their efforts in talking to consumers about food waste with their wonky vegetable range. If we look at the attitudes of Morrison shoppers compared with the averages, we can see a direct link between what is important to the shoppers and Morrisons' action on reducing food waste. Morrisons' efforts in this area has given them a competitive advantage by appealing to consumers who consider this an important issue. That is one of the reasons why Morrisons is amongst the major retailers in the UK that overperforms with Eco Actives.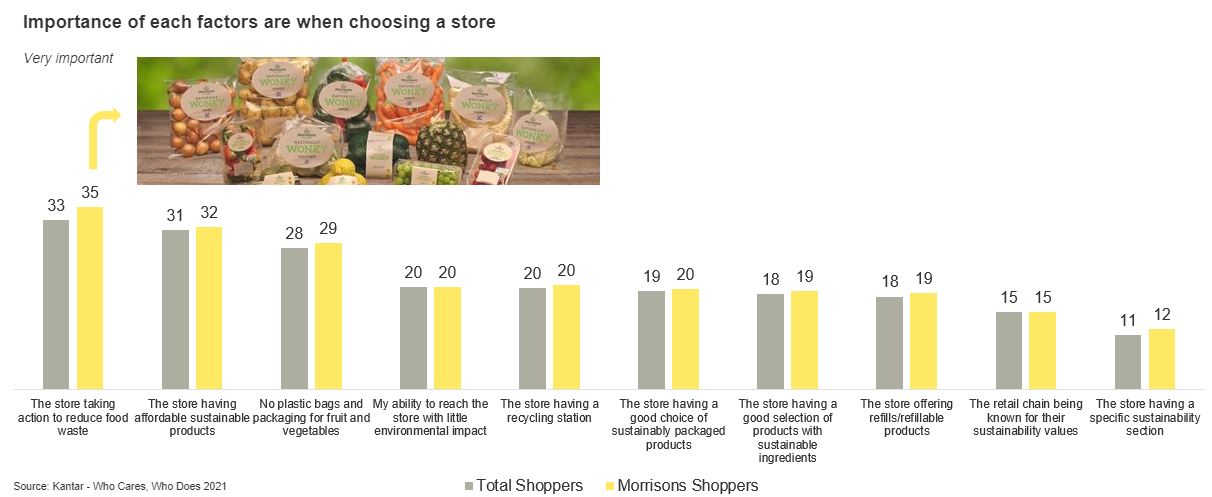 Key takeaways
Connecting with shoppers on sustainability really does pay, and is only going to become more beneficial as the Eco Active segment continues to grow.


Many shoppers have good intentions but need help following through – make sustainability an easy and rewarding choice.
Plastic waste is still the number one concern amongst shoppers but focusing on packaging alone is no longer enough.