Sustainability has become a top priority for businesses – but, with so many areas to consider, where should your brand focus? Consumers will not be leading the change in this regard; they expect businesses and brands to take leadership. To overcome barriers to, and drive adoption of, sustainable shopping habits, companies must make it easy for consumers to choose sustainable products or services.
Sustainability Sector Index
Kantar's global Sustainability Sector Index is a quantitative research study in 35 markets, which maps consumers' sustainability attitudes and behaviours against the UN sustainable development goals. The index is designed to define clusters of people by the specific issues that resonate for them, sector by sector – enabling a robust framework for how companies address sustainability.
The global report reveals that just under one in three (29%) of global consumers is among the most actively engaged in climate and social issues when it comes to their shopping behaviour.
The Americas has the highest percentage (33%) of "active" consumers – those who are most engaged and prepared to invest time and effort to reduce their environmental footprint – followed by Europe (31%) and Asia (30%). The Middle East and Africa (MEA) has the lowest percentage of "actives" (19%) and the highest percentage of "dismissers" – those least engaged in sustainability (22%, vs 15% in every other region).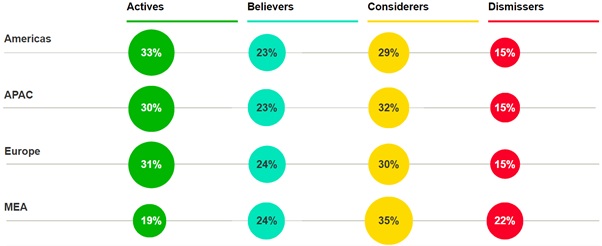 In the findings, we identify a significant generational shift in environmental behaviour. Younger consumers (aged 18-34) are more likely than older ones to walk the talk and actively make changes to their lifestyle in response to climate concerns, such as avoiding products which use excessive amounts of water in their production, buying second hand, or becoming vegan/vegetarian. This contrasts to the actions of older consumers (aged 55 and over), who tend to fit try to fit behaviours into their existing lifestyle.
The report also finds:
63% of consumers believe businesses have a responsibility to act on climate change.
Cost is the most commonly cited barrier to making sustainable choices in all regions; 80% of consumers globally say they are more focused on saving money than saving the planet.
Hunger and poverty is the issue that most concerns consumers globally, and those in Europe, MEA and the Americas
In Asia, the top three concerns are environmental issues (water pollution, air pollution, and extreme weather events.)
Sectoral focus
The study also uncovers the most pressing issues that brands must address in each sector of the economy, finding:
Consumers expect financial services businesses to deal with tax evasion, financial illiteracy, and economic inequality. Companies can stand out and gain commercial advantage by tackling poverty and hunger.
In the food industry, retailers and producers are expected to act on issues relating to over consumption and over packaging, with overwork a commonly cited area where action can drive recognition among consumers.
The issue that will differentiate sustainability actions by companies in the gaming and technology sector is mental health, with tax evasion and lack of access to the internet acting as hygiene factors.
Fashion brands need to tackle waste, at a minimum, and will get cut through with consumers by working to eradicate overwork and worker exploitation.