Over the last few years, the start of the Christmas season has been increasingly dictated by the release of festive adverts from major British retailers. Recently, it seems that this tradition has transformed into a short-film competition, moving beyond an opportunity for retailers to show the range of Christmas products they have on offer, and towards a contest to see who can garner the most significant (both statistical and emotional) reaction from the British public.
John Lewis and Partners have consistently tugged at the heartstrings of viewers, and their Christmas ads have reliable struck the right chord for their audience: last year's 'Elton John Lewis' ad has over 14 million Youtube views, and 2013's 'Somewhere Only We Know' has totalled an impressive 38 million views. As of 15th November, this year's offering featuring an excitable dragon named Edgar, looks to be garnering a similarly widespread success as it currently stands at over 6.5 million views less than a week since its publication.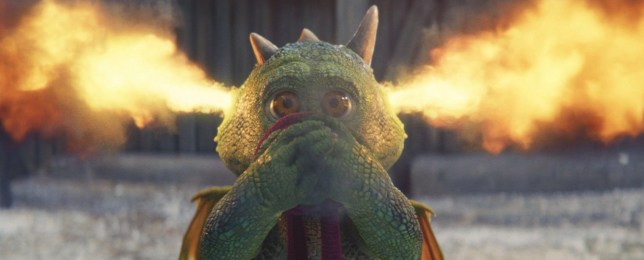 The lovable Edgar the Dragon (Source: John Lewis & Partners)
So what is it about this year's ad that makes it feel a little bit different? Well, the setting is still full of snowy vistas and cosy firesides, and there remains an element of sentimentality. It's not unusual for John Lewis to introduce some Christmas magic through a fantastical sidekick, but Edgar undoubtedly has a charming and endearing excitability to him, and reminds the viewer just how exciting Christmas can be. The beats of comedy sprinkled throughout the ad subvert the expectation of sob-inducing advertising that seems to have become a predictable staple of the festive season, and the result is a heart-warming, optimistic advert that shows a refreshing amount of self-awareness.
What is notably absent from this piece of advertising is the one thing that would be expected from a retailer advert: products. Aside from the food that fills the table of the hall at the end of the video, there is no mention of any kind of deal or proposal of gift ideas. While last year's tag-line was 'Some gifts are more than just a gift', this year's 'Show them you care' suggests a redirection towards an appreciation of company and community during the festive season. Unlike most adverts, this one doesn't attempt to sell a product, but reinforces the cultural presence of retailers in the everyday lives of their customers, and attempts to position John Lewis and Partners as part of the viewer's community, or even family.
John Lewis & Partners' 2019 Christmas Ad
For brands, what this represents is a general move away from disheartening seriousness towards a need for more optimistic (but still sentimental and emotional) attitude. Rather than serving as constant reminders of the negativities of the world, brands have the opportunity to move towards more hopeful, and humorous, communications, and bring some of the 'merry' back into Christmas.