In the latest 12 weeks ending on February 26, 2021, China's fast-moving consumer goods (FMCG) market increased sales by 8.1% year-on-year. Even when compared with the same period in 2019 (before the outbreak of the COVID-19), the FMCG market achieved 4.0% growth.
Although there were fewer social gatherings over the Spring Festival this year compared to normal, due to advice from the government to 'stay put', the overall market remained strong. Many categories have resumed their growth trend, driven by the rising needs for quality and enjoyment from the people who did not travel. For example, beverage and dairy products have achieved double-digit growth in the past 12 weeks.
Fewer people travelling to their hometowns during the Spring Festival meant that the population outflow from key and A cities decreased and this resulted in the value of the FMCG market in key and A cities* increasing by 7.7% in the past 12 weeks.
Retailer performance
The sales value of modern trade (including hypermarkets, supermarkets and convenience stores) in the last 12 weeks was very stable compared to last year with an increase of 0.1%, and has decreased by 2.6% compared with the same period in 2019. Within this, hypermarkets and large supermarket sales fell by 2.4% year-on-year, while small supermarkets and convenience stores continued to grow at 7.3% and 10.7% respectively. The habit of shopping close to home, which many consumers formed during the pandemic, has continued this year.
Among the top retailers, Sun Art Group still ranks first, with a market share of 9%. Driven by the growth of both traffic and trip spend, its market share in the past 12 weeks has increased by 0.6 percentage points compared to last year.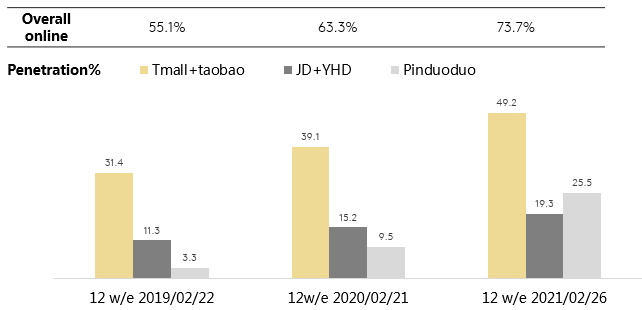 Data source: Kantar Worldpanel China
In addition to transforming its offline stores, RT-Mart's online business also contributed significantly to its sales growth. According to the announcement issued by Sun Art Group in February this year, starting from May 2020, the average daily orders on its online platform exceeded 1,000.
On the other hand, Yonghui Group has also grown rapidly. In the past 12 weeks, its share has increased by 0.5 percentage points year-on-year. The group has accelerated its pace of expansion, consolidating its lead position in the western region with a growth of 1.5 percentage points.
Among the regional retailers, Wu-mart group, Bubugao group, and SPAR Group continued to grow their share, all achieving double-digit growth.
Ecommerce dynamics
Ecommerce has continued to maintain a rapid growth of 35.4% in the past 12 weeks, and the habit of online shopping did not diminish even with the pandemic under control. In China's lower-tier cities, 71% of households have now purchased FMCG through ecommerce during the past 12 weeks, which is a significant increase in the scale of this channel.
Among the top ecommerce platforms, Alibaba (Taobao+Tmall) is still the largest platform with a market share of 44.6% (a year-on-year increase of 1.1 percentage point).
It is also worth highlighting the penetration of Pinduoduo in the last 12 weeks, which has reached 25.5%. This means that just over a quarter of urban households in China have purchased FMCG on Pinduoduo, demonstrating strong growth momentum. According to the 2020 financial report just published by Pinduoduo, by the end of 2020, the number of annual active buyers of Pinduoduo had reached 788.4 million, a year-on-year increase of 35%, meaning that is has become the ecommerce platform with the largest user base in China.
Changes in people's travel patterns, due to the stay put order and new shopping habits developed during the pandemic, have clearly had an impact on FMCG growth this year. We will continue to monitor behaviour so look out for another update on the latest FMCG trends.
* Key cities are Beijing, Shanghai, Guangzhou, and Chengdu, and A cities include 24 provincial cities.