It has been 16 months since we last saw FMCG growth in India rise above 1%. This is despite continued high inflation: in August 2022 the country's Consumer Price Index, which measures changes in the cost of the goods and services purchased by households, rose by 7%.
According to Worldpanel's latest FMCG Pulse report, 92% of Indian households are feeling the impact of inflation, while even those that have not been affected are still purchasing cautiously because of what's unfolding. As a result, FMCG sales volume in the third quarter of 2022 declined 1%, resulting in a loss of 0.4%.
Compared to the pre-pandemic period, Indian consumers are shopping more frequently, averaging 4.1 billion trips per month since April 2022, which represents an increase of 17%. This means a household makes a shopping trip to purchase FMCG every 55 hours, on average. They are also buying more packs, which is largely due to the trend of shrinking pack sizes, with most of the growth here coming from food.
The 'pandemic effect' has ebbed away
In terms of categories, chocolates, soft drinks, biscuits, salty snacks and noodles all continue to experience robust value growth.
Hygiene categories, however, have not managed to sustain the gains they made during the pandemic, as the impact on consumer behaviour did not prove to be long-lasting. In home hygiene, floor, toilet and bathroom cleaners are all in serious decline, with 18% less volume bought in August than in September 2020, and 8% less than September 2021.
India is currently in the middle of its festival season. Following a 'boom' year for FMCG in 2020, when people celebrated at home, and focused their spend on groceries rather than big ticket items such as fashion, jewellery and consumer durables, value sales shrunk by 1.9% in 2021. We expect to see a similar pattern this year.
A wide disparity in spending
Overall, 24% of India's spending goes on FMCG, which equates to about 3,400 rupees per month per household. The top 25% of spending is contributed by just 5% of its households, who spend a little over 7,200 rupees on groceries, representing just 12% of their overall budget. The lowest 25% comes from half of the country's population; they spend just 2,144 rupees on FMCG, which accounts for 33% of their monthly budget.
Most of the 'lean' spenders' basket is already made up of essential items, which is why rural areas – where more of these shoppers live – appear more stable in their behaviours when inflation hits. In contrast, we have seen heavy volume drops in urban areas of the country, as the higher spenders cut back, but this is expected to bounce back over the next quarter.
Worldpanel's latest FMCG Pulse Q3 2022 report reveals how Indian consumers are spending in the age of inflation, studying more than 6,000 households in both urban and rural areas, to give a complete and nuanced picture of not just FMCG purchasing but other sectors as well. It examines how shoppers' behaviour is changing, and how that in turn is impacting brands.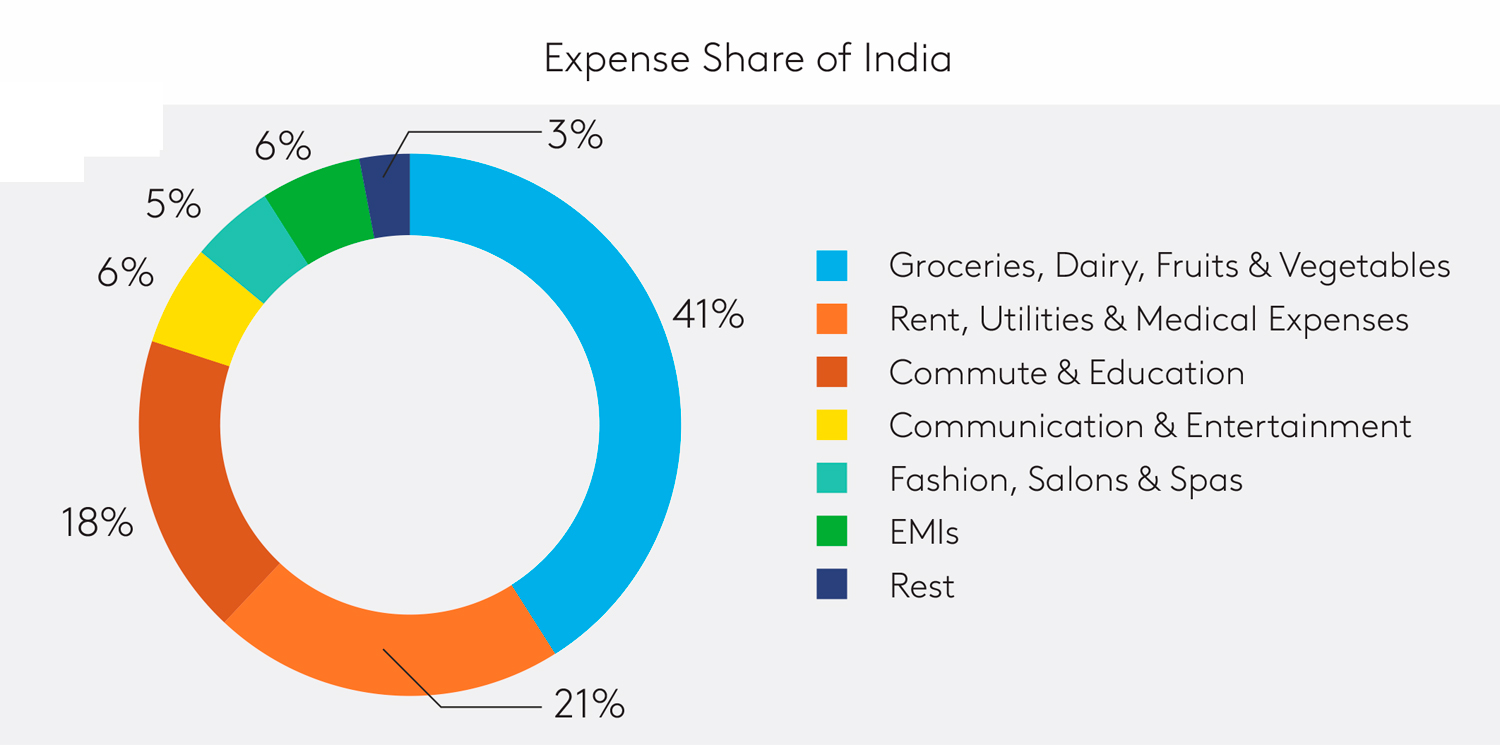 The report also offers insights into how brands are most likely to win in the current context – for instance by providing a great experience, and ensuring they are available to purchase across every channel.
Download the latest FMCG Pulse to take a closer look at the effect of inflation on spending in India; and reach out to our experts for additional insights.