There were certain differences between France's second national COVID-19 lockdown – which ran from 30 October to 15 December 2020 – and its first. It was a little more flexible, with fewer people working at home and more children in school. People's concerns had shifted, with worries about socialising and the economy taking over from fears about becoming infected. While the shock of the first lockdown meant shoppers stuck to their previous habits, new routines had become well-established by the second, while some households were experiencing constraints on their FMCG budgets.
So what impact did these difference have on French consumers' shopping behaviour, and the demand for FMCG goods?
Fewer trips, bigger baskets, and a new reason for stockpiling
In line with new shopping habits, people made fewer visits to stores, but their baskets were bigger. There was less stocking up than during the first lockdown, although this was still enough to boost grocery sales: 78% of FMCG categories grew in volume. This time, people stockpiled to limit leaving the house and reduce contact with others, rather than because they were afraid that goods would run out. 11% of households stocked up on hygiene, beauty and home care products to prepare for lockdown.
There were no drastic changes in the structure of consumers' FMCG spending between the two lockdown periods.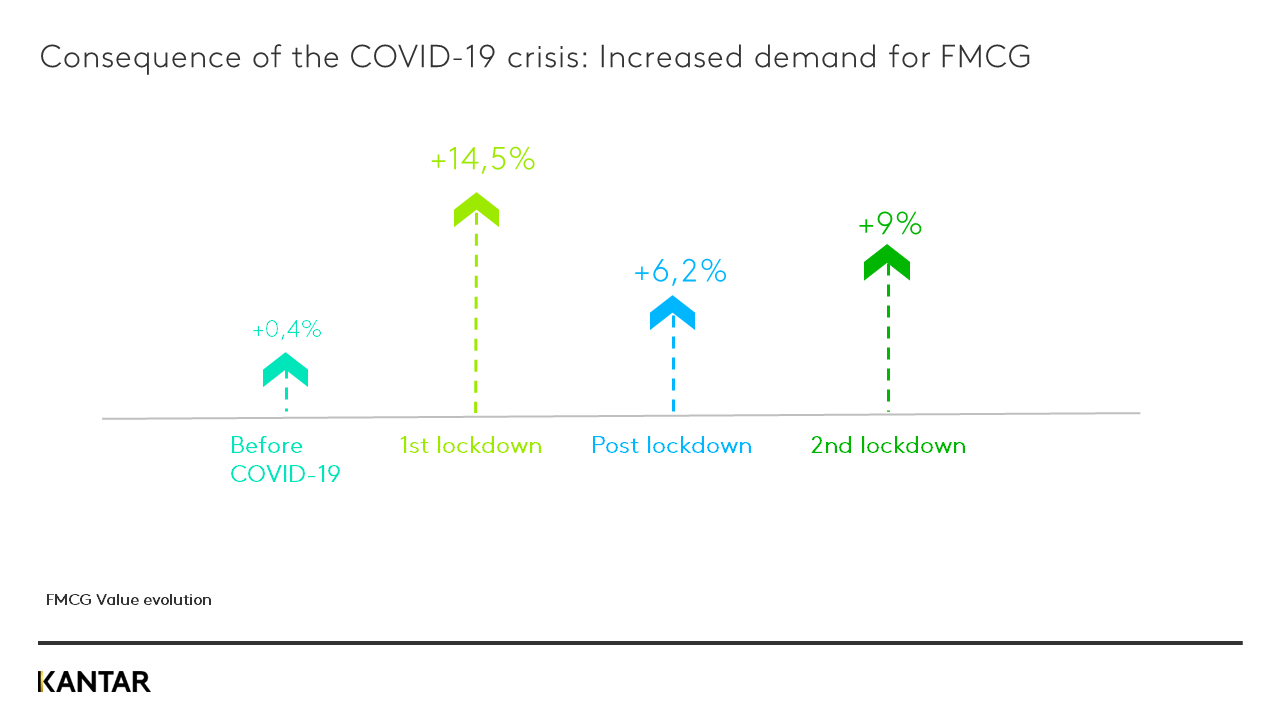 Categories: traditional fresh food takes centre-stage
Sales in fruit and vegetables, cheese, and home care, delicatessen and frozen products all gained momentum, as they did during the March-May lockdown. People also bought fewer beauty and grooming products as they stayed indoors.
While the market for plant-based and organic food continued to grow, it was less dynamic than at the start of the pandemic, due to fewer new product launches, a decline in promotional offers, and mistrust from some households who tend to prefer natural products.
This time around, French shoppers were motivated to try new retailers and formats.
Channels: shoppers look for contactless, close-to-home and budget options
Ecommerce was the big winner, as it was in the first lockdown, but this time the use of convenience stores also increased as shoppers found their proximity appealing. Discounters gained in importance as household budgets were squeezed. Millennials were particularly hard hit by financial constraints, with under-35s most affected.
Many shoppers turned to discounters and private labels due to the decline in overall FMCG promotional activity, which echoed what happened in the first lockdown. However, private labels did not grow this time around – shoppers only seemed to be attracted to them where promotional offers were applied.
FMCG value grows for the first time
Unlike the first lockdown, where we only saw volume growth, value sales increased by more than 1% as households aspired to eating better, prioritised their health, and sought pleasure. Spending on smaller businesses and French-made products increased – and 41% of consumers intend to continue buying more local products in the future.
This trend for spending more on FMCG was in part driven by a rise in confidence among French shoppers. Many had saved money in the months between lockdowns, due to going out less and foregoing holidays, for example: Banque de France estimates that households had 130 billion euros saved by the end of 2021, more than 4% of the national GDP.
What's the outlook for food and drink?
We are looking at two possible scenarios for exiting the COVID-19 crisis in France. If there's a continuous recovery – driven by a successful vaccination programme, and a return to more normal activity – we expect in-home food and drink value sales will drop by 5%. If the path is more challenging, perhaps due to slower vaccine roll-out and further lockdowns, we expect a drop of just 2%.
Staying at home (again)
The trend for home cooking was less marked in the second lockdown, but it was still popular: 18% of households said they cooked home-made main meals more often, a 15% drop on the first lockdown. This is likely to be due to fewer people having the time to cook: only 19% of French households had at least one person working at home in November.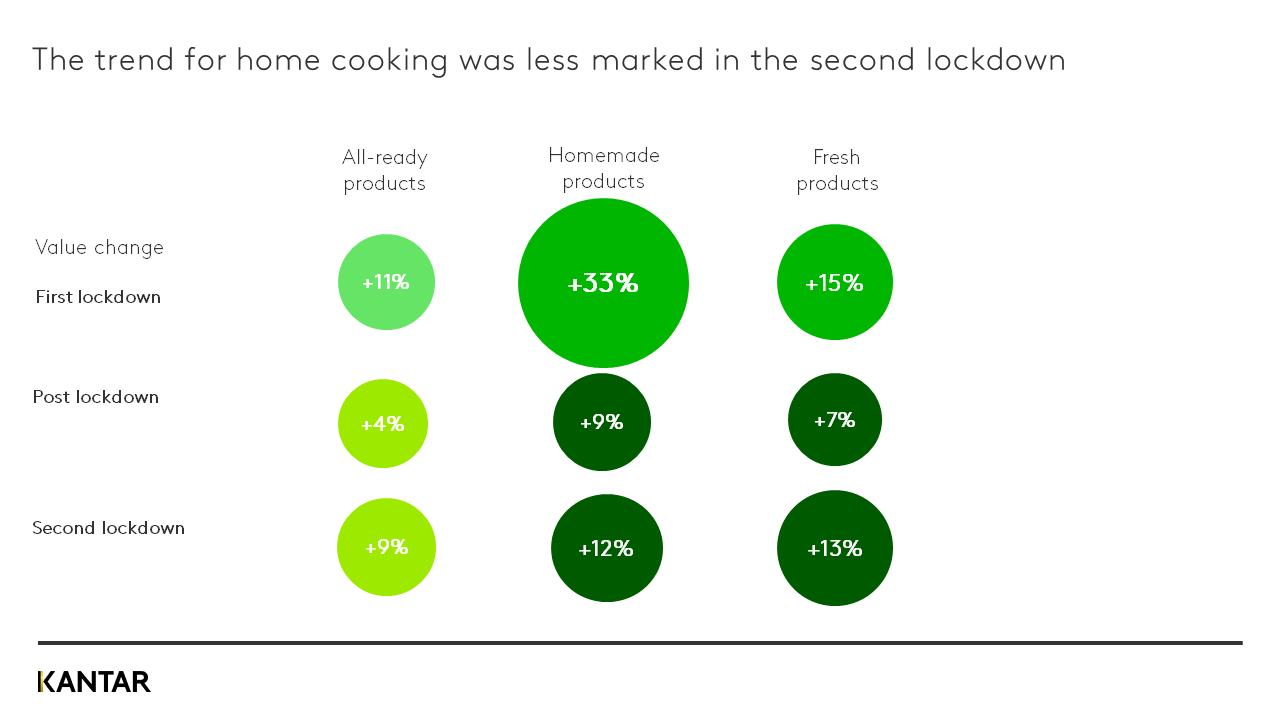 Similar to France's first lockdown in spring 2020, the demand for FMCG increased in the second. Other parallels included lower purchase frequency, bigger baskets, a return to people eating at home, and the popularity of online purchasing. However, there were also some marked variations due to well-established changes in routine, and evolving consumer priorities and concerns. We don't yet know what lies ahead in 2021 – whether the route out of the pandemic will be smooth, or there are more lockdowns on the horizon. What is clear is that FMCG – in particular food – remains a source of comfort and safety in a world in crisis. And whatever happens this year we will be there, following and reporting on every trend.