FMCG sales in Mainland China increased by 3.9% year-on-year in the 12 weeks to 15 July 2022, according to Kantar Worldpanel's figures. The four weeks in July witnessed a 4.8% boost in shopper spend, suggesting that recovery from the previous lockdown is accelerating.
Food saw a steady 4.8% increase in sales during the last four weeks while, with the heatwave spreading to more cities in July, beverage sales surged by 14%. Although the shockwave resulting from the most recent lockdown dragged down spend on personal care products, the return of social activities helped it reach 2.1% year-on-year growth in July.
Among Mainland China's major modern trade retailers, Sun Art managed to hold its market-leading position, despite its share of total FMCG spend shrinking by 0.8 percentage points over the past 12 weeks compared to last year. Walmart continued to perform well due to the consistently strong growth of Sam's Club.
In contrast, Vanguard and Suning lost the most in terms of market share – decreasing by 0.8% and 0.7% respectively, driven by a loss of shoppers.
Online FMCG shopping maintained its robust sales growth, with spend increasing by 6.8% in the past 12 weeks, and upper-tier regions delivering an increase of more than 12% thanks to more aggressive online promotions. Having previously been affected by restrictions on transportation, ecommerce lost some penetration, but this was offset by a 9.4% increase in the number of trips.
JD Group snatched 0.5% of market share from other retailers, on the back of its strong performance during the 618 ecommerce festival. Douyin and Kuaishou kept up their growth momentum by acquiring more shoppers, increasing penetration by 10.3% and 2.9% respectively. The short-video platforms demonstrated their strength throughout the lockdown, positioning themselves well for faster development in the future.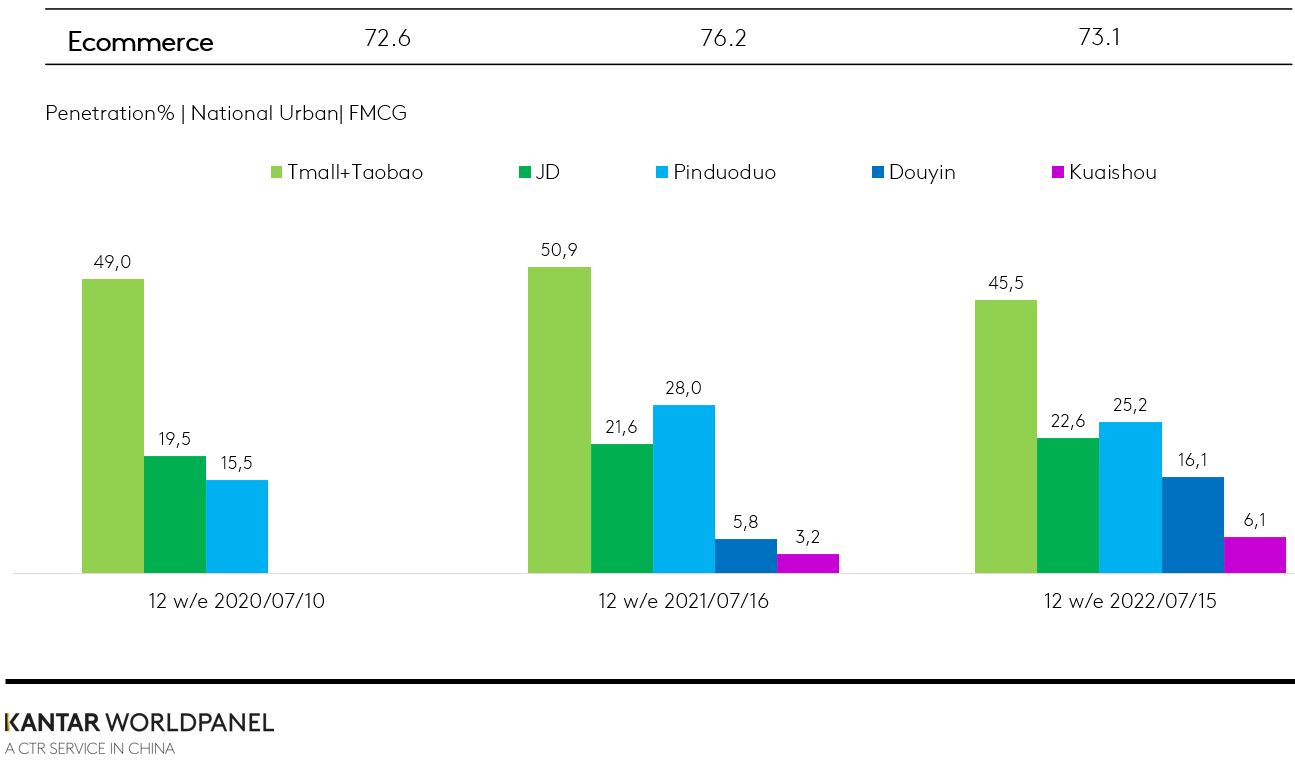 Within the platform-based retailers, Community Group Buy and Aggregator sites grew fastest, with Community Group Buy in particular achieving substantial uplifts in penetration which resulted in significant sales growth, even after the lockdown.
Use our data visualisation tool to explore current and historical grocery market data for your region or contact our expert Jason Yu for more information.