Promotional activity is happening earlier and earlier each year, as high street retailers try to maintain, or even steal, share across high traffic eCommerce-origin sales events. Singles Day and now Black Friday and Cyber Monday are intensifying competition earlier in the season. This is forcing suppliers and retailers alike to find new propositions if they aren't going to jump on the sales event bandwagon and steel themselves for heavy discounting in the run up to Christmas.
Although we have seen many retailers starting earlier and discounting much of their gifting stock, we've also seen several retailers opting out of Black Friday altogether. Even some digital-native brands, more susceptible to online discoverability and therefore more likely to play within the Black Friday space, have shunned the event for a different value proposition altogether.
Happy Socks, for example, a sock manufacturer and D2C brand from Sweden, has decided to offer free shipping this year, rather than activate holiday promotions. A smart move from a brand that performs best at Christmas.
With recent news of Nike and IKEA cutting ties with Amazon altogether as they seek to control more of their brand equity and routes to consumer, it will be interesting to see whether previous assertions that high street retailers are desperate to compete with Amazon hold true. Yes, it will be a highly competitive shopping event, but arguably more so on the high street than with brands clamouring to work with Amazon to discount away their profits.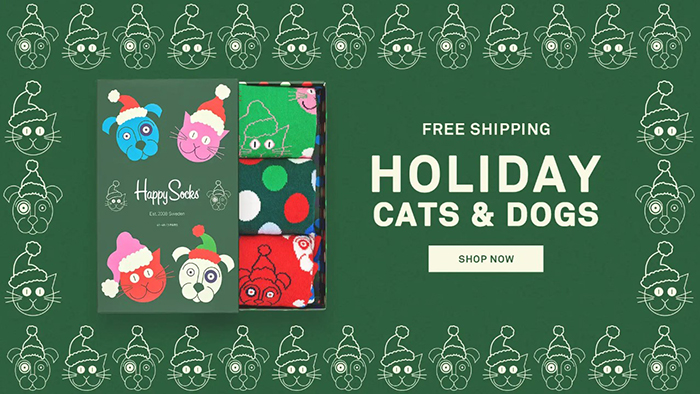 Happy Socks, a Swedish D2C brand, is not partaking in Black Friday this year, instead choosing to offer free shipping across its Christmas gifting range (Source: Happy Socks)
These are the key themes Kantar will be watching out for across Black Friday and Cyber Monday:
1. Black Friday will be more competitive than ever, so rewarding Prime members with online exclusives and great discounts will be key in recruiting new shoppers.
We expect Black Friday to be more competitive than ever in the UK and across Europe, with key markets having started Black Friday Deals as much as a week before the day itself. A recent study conducted by Kantar Worldpanel Plus found as many as 61% of UK shoppers would be participating this year, up 4pp from last year.
With a high number of shoppers to convert, and over 45% of shoppers in the UK being Prime members, rewarding these with exceptional discounts, holidays and shopping experiences will be high on the agenda for Amazon. Leveraging the holiday sales period to convert shoppers to Prime will also be a key consideration.
Competition will be high to do so, as typically only 13% of UK shoppers will actually shop Amazon on Black Friday. The average shopper will also only purchase from two different retailers, both online and offline on the day, so standing out from the crowd in both realms will reap rewards in terms of shopper engagement.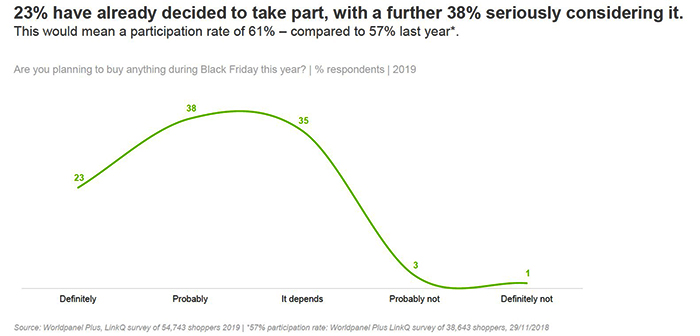 Levels of intended engagement among UK shoppers for Black Friday and Cyber Monday. (Source: Kantar Worldpanel Plus Survey, 2019)
2. Bricks and mortar stores will see a sales uplift on the back of Black Friday, with shoppers wanting to find good deals for Christmas gifting.
Amazon's dominance has long been said to be the death of the high street, but our Kantar survey suggests that as many as 61% of shoppers plan to shop Black Friday sales in physical stores. This in turn will have a positive effect on Christmas shopping more holistically.
The uplift to high street retail will be exponential, with a 180% gain across the high street during this period. Last year, in the UK, we spent more than three times as much as usual on the high street.
Most shoppers will be looking for gifts – 62% surveyed said that they were specifically looking for Christmas presents, especially over key categories such as electronics, toys & games and health & beauty products. Retailers specialising in these areas have already begun promotions. Boots and Superdrug in the UK are hosting deep discounting events, with 2 for 1 and price-matching on selected products that clearly compete directly with Amazon in key categories.

Source: Boots.com; Superdrug.com
3. Engaging with Shoppers during Black Friday will be about more than just promotions; speed, convenience and friction-free shopping will be key.
For a long time, the Amazon proposition has been around unlimited shelf, consumer-centricity and frictionless retail experiences that generate ultimate loyalty to the retailer. In our survey, the value of both price competition and an unlimited range, came third and fourth respectively as key considerations for shopping on Black Friday.
Instead, convenience and being 'easier' than high street shopping were the main motivators. Boots and Superdrug are fighting back and offering free pickup in-store for orders over GBP10 (Boots), and 30-minute in-store pickup service (Superdrug).
The high street is also arguably better for experiential retail and being able to sample products and gain advice. These were also key drivers for shoppers shopping in-store as opposed to online over the promotional season. During this period retailers can remain competitive by offering better shopping experiences with shop floor services and gifting recommendations to add personalisation for shoppers.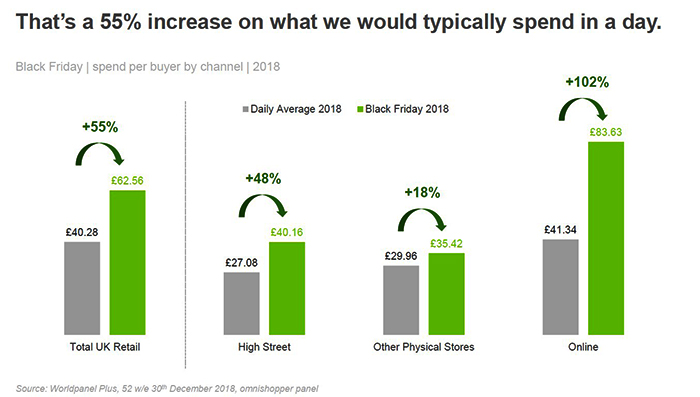 Source: Worldpanel plus, omnishopper panel, 2019
4. Negative perception from shoppers and retailers that Black Friday isn't such a good deal – for shoppers or the planet.
32% of shoppers said they weren't interested at all in Black Friday offers, with 53% of those stating it is poor value for money, and that there are better deals to be had throughout the year. With so many retailers now discounting at numerous times of the year to incentivise, shoppers are clearly experiencing promotional fatigue, and retailers themselves have wised up to the perils of continuous discounting.
Many retailers this year have adopted a more sustainable stance for their holiday operations both for their business models and the planet, declaring that consumers should think deeply about their purchases and not bow to relentless consumerism.
This is an interesting stance from a retail perspective. The movement is in its infancy this year, but is a trend to watch as consumers become more aware of the impact of their consumerist habits and place environmental concerns higher on their list of motivational drivers.

Deciem, a brand that believes Black Friday isn't 'consumer or earth friendly' is shutting its doors on 29 November in a stand to make consumers think more about their purchases. (Source: Deciem.com)
Click here to read the Kantar Black Friday predictions report in more detail on Retail IQ.