As environmental concerns grow, people globally are modifying behaviors to be more eco-conscious. But will these changes fall by the wayside as a different kind of crisis, the increase in the cost of living, takes hold? And how does this vary between age-groups and countries? Any shift is likely to be crucial to organizations wishing to engage with consumers over the next few years.
Kantar recently conducted a survey across nationally representative samples in nine major markets, looking at consumer behavior related to sustainability, the gap between expression of support and action in today's economy, as well as the balance between financial implications and investing in the future.
Here we explore some of the findings around environmental concerns, what actions they are willing to take themselves, and the balance of responsibility between individuals, businesses, and governments.
Levels of environmental concern are high across all groups
Respondents were asked about their level of concern about various eco-related topics: energy, water, global warming, food safety, air pollution and biodiversity.
For the first five of these, between 70% and 75% say they are either somewhat or very concerned. This drops to 62% for biodiversity.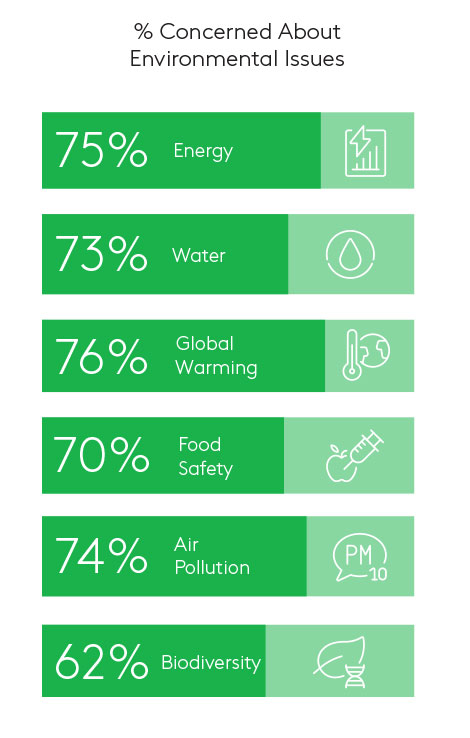 With energy, the proportion of those not concerned is consistent across countries, but the proportion very concerned is highly variable: only 17% in Singapore and 23% in the US, but 51% in India.
Respondents in India also have the highest concerns about water, with 0% not concerned and 70% very concerned. Northern European countries (UK, France, Germany) show least concern about water.
Global warming attracts the highest level of overall concern, with 35% somewhat concerned and 41% very concerned. It also seems most polarizing, especially in US, where it has the highest proportion of not concerned (14%) of any of the six categories in any country. Levels of concern about global warming are generally higher nearer the equator, with Singapore somewhat bucking this trend. Brazil and India have the highest levels of very concerned at 59%.
Food safety and air pollution both cause higher concern in Brazil, China and India, and less in US and Europe. For biodiversity, the category that scores lowest globally, Brazil has the highest levels of very concerned at 41%.
Millennials tend to have the greatest levels of concern, with slightly lower for Gen-Z and Gen-X, and lowest for Boomers. The exceptions are global warming and biodiversity: here Gen-Z shows the highest level.
Levels of concern consistently increase with household size. 23% of single-person households report being very concerned about food security, and this almost doubles to 43% for households of 5+. The trend is slightly less pronounced for global warming and others.
People feel individuals are responsible for making positive changes to environmental sustainability
Globally, 64% of respondents think individuals are responsible for making positive changes to environmental sustainability. This is felt the highest in Asian markets and lower elsewhere, such as US (59%) and UK (62%). However, they do not put the burden squarely with themselves. 74% think governments hold responsibility, and 65% thinking the same for businesses and brands.
The cost of living is preventing people from doing more for the environment
When asked whether respondents consider themselves eco-conscious in practice 59% of people globally believe they are eco-conscious in practice, with US (37%) and UK (38%) scoring the lowest.
Comparing generations, Gen-Z (51%) respondents consider themselves least eco-conscious in practice, however, they are most active in supporting environmental sustainability campaigns in the past year. 89% say they have supported one of the activities asked in the survey (such as limiting using plastic), versus Millennials (87%), Gen-X (85%), and Boomers (83%). This might reflect Gen-Z having higher standards for eco-conscious behavior, coupled with financial constraints not allowing them to do all they might wish.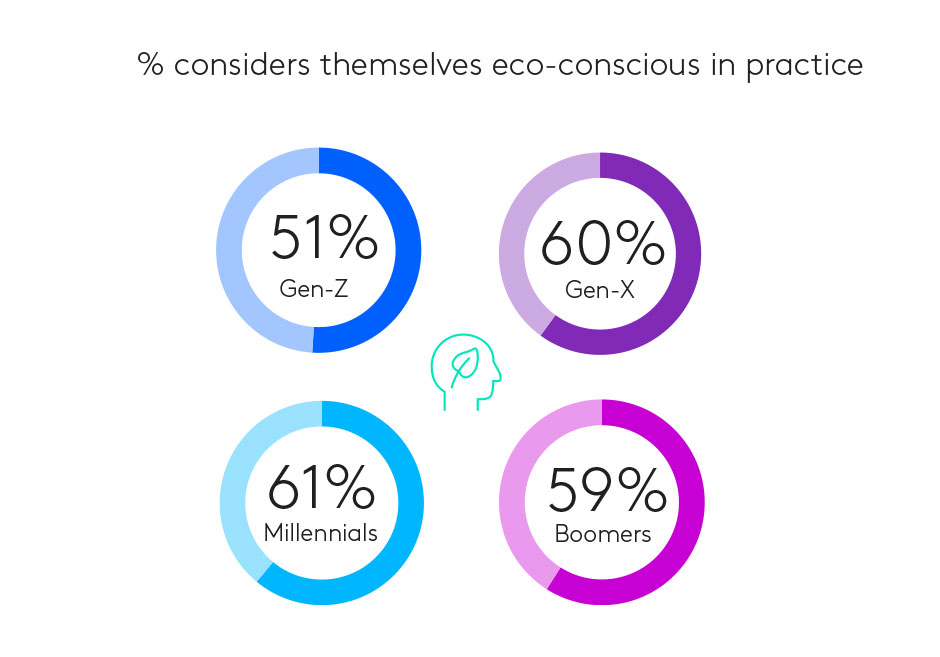 64% of people globally report wanting to do more for and be more mindful of the planet and environment, but the cost of living prevents them from doing so. This sentiment is felt the most in Brazil (75%) and least in China (53%). This feeling also decreases with age and household size.
Consumers are prepared to support brands that do good for the environment
While the cost of living is preventative, respondents globally suggest they are willing to support brands that are environmentally focused:
56% say they have stopped buying certain products or services because of their impact on the environment or society
53% say they actively seek out companies and brands that offer ways to offset their impact on the environment
51% say they are prepared to invest time and money to support companies that try to do good
In almost all cases, Millennials have the highest level of agreement with these statements, followed by Gen-Z and then the older generations. However, the differences are small. Levels of agreement tend to increase with household size.
Get more answers
For more findings from this study, access the complete Community Report: Connecting with Eco-conscious Consumers. Find additional generational and country-specific answers on the impact inflation and today's economy is having on consumer support for sustainable means of transportation, home energy, lifestyles, and brands.
About this study
This research was conducted online among 9,000 respondents sourced from the Kantar Profiles Audience Network across 9 global markets (1,000 per market): US, Brazil, UK, Germany, France, Spain, China, India and Singapore. Fieldwork was done between April 19 and May 5, 2022. All interviews were conducted as online self-completion and collected based on local census distributions for age, gender and income.