As consumers watched the very public collapse of Silicon Valley Bank play out across mass media channels, it ignited global concern about the safety and transparency of banking institutions. Amidst balancing a rocky global economy, watching a bank fold sparked many consumer questions. Would other regional banks fall to the same fate? Is my bank transparent with me about their stability?
Kantar recently conducted research on how communities are making financial decisions in the wake of global economic instability, and how they are managing expenses. This research unveiled how consumers perceive banking institutions and how they use and save their money.
Global consumers find national banks more trustworthy than regional or local
Globally, 58% of consumers consider national banks to be trustworthy (top-2 box), compared to 42% for regional or local banks.

Consumers generally consider national (44%) and regional (42%) banks to be similarly transparent with their customers. However, 10% said regional banks are "secretive," compared to 7% for national banks – a 43% difference.

Banks are least trusted in France, Germany and Spain
French, German and Spanish consumers are most critical over their national and regional banks. 7% of French consumers, 8% of German consumers and 8% of Spanish consumers rank their national banks as trustworthy, compared to the 18% global average.
Additionally, banking institutions in these countries rank low on transparency. 17% of Spanish consumers rated national banks to be "secretive," compared to the 7% global average. In Germany and France, only 5% ranked their banks to be "transparent."
Transparency and trust high in China and above average in the US
In China, 43% of consumers rated national banks to be "trustworthy," and 24% reported them to be "transparent" in their actions, considerably higher than the global averages.
Despite highly visible banking collapses in the US, 21% of Americans say they trust regional or local banks, compared to the 13% global average. Trust for national banks is slightly lower in the US as 16% of US consumers rank national banks as highly trusted, compared to the 18% global average.
Banking transparency and trustworthiness lowest among consumers who struggle with monthly expenses
Consumers who are easily able to meet their monthly expenses consider banks to generally be more trustworthy and more transparent, compared to those who struggle with expenses. 64% of consumers who easily meet their expenses rate national banks as "trustworthy" (top 2-box), and 52% as "transparent." These ratings drop to 39% for trust and 30% for transparent among those who are unable to meet their monthly household budgets.
Traditional investments through banking institutions remain more popular
Despite the rising popularity of new investment opportunities like cryptocurrencies, consumers are still most likely to invest their money in traditional types of investments, like personal savings or retirement accounts. 50% of consumers currently hold a personal savings account, with an additional 20% reporting plans to open one.
Retirement savings are also high – 34% have some type of retirement account and 28% plan to open one soon. Conversely, only 11% currently invest in cryptocurrencies.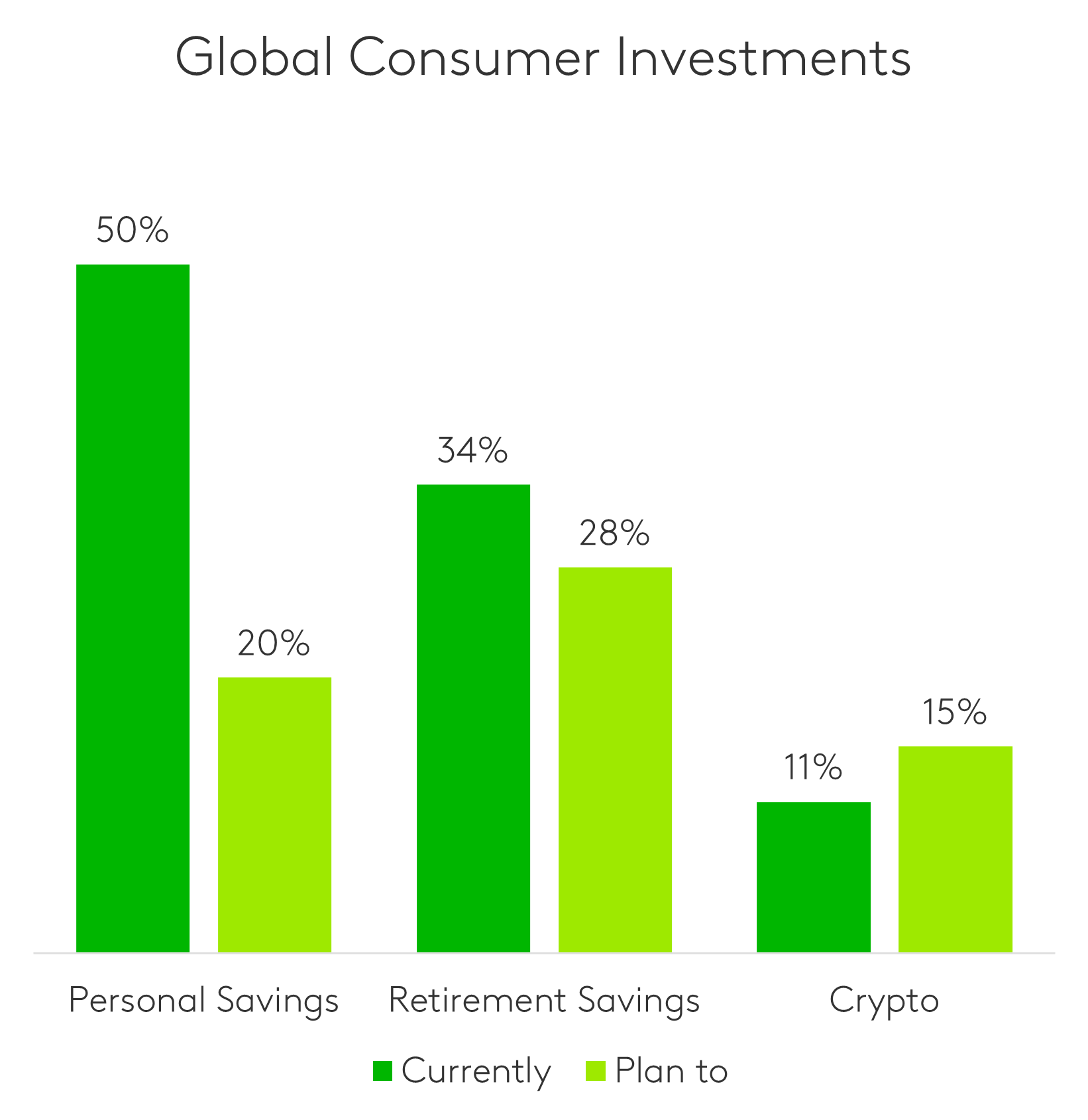 Get more answers
For more findings from this study, access the complete Community Report: Connecting with Global Consumers. Read about how global communities are managing their expenses, approaching real estate and travel and making financial choices.
About this study
This research was conducted online among 10,001 respondents across ten global markets: US, UK, France, Germany, India, Singapore, Spain, South Africa, Mainland China and Brazil between 29 March and 10 April, 2023. All interviews were conducted as online self-completion and collected based on controlled quotas evenly distributed between generations and gender by country.
Respondents were sourced from the Kantar Profiles Audience Network.