Faced with the turmoil brought on by war, inflation, the pandemic, climate change and technological advancements it is easy to focus on the transitory, rather than the fundamental. But innovation will continue to be the foundation on which strong brands are built, and, if history teaches us anything, disruptive times create the catalyst for a disruptive strategy for innovation.
The question is, will your brand be the disruptor or the disrupted?
Brand innovation re-imagined for today
Disruptive times demand a new approach to innovation strategy. This article is the first of a series that will discuss the principles that drive success for modern innovation – the innovation drivers – starting with a deep understanding of people's needs, how to create meaningful innovations at speed and concluding with how to futureproof your innovation strategy.
Innovation drives brand growth
Kantar BrandZ demonstrates that strong brands deliver better shareholder returns than the S&P 500. In difficult times brands that continue to innovate grow seven times faster than competitors. Clear proof that innovation is the lifeblood of even the biggest and strongest brands on the planet.
History shows us that innovators win -in times of crisis, and beyond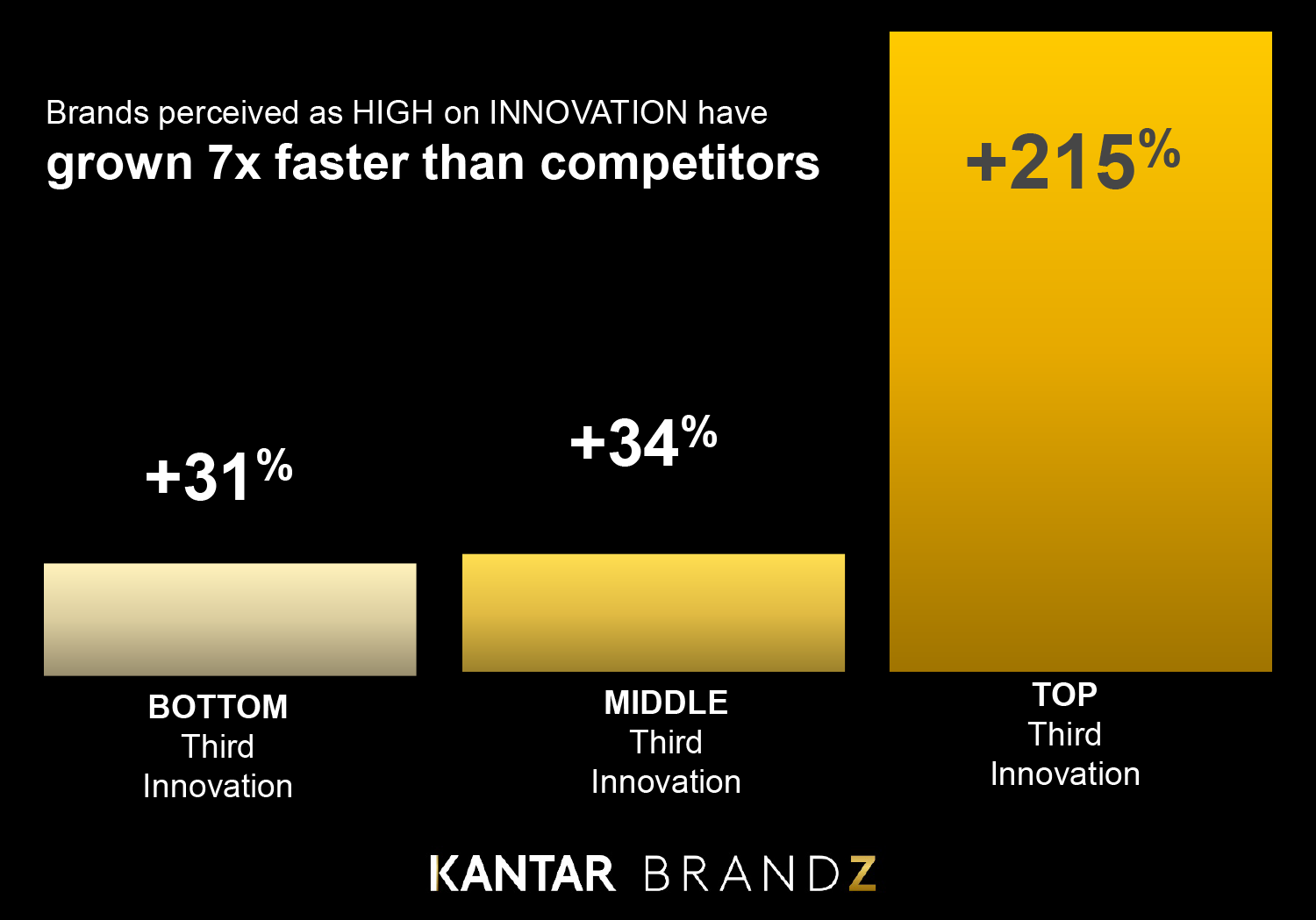 Source: Kantar BrandZ
But more of the same is not a recipe for long-term success – instead, you need a brand growth strategy that focuses on disruptive innovation.
Innovation exists outside Silicon Valley
While Uber, Airbnb and Tesla loom large in people's minds, meaningful innovation can transform any product category. Halo Top changed consumer attitudes toward low fat ice cream. Dollar Shave Club proved that a new business model can challenge the dominance of strong brands – even the very strongest. And in 2021, Warburtons launched its Soft Pitta in the UK, which targeted the growing need for a convenient, versatile lunch during the pandemic. Soft Pittas are easy to open and fill compared to traditional ones and are sold in recyclable packaging. Number 5 in Kantar Worldpanel's UK Top 10 new product launches of 2021, Soft Pittas generated £8.9M in sales and reached nearly 8% of all shoppers – an innovation approach that truly had impact.
No brand is 'undisruptable'
If there is one lesson to take away from these examples, it is that no brand is 'undisruptable.' Time after time, simple innovations resolve an existing tension and by doing so discomfort an incumbent brand. Just as Ford, VW, and Toyota scrambled to catch Tesla, so too Unilever, P&G, and Danone were forced to respond to their new competition. Brands that fail to innovate risk playing catch up to faster moving and more nimble competitors. And opportunities exist in even the staidest product category. If you can figure out how to resolve a consumer tension in a more meaningful way with your innovation you're already half-way there.
Innovating with business and brand in mind
Building a strong brand starts with a meaningful and different product or service. And the same qualities distinguish an innovation that adds incremental sales to a brand from one that simply steals existing sales. Sales boosters are perceived to be meaningful and different by the target consumer. Sales stealers are perceived to be meaningful but lack that all important differentiation – from your existing brand portfolio and your competitor's. Meaningfully different innovation is the lifeblood of brands because it helps support brand growth through incremental sales, both now and into the future.
Meaningful difference and perceptions of innovation is a recipe for success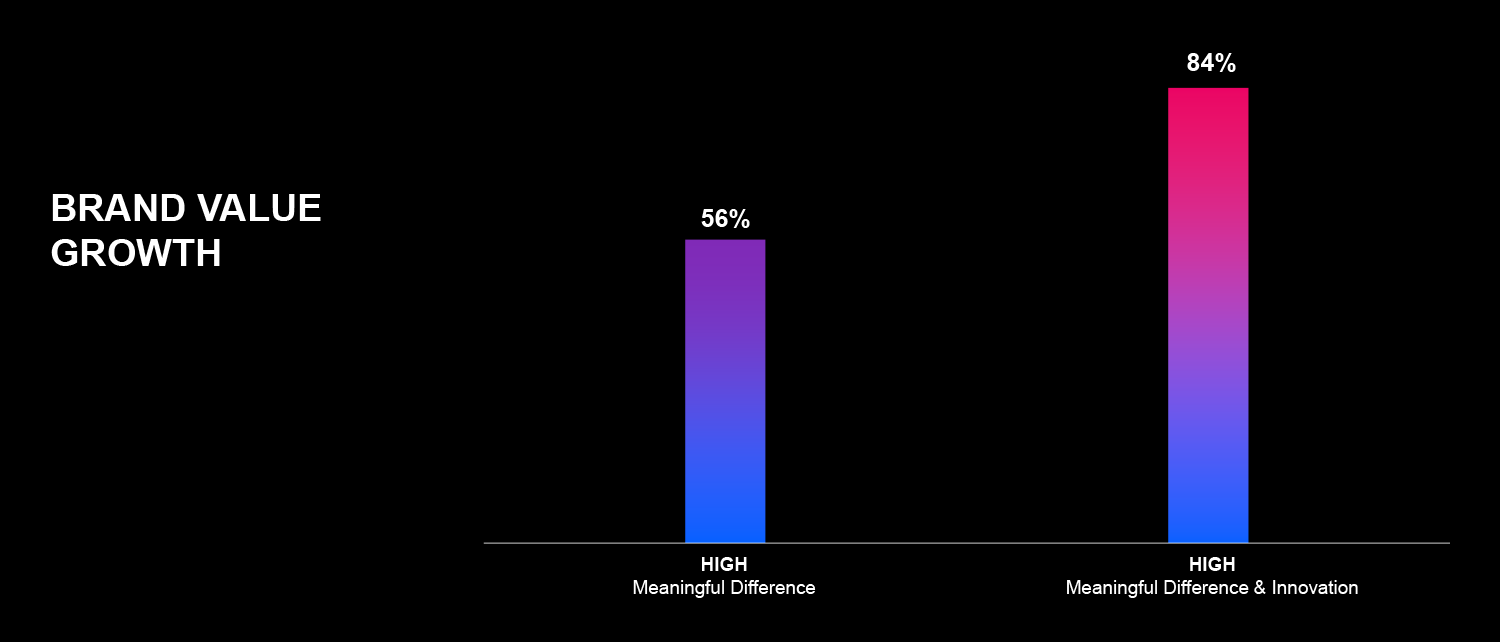 Source: Kantar BrandZ
Talking to the need to innovate with both business and brand in mind, Steve White, Head of Innovation at Diageo, says,
"We are very choiceful around where we innovate, so we work out how we deliver innovation that is working in service of the business strategy or is so meaningfully different that it will change the business's strategy."
And he highlighted the need to ensure that an innovation fits with the brand. Talking about the success of Gordon's 0.0 alcohol-free gin, he notes that the development required the taste of 0.0 to be "true to that Gordon's experience". No simple task with a brand as trusted and loved as Gordon's, but crucial to the innovation's ultimate success.
Successful innovation can be a challenge at the best of times
A successful innovation approach demands empathy with the end-consumer, objectivity, agility, confidence, and persistence. That is a big ask, particularly within the confines of a large organisation with an innovation process designed to operate at scale.
And then…all change!
In addition to creating new tensions, the pandemic has proved to be a catalyst for change and disruptive strategy, accelerating consumer trends that have been apparent for years, but limited in scope. Growing interest in sustainability and inclusivity predate the pandemic, but they add to the complexity that must be navigated by any innovator. Add inflation, the metaverse and an unreliable supply chain into the mix and, depending on your point of view, the challenges or the opportunities become even greater.
We must evolve the way we innovate
With consumer behaviour in flux, it can feel like there is no solid ground on which to build your innovation strategy. But change means more opportunities for innovation, not less. The challenge is to move fast and innovate at speed, while retaining consumer guidance and making good on some of the deficits of traditional product innovation.
There are three important ways in which the innovation strategy and process needs to evolve if it is to be more successful in these uncertain times.
1. Apply imagination to go beyond the obvious
Steve Jobs once said, "Some people say give the customers what they want, but that's not my approach. Our job is to figure out what they're going to want before they do."
Far too much of today's innovation is simply a response to the current trends and what people say they want. That is not a recipe for disruptive innovation. Instead, innovators unlock deep human understanding of people in their context and apply their own imagination to envisage how things could be. The origins of success lie in imagination focused on the why behind the what to unlock new ideas, insights and opportunities to drive growth.
2. Cultivate empathy to win hearts and minds
Often innovation stems from a deep, personal understanding of a situation. Justin Woolverton created Halo Top ice cream because he wanted a dessert that was both healthy and tasted good. His credentials as a corporate lawyer did not set him up for success but knowing his own motivations did. As corporate innovators we cannot pick and choose innovation projects based on personal motivations. Instead, we must cultivate our empathy with other people's desires and motivations in each context, and apply that understanding to identify unstated tensions, learn from the exceptions rather than ignore them, and craft new solutions for problems that people take for granted. If we can successfully do that, then the intended audience are not going to have to think about whether our innovations are relevant, they will simply feel right.
3. Learn at every step of the innovation journey
Talking about the innovation process, Jeff Bezos says, "You, the product or service owner, must understand the customer, have a vision, and love the offering. Then, beta testing and research can help you find your blind spots."
In saying this, he acknowledged the need for imagination and empathy, but also recognised that there will be unknowns that must be surfaced and addressed. And the only way to do that is to test ideas and products with the people that are intended to use them. More than that, however, is the determination to apply that learning in the context of the whole brand, not just an individual product. To do so, innovators need to adopt an agile development process, enabled by fast and effective consumer research, and then evolve the offering based on the feedback to make the final innovation reaches its full potential.
It is time to innovate differently
Change brings new opportunities for innovation. But an innovation may not be completely new, just better, more convenient, or more affordable than existing products. Change demands that an opportunity is lasting, not transient. Change demands better ways to innovate our brand growth strategy. And change demands agility, the ability to test and learn, allowing our innovation approach to fulfill its full potential.
If you believe the time has come to innovate differently, get in touch to discuss how to power your innovation strategy to build a strong brand. Subscribe to our newsletter so you don't miss the next in the series.