It has been six months since we last reported on what people were most looking forward to after lockdown 1.0. Now many of us have just emerged from a "winter lockdown" (lockdown 2.0) into restrictions almost as severe, we wanted to find out what people are doing to get through this difficult time.
It is inevitable that COVID-19 restrictions are forcing changes on what we do and what we consume in our daily lives, and once again, we are finding ourselves needing to adjust to the 'new normal'. With the winter months now firmly here and Christmas around the corner, our lockdown 2.0 routines are looking very different to when we could sit in our gardens, go to the beach, have a pint in a beer garden and soak up the sun back in the first national lockdown.
We used social listening technology to identify and understand what kind of activities consumers in the UK were engaged in during the first two weeks of (what was for many) lockdown 2.0. What is different from the first lockdown?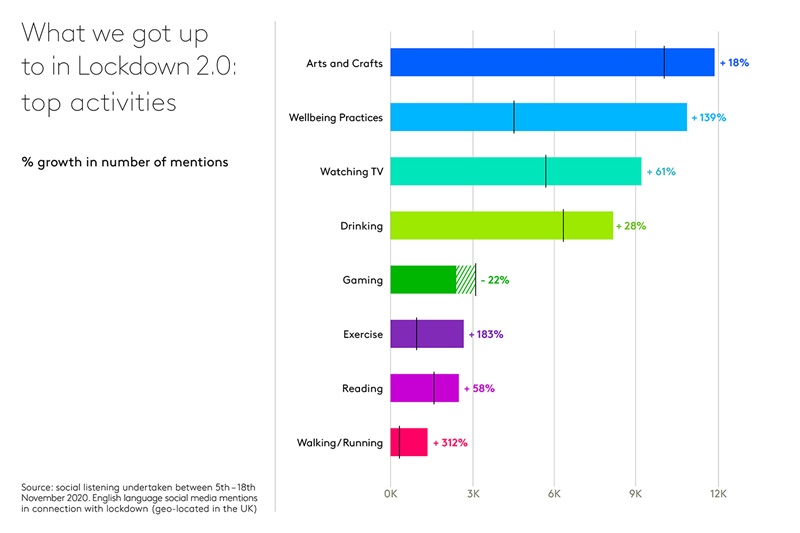 Arts and Crafts
The first lockdown in spring/early summer saw many consumers making small changes to their homes and gardens, as this would be where we would be spending a lot more time. Kantar's new Digital Activation Engine revealed, in April, a 327% year-on-year increase in search interest in decorating, where we observed high volumes of search specifically around "how to paint bedroom", "how to hang wallpapers" and "how to tile the bathroom." In May this new demand manifested in a staggering 45% YoY increase in spend on Decorating products. By June 44% of the GB population had bought a DIY related product. (Find out more about UK spending on home improvements.)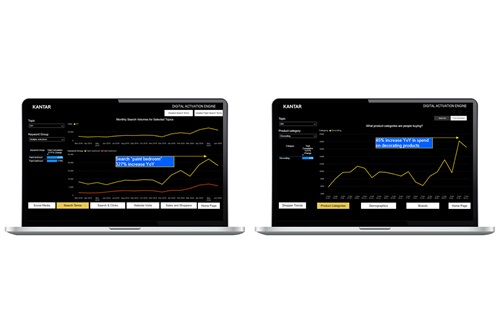 Kantar's Digital Activation Engine also surfaced a 44% YoY increase in the number of people talking about gardening in social media. Search interest in "garden tools" was 193% higher in April 2020 compared to April 2019, "grow vegetables" saw an unbelievable 500% year-on-year increase in search in April. Our garden clearly gave us solace during lockdown 1.0, as by May spend on gardening tools and equipment was up over 100% on 2019.
As we head into winter lockdowns and tier systems, our social media data indicates solace is being found through activities that make us feel creative and occupy our time indoors while at home. Crocheting, painting and embroidery appear to be the most popular activities, with many art pieces shared through social media and sold through platforms like Etsy (search interest in Etsy has never been higher). Some social media users reported ordering candle-making and knitting kits to keep themselves busy. This suggests home craft kits could be popular and thoughtful gifts for families this Christmas.
Wellbeing practices
The global pandemic has brought stress and anxiety for many, and ensuring the emotional wellbeing of oneself and others appears to be a key focus for people during lockdown 2.0. Our social data recorded a 102% increase in wellbeing-related conversations during the first week of lockdown 2.0, compared to the week before, with many tweets containing hashtags like #selfcare and #mindfulness.
Earlier this year, our Kantar COVID-19 Barometer found people strived for improving physical health through exercise and healthy eating habits during the first few months of the pandemic. Priorities have now shifted from improving physical to mental health, with many people talking about participating in online yoga sessions and meditation practices to calm the mind. Discussions around bath products, herbal teas and aromatherapy are also on the rise.
These product categories and experiences may be something people will be looking to gift others during the coming festive season. We expect to see the wellbeing sector growing further into 2021, as this rise in demand for mental wellbeing during the pandemic may manifest in increased demand for mental health support providers as well as 'WellTech' leaders who provide tech solutions including apps for sleep, meditation and online therapy.
Watching TV
It is no surprise, with people spending more time indoors during this winter, watching TV, movies or football is a common activity during lockdown 2.0. But what are UK consumers actually watching?
Our social listening suggests our favourite shows have been Channel 4's Great British Bake Off, ITV's I'm a Celebrity and Season 4 of The Crown on Netflix. The return of I'm a Celebrity in particular seems to have enlightened many TV viewers' mood during lockdown 2.0, with one social media user summarising "So happy #ImACeleb is back on; it's honestly what we all need right now". This has profound and positive implications for live and broadcast TV as a channel for brands to reach and engage audiences. Indeed, our data from our Kantar COVID-19 Barometer found traditional TV viewing increasing by 63%.
Many of us are also relieving lockdown boredom by watching Christmas movies a little earlier this year.
Drinking
With pubs and bars closed across much of the nation, consumers have been enjoying alcohol from the comfort of their own home or over a Zoom call with friends. People are stocking up on beer and wine, making home-made cocktails, and indulging themselves with a nice bottle of whisky. The tone of conversations suggest whisky, gin, wine or a good lager was helping people get through lockdown 2.0. With more consumers buying alcohol online, many are set to continue this behaviour. Brands can certainly benefit from taking a more active role in guiding consumers on where to buy them online and inspiring them with at-home recipes.
Gaming
From Animal Crossing hype during Lockdown 1.0 to the recent launch of the new generation Xbox and PlayStation 5, the pandemic has been a catalyst for gaming becoming a more mainstream cultural phenomenon. For people who enjoy gaming, lockdowns have meant more time to play their favourite and discover new games and live stream on Twitch.
As with platforms like TikTok, we have seen huge and rapid engagement in gaming during the first lockdown, and even more so now. People are spending more time gaming, opening up opportunities for brands to engage with these audiences in meaningful ways. Our social listening found some people enjoy a drink while gaming so we looked into our TGI consumer data to discover which brands have strong affinities with gamers. In TGI we have several gamer segments, but for now we will focus on Absolute Gamers (game maniacs with a high consumption of all game types) and Console Kings (blockbuster type gamer on consoles).
We discovered Absolute Gamers are a slightly younger audience compared to Console Kings and hence they have a stronger affinity to cider such as Kopparberg and Strongbow. Absolute Gamers are +40% more likely to buy these brands than the average adult aged 18+. Console Kings are +30% more likely the average adult to enjoy lager such as Budweiser, Carling and Foster's. For cider, beer and spirits brands looking to reach and engage new audiences through new platforms, gaming is a great opportunity.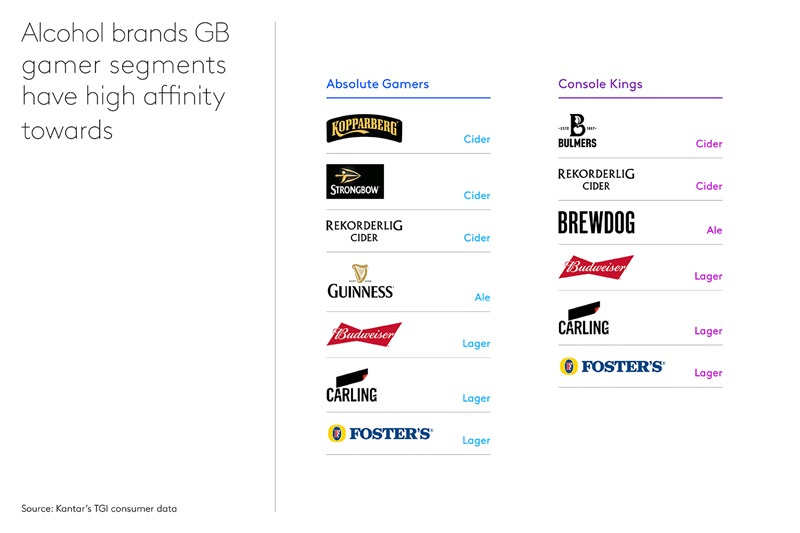 People the world over are beginning to recognise the threat created by the pandemic is not over and we will have to live with the virus and its implications for a long time to come. But while some only focus on threats, others see opportunity, as disruption creates new tensions and new needs that brands can address. Knowing what the new demand opportunities are and what is currently top of mind with consumers is absolutely key. To adapt and survive organisations more than ever need actionable insight from good data to aid quicker and better decision making.
Disruptions change the playing field by creating new opportunities and causing emerging trends to become mainstream. In this new environment, organisations with access to Kantar's established Audience Intelligence and innovative Digital Activation Engine will have the upper hand. And when changes happen on a weekly basis, you need to know what is happening now, not learn about it after the fact.
Get in touch to learn how we can help you quickly:
— Identify new demand opportunities
— Understand people's needs and who is meeting them
— Prioritise message and merchandise