The world of HFSS (High in Fat, Sugar, or Salt) product promotion has shifted — again. Initially due to be implemented in October 2022, Westminster has now delayed promotional restrictions on these food and drink products until October 2025.

This decision has elicited diverse reactions from different segments of society and the FMCG industry, spanning from disappointment to relief.

The promotional restrictions would have prevented multi-buy promotions on HFSS products, such as 'three for £10'. Products deemed 'unhealthy' under the changes could also no longer be featured in 'buy one get one free' promotions from October 2025.

So where are we now? Some context might help navigate the latest pivot.

Looking back to January 2019, when the HFSS consultation was first launched, the percentage of legislation category HFSS (less healthy) packs sold through volume promotion stood at 10.1%. Today, our research indicates a steady decline in this figure, with the current number standing at just 4.6%. If this trajectory continues, the future impact of volume promotion restrictions may not be as profound as initially thought.
Promotions puzzle
It's important to note that price promotions, which the legislation does not specifically include, account for nearly four times as many HFSS product packs as volume promotions. This reveals a major area in the promotion landscape that remains untouched by the proposed legislation, and it's an area where we can expect ongoing changes in consumer and retailer behaviour.

However, the latest announcement coming from the Welsh government indicates that they plan to go ahead with HFSS restriction in Wales, rolling out fully by 2025. The legislation is broadly aligned to that in England with a notable addition of restrictions on price promotions and meal deals.

In response to the initially proposed October 2022 start date in England, some retailers took the proactive step of implementing the volume promotion restrictions anyway. Although we have not (yet) studied the effects specifically among these early adopters, our overall data suggests that the subsequent reduction in price promotion decline might offer some clues about the potential impact if volume promotions are restricted in 2025.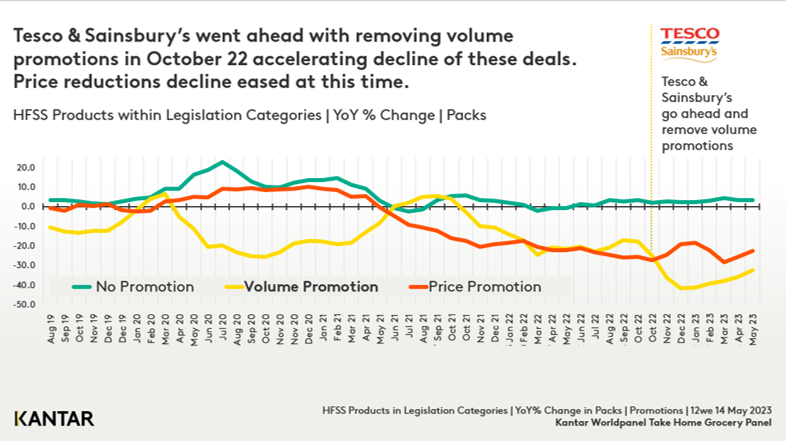 Interestingly, among the nutrients likely to have been impacted by volume promotion restrictions, salt is at the top of the list. The implications this delay for food and drink brands are that, at a minimum, they will have longer to consider to their strategy in response.


The delay promotion restrictions in England disappointed health campaigners who have demanded more government controls to curb obesity. But Prime Minister Rishi Sunak told The Guardian he believed in people's right to choose, especially at a time household budgets were under pressure with high food bills.
The Association of Convenience Stores was quick to agree with Sunak. ACS chief executive James Lowman said: "This delay to banning volume promotions on a broad range of products will be welcomed by consumers who are facing enough challenges with inflation without legislation like this further increasing shopping bills. It is also a welcome relief for our members, already struggling with high energy prices, rising interest rates and increasing product costs from suppliers."
He said the additional time also offered a chance for Wales and Scotland to align with plans in England.