In every market, in every region, branded businesses continue to chart their course through a new age of disruption and volatility.
And yet, with this volatility comes transformational change. Even after recording a 20% year on year decline for 2023, the $6.9 trillion total value of the world's top 100 most valuable brands still sits well above the rankings' 2020 level of almost $5 trillion. And this $6.9 trillion also comes out higher than the value predicted by the rankings' pre-pandemic growth trajectory.
Highlights from the new brand valuation ranking and report, based on the opinions of more than 4.2 million respondents about 21,000 brands across 540 categories, include:
Apple remains the number one most valuable global brand, with a brand value of US$880bn, followed by Google (No.2; $578bn) and Microsoft (No.3; $502bn)
Coca-Cola re-joins the Top 10, rising seven places to No.10 and increasing its brand value by 8%
16 brands grew in value with Indian telecom provider, Airtel (No.76; +24%) the fastest riser in the global ranking
Two Chinese brands join the Global Top 100: Shein (No.70; $24bn) and Nongfu Spring (No.81; $22bn)
Nine brands returned to the brand ranking, including Pepsi (No.91; $19bn) Colgate (No.95; $18bn) and Pampers (No.100; $17bn)
Across 13 categories, brands from Food & Beverages, Fast Food and Luxury proved to be the most resilient as they retained the greatest share of 2022 values
Explore how the world's most valuable brands have faced the challenges of the past year and the opportunities to chart a path to future growth through differentiation, pricing, sustainability and more in the new global report.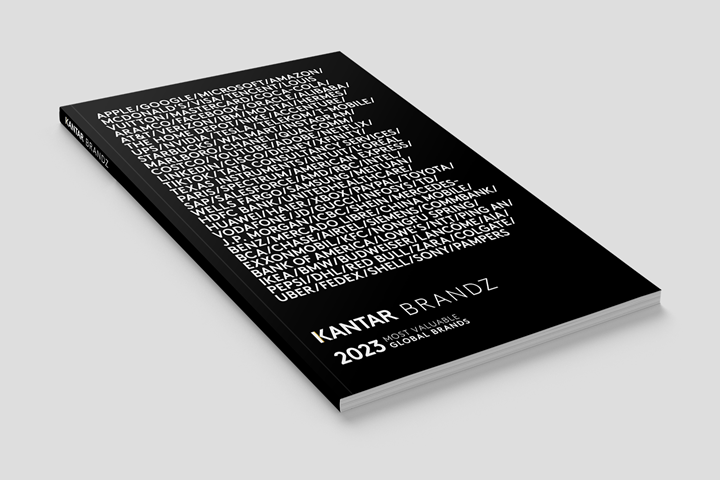 Discover your top brand equity indicators in seconds with Kantar BrandSnapshot powered by BrandZ.
Explore for free
Infographics
Top brands have been able to contain and lessen the impact of negative stock market sentiment because they have continued to invest in positive consumer sentiment, or in other words, their brand equity. Explore the results in two infographics – one showcasing the 2023 Global Top 100 and the second, offering an overview of the top risers, newcomers, returning brands and performance across 13 categories.
Download the 2023 Global Top 100 infographic
Launch event
Kantar thought leaders share their perspectives on the results, with new evidence for investing in strategies that differentiate, protect value, and advance sustainability credentials to connect more closely with customers.
Insights from Brand Builders
Watch full-length interviews with global brand builders:
Asmita Dubey, Chief Digital & Marketing Officer, L'Oréal, with Françoise Lehmann, Global Brand President, Lancôme and Trisha Ayyagari, Global Brand President, Maybelline
Martin Renaud, Executive VP, Global Chief Marketing & Sales Officer, Mondelēz
Ravi Santhanam, CMO, Head - Corporate Communications, Head - Liability Products & Managed Programs, HDFC Bank
Stephan Czypionka, VP Global Marketing Performance, Coca-Cola
Stuart Spencer, Group CMO, AIA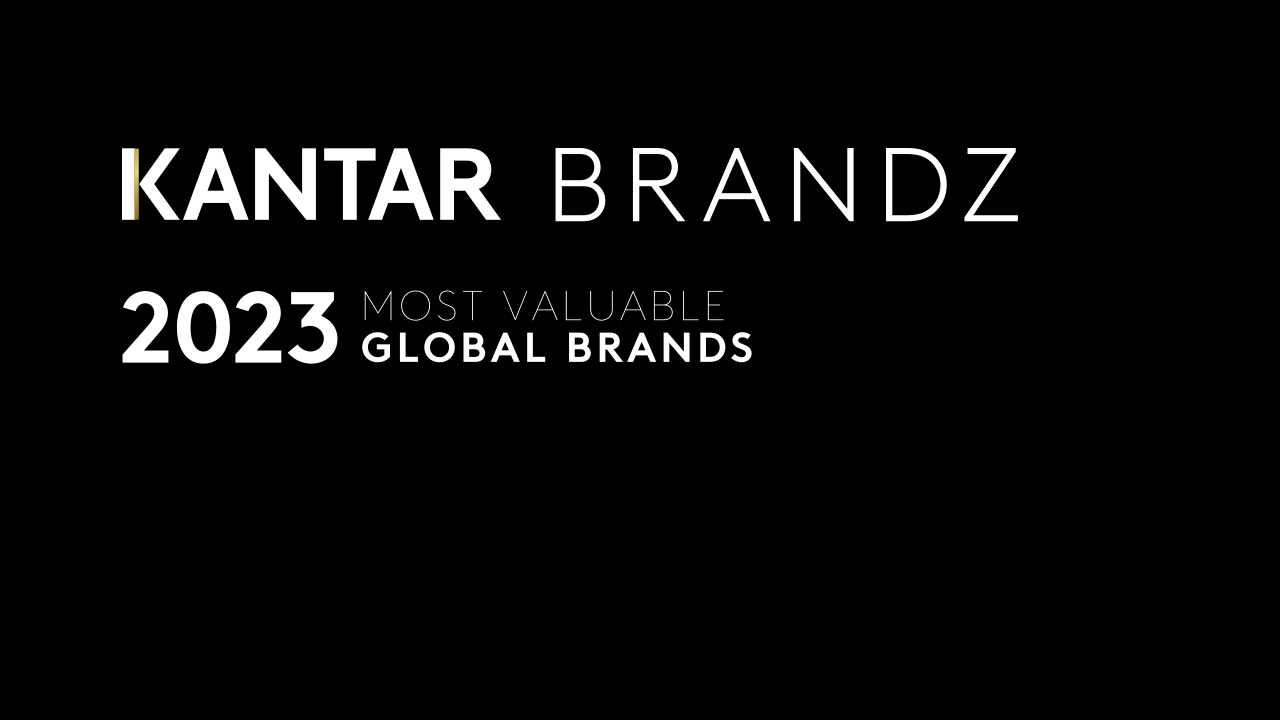 Countdown Video
Watch the countdown video to see the new Kantar BrandZ Most Valuable Global Brands 2023. American brands account for 55 of the world's Top 100 brands – and 75% of the Global Top 100's total brand value. The UK and Japan each grew their presence in the rankings by a brand apiece, while Austria and Indonesia both returned to the Top 100 in 2023. Take a closer at the brands in the ranking in the video.
Methodology
To be eligible for entry into the global ranking, brands must be owned by a company listed on a stock exchange, or by a private company with its financials available in the public domain. Unique among brand valuation methodologies, Kantar BrandZ combines financial analysis with extensive measures of brand equity. Learn more about the methodology behind Kantar BrandZ brand valuation rankings in this video.