Latest data released today by Kantar reveals that in the week after the coronavirus state of alert was declared in Spain, the purchase of FMCG goods increased by 21%.
With the announcement of extraordinary measures in the Community of Madrid on 10th March and the state of alert by week's end, the coronavirus has loomed large in the country's collective consciousness. Seven in every 10 Spaniards said they were very concerned, rising to eight in 10 by the end of the week, this compares to just 27% the week before.
This concern has had a direct impact on the purchase of FMCG, with an increase of up to 21% in weekly expenditure during the week of 9-15th March. The increase was driven by ever larger shopping baskets, with consumers spending 25% more than the week prior to the coronavirus crisis. Although all types of households increased their spending, it was those below 35 years of age who spent most, up to 40% more for the week, representing an increase of 33 euros. This compared to an average increase in spending of 21.4 Euros by all households.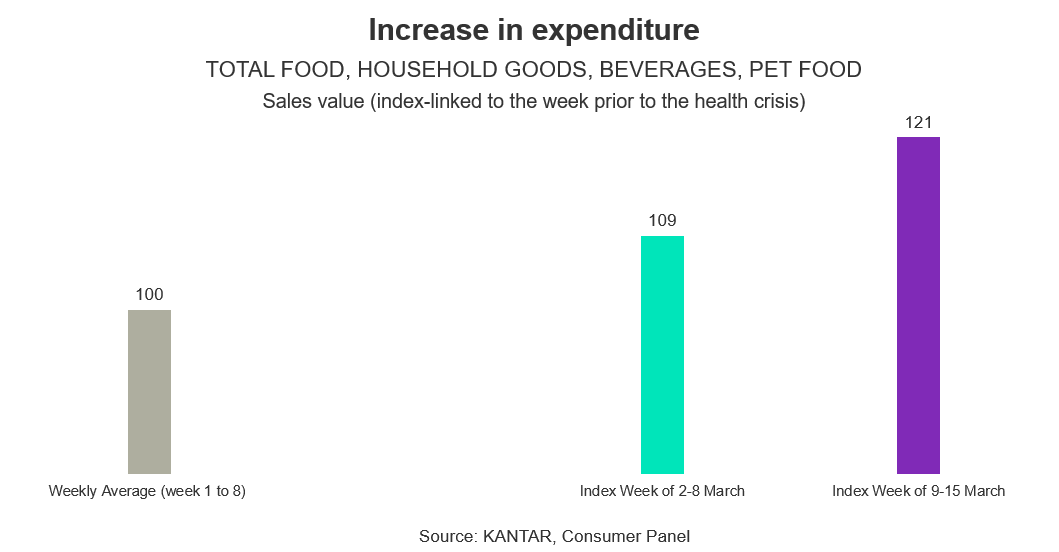 Substantial growth in packaged foods
With concern growing, consumers began to stockpile goods, packaged foods in particular had 2.5 times higher sales during this week than average. Baby products, cleaning items and household goods saw increases above 40%. On the other hand, fresh products, particularly perishables, rose by only 10-15%.
Rice, beans, tinned food and pasta were the categories that grew the most, compared to their average over the first eight weeks of the year. It was common to find shopping baskets filled with both leading brands and own-brand items, in equal measure.
The return to local shopping
Spanish consumers changed their choice of where to shop during the week of 9th-15th March and sales at local stores soared. Smaller supermarkets, due to their proximity to homes and the products on offer, were the main beneficiaries of this, growing market share by three percentage points. DIA Group, which has the largest number of stores across Spain, achieved the greatest increase in share with 6.6%, its best results in the last 12 months. A similar effect occurred in regional supermarkets, most of whom have local stores situated in city and town centres, meaning these chains as a whole gained 1.2 points of market share. On the other hand, the two chains which had capitalised on growth in the last few years, Mercadona and Lidl, registered shares somewhat below their yearly average.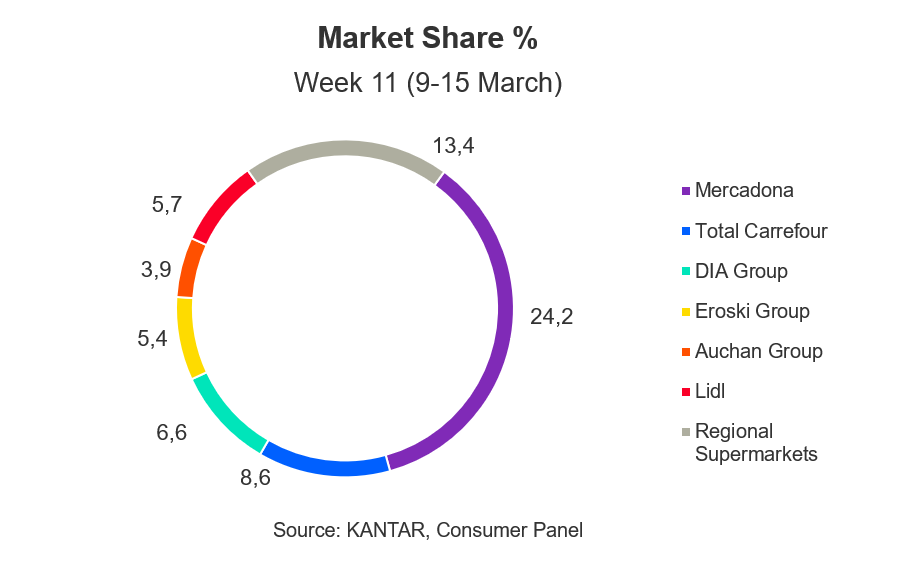 Confinement is changing Spaniards' habits
With the period of government-imposed quarantine, Spaniards' routines and habits have been turned upside down during the first week of confinement. Their priority during the initial days of confinement was cleaning and tidying (59.5%), watching television (54.7%) and keeping in touch with friends and family through video call services (54.3%). It is also worth noting the interest in keeping fit and healthy, doing more sport (37.5%) and having a more balanced diet (33.4%).
The same has occurred with out-of-home consumption. With the onset of home confinement, the restaurant industry was forced to cease all activity, although in some cases home delivery services were maintained. With establishments closed, consumption has moved into the home. After the first week of confinement, consumption occasions for each individual at home rose by 25%.
If you would like to learn more, listen to our webinars (in Spanish):
How has consumer spending been affected by COVID-19?