Kantar, the world's leading marketing insights and analytics company, today announces the results of its inaugural Brand Inclusion Index study in the UK. The new research measures people's perceptions of brands' diversity, equity, and inclusion (DEI) actions – and how they, subsequently, consider the brand. Nike is most often cited unaided by UK consumers as a brand that should be commended for its DEI efforts. Dove was most likely to be selected when prompted with a list of inclusive brands.
Duty to act
The study reveals that more than half of respondents in the UK (54%) have experienced some level of discrimination in the last 12 months. Half (51%) of those say it happened at places where they might be in touch with a brand, while more than a quarter (28%) said it was at commercial locations such as while shopping, looking for a job, at a restaurant, hotel or other hospitality space, on social media or when applying for financial services products. Ethnic minorities (76%), young people (75% among the under 24s), LGBTQ+ groups (67%) and those with disabilities (64%) are at least ten percentage points more likely than average to have been affected.
The Brand Inclusion Index also identifies that key groups rarely see 'someone like me' in brand communications. In the UK, 19% of respondents say they are rarely or never well-represented, and this sentiment is higher among people with disabilities (26%) and people who have someone with a disability in the household (27%), people aged 55 to 65 (25%) and the rural population (24%.) Given those groups that are under-represented in advertising are also more likely to face discrimination, brands that are positively portraying marginalised groups play an important role in counteracting bias and discrimination.
Commenting on the findings, Valeria Piaggio, Head of Diversity, Equity and Inclusion at Kantar, said: "With so many people experiencing discrimination at commercial locations, brands not only have a duty to act on inclusion, but are potentially at risk of losing the spending power of these consumers. Estimates of consumer spend underline the considerable size of the risk here – ethnic minorities have a consumer spend of £61.3 billion, People with Disabilities spend £57.4 billion and LGBTQ+ consumers spend £33 billion. Getting inclusion right is therefore a commercial imperative as well as a matter of fairness and justice."
Brands getting it right
Just over half of UK consumers (53%) say a brand's diversity and inclusion efforts, influence their purchase decisions. This rises to 66% among Black Britons, highlighting that marginalised groups are the most proactive and supportive of brands that get it right. However, only half (50%) of respondents in the UK were able to nominate unprompted one or more brand that should be recognised for its DEI efforts. When they were able to name a brand, Nike was most often cited, with respondents praising its inclusive advertising and a product range that caters to diverse needs. Several respondents mentioned values of diversity, fairness and inclusion that the brand embodies.
Kantar presented respondents with a list of 71 brands, including brands that have been active in inclusive marketing, as well as their direct competitor. When presented with this list, respondents most often selected Dove as the most inclusive brand. Respondents cited Dove's inclusive advertising which represents people of different genders, body-size, skin colours and physical ability. Many also reflected on Dove's reputation as a trailblazer in diversity and inclusion before "it was popular."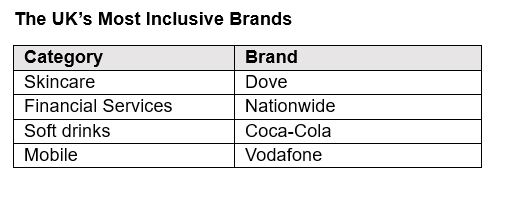 Mark Fisher, Partner in Kantar's Sustainable Transformation Practice, added: "Our research shows that Inclusion matters, for commercial and societal reasons. Globally, seven out of 10 people agree that businesses and brands have a responsibility to make society fair for everyone. It's not enough to have a warm, fuzzy goal, brands need a clear measure to track their performance so they can improve. The success of pioneers like Dove does not come overnight – it's built on the foundations of a strong DEI strategy and taking a consistent approach to communicating its values over time. We commend those brands making great strides on their DEI journey, and call for all brands to be brave; standing strong for their values, vision, and mission when they face challenges."