The idea of the viewer 'taking control' has persisted since the early days of TV recording devices, growing with each new innovation, from VCR to VOD (video on demand). That control is now total – not only in terms of what is viewed when, but also where and on what devices.
In a landscape of increased choice and intense competition, everyone involved in delivering TV and video content needs to understand their audiences both as viewers and customers – this has never been more pressing.
Viewing time is finite…
The introduction of new services doesn't mean a proportionate increase in viewing. During 2016-2019, for example, UK TV viewing (linear and timeshift) decreased by 14%, from three hours and 32 minutes to three hours and five minutes. Over the same period, unmatched viewing (where the viewing source is unidentified by the currency measure – i.e. non-broadcast) increased by 48% from just 35 minutes each day (2016) to 52 (2019).
This explains BARB's investment in Kantar Focal Meter, a router meter being rolled out across the panel to identify viewing via IP on the TV set and other devices. At the time of publication, the UK is one of 10 markets around the world actively deploying or already using this technology to enable holistic, cross-platform audience measurement.
SVOD is now the norm
Those using streaming services, regardless of device, now number almost three in four, with 73% saying they access a paid subscription service (whether they pay for it themselves or not).
Included within the 'accessed but not paid for' category are those legitimately accessing streaming services not only via a household subscription but also via password sharing, which is tolerated by some platforms looking to grow reach.
These subscription services certainly skew towards a younger demographic, but a significant drop-off in consumers using them does not occur until the 55+ age groups. SVOD is firmly mainstream now.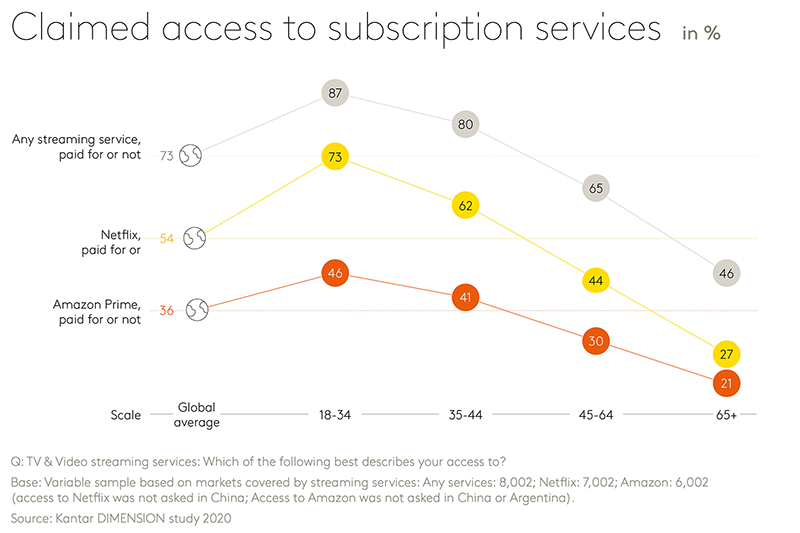 Pockets aren't bottomless
With the competition increasing, there's a question mark over the number of subscriptions consumers might be willing, or able, to pay for. Some argue that the subscription revenue 'pie' cannot keep growing. Where might the limit lie?
Funding models at a crossroads
It's still not clear whether a subscription-only model is sustainable. Disruption is the name of the game, but online streaming doesn't have to be a winner-takes-all market. Given a likely consumer subscription cap, it's inevitable that some fully subscription-funded services will evolve to feature advertising too.
The largest service, Netflix, has ruled out taking advertising for the time being. CEO Reed Hastings reaffirmed a commitment to their current subscription model in Netflix's January 2020 earnings call. Nonetheless, a hybrid model may be inevitable for some services.
Our research reveals that consumer attraction to ad-funded as opposed to subscription services varies a lot by age. The youngest group is split equally between the two options while the oldest favours an ad-funded service, perhaps reflecting the model they've grown up with.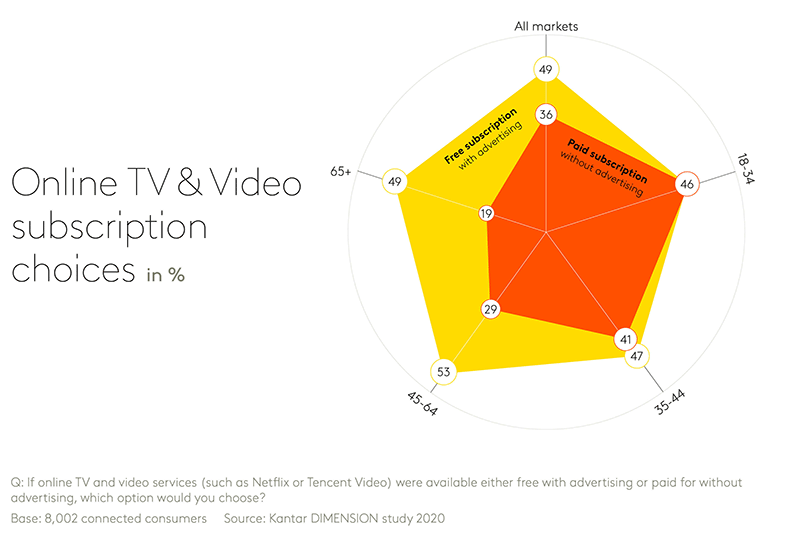 It's not just about your audience…
Whatever the funding model, understanding the audience once they're attracted to the content is no longer sufficient for service providers. With the consumer now in total control, it's crucial to understand the potential audience, convert them into viewers and retain them.
Building and maintaining a loyal audience in the face of intense competition and the wide variety of devices is essential to growth.
Discover more findings from our consumer and leader interviews in our report Unlocking audience growth.
This report uncovers important considerations for those striving to build audience 'stickiness' in a complex and disrupted TV & Video market.