What do Cadbury, Yorkshire Tea and Muller all have in common? They are responsible for some of the most effective ads in the UK in recent times: advertising that has been a key factor in their short- and long-term success and has played a major role in their ability to command a price premium.
To truly be inspired by and learn from some of the world's most creative and effective advertising, we need to understand firsthand, from the people involved in creating it, the journey that they went on. Not just the good bits, the enjoyable moments that they would wholeheartedly make sure they always commit to doing going forwards, but the honest inside line, the gritty challenges they encountered along the way and how they overcame them.
This article reveals the secrets of success behind these three incredible advertising effectiveness stories, shared by Emma J Paxton from Cadbury, Dom Dwight from Yorkshire Tea and Max Keane from VCCP (Muller) when they joined Kantar, Marketing Week and the Advertising Association UK for an 'uncensored' conversation at
Cannes Lions 2023
Whilst there is no secret recipe, there are three common foundational ways of working that they all share. We explore what those mean in practical terms, enabling you to reflect on which elements you can apply to bolster your chances of highly effective advertising that the audience loves.
1. Build and maintain solid relationships, they are foundational to the most effective work.
2. Develop and commit to campaigns and executions that are fuelled by culture and relentlessly brand centric.
3. Nurture ideas that the audience loves.

Unwrapping the secrets to Cadbury's outstanding campaign
The success achieved by Cadbury's 'There's a glass and a half in everyone' campaign in transforming the brand's fortunes and rejuvenating it has been widely recognised and celebrated. At Kantar we are proud to have played a pivotal role in this journey from the beginning in 2016. 'Joy' had become a category truth, not a differentiator so there was a need to reset long term strategy for the global Cadbury brand, to reverse declines and get people to fall in love with the brand again.
Working with Cadbury and its creative agencies there was a recognition that the brand needed to go back to its Quaker routes to be a brand that is all about warmth, unpretentiousness, positivity, and connection. VCCP, Cadbury's creative agency, then coined the phrase 'generous instinct' referring to the human truth that acts of generosity, kindness and love are part of what makes us human. This was then translated into the creative platform 'A glass and a half in everyone', which brings this human truth to life in a creative, distinctive way that could only come from Cadbury. Mondelez senior marketing director Dave Clements previously described the significance of the idea as follows "For me it is far greater than just a campaign, it's literally everything that we do".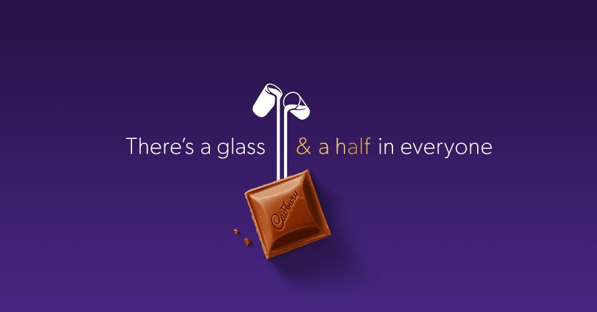 The campaign is winner of an IPA Grand Prix award, Kantar Creative Effectiveness award (for the '
GARAGE' ad
), was crowned as having the
top Christmas ad in the UK last year (for the 'Secret Santa' ad)
and has won other awards including the top prize in the Creative Effectiveness category at Cannes Lions 2023. Cadbury (along with Yorkshire Tea and others) has also been shortlisted for Brand of the Year 2023 by
Marketing Week
.
BrandZ valuation data shows that the brand has increased in value by an incredible 51% since 2017. BrandZ also shows the contribution that great advertising has played in the brand's success, that it has increased perceptions that the brand makes people's lives better and critically from a commercial perspective that people feel Cadbury is worth paying more for as a result.
Christmas advertising is eagerly awaited and enjoyed by the British Public, with people waiting impatiently to see which ad pulls hardest on the audience's emotional heart strings. The Cadbury team, led by Emma Paxton, and their agency VCCP, set out on a mission to intentionally do something completely different, to be disruptive to stand out and earn attention.
Qualitative research from Kantar
gave them the confidence to take the leap and helped them optimise the whole campaign, refining details such as the language used to ensure maximum relevance and engagement. The resulting, '
Secret Santa
' is the most distinctive Christmas ad in the UK since 2019. The idea of generosity was intensely culturally relevant, and at Christmas, when inflation was starting to make an impact, people really appreciated Cadbury's generosity that enabled people to send a bar of chocolate to someone special for free through a digital poster). An act of generosity by the brand itself enabling people to activate their own instinctive generosity. The top performing campaign supported Cadbury in achieving its best Christmas ever!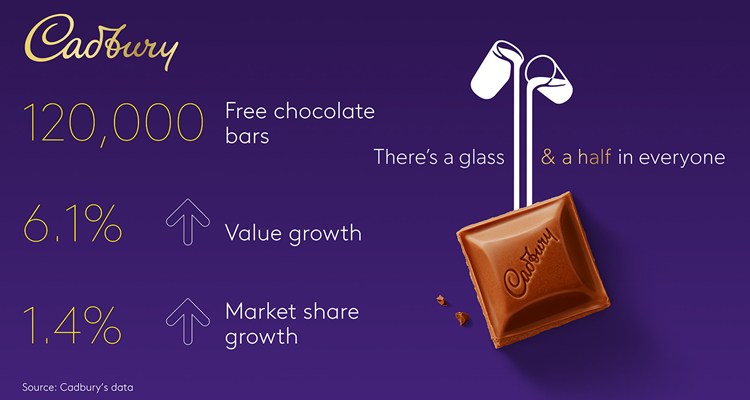 Yorkshire Tea's 'proper' advertising helped them become the #1 brand.
Yorkshire Tea's multi award winning campaign is a brilliant lesson in how to do long term brand building the 'proper way'. The ambitious commercial goal the brand set for itself was to make Yorkshire Tea Britain's best-selling brand of tea. Until this point the brand had been focussed on properness. It is another fantastic success story of a business dedicating itself tirelessly to a strategy that is anchored in a real brand truth, in this case the business' obsession with creating the best cup of tea – or as they say in Yorkshire (and other northern parts of Britain) a proper brew. The creative team decided to exaggerate this idea of 'doing everything proper' through comedy sketches. The ads were always filmed at Yorkshire Tea Headquarters, with each story being anchored in Yorkshire celebrities doing a Yorkshire Tea version of the thing that are famous for being proper brilliant at.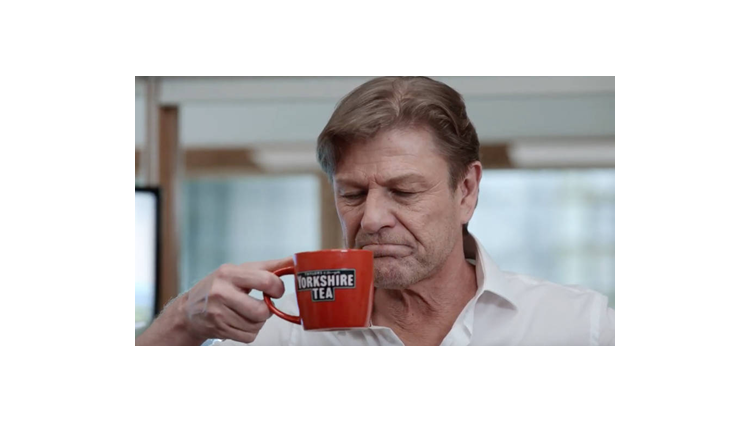 At Kantar we call this principle the creative magnifier, and these ads are inspiring examples of how to get it right. People don't remember the whole of an ad, they remember the most interesting, entertaining, and emotive parts, the gist of it. To be effective, this creative magnifier needs to connect intuitively to both the brand AND the intended impressions and strategy being conveyed, which these ads 'properly' do.
The brand's advertising was a key driver of its phenomenal success. You can have a great strategy, but it's creativity that brings it to life in a memorable, distinctive, and meaningful way that only the brand in question can own. The ads consistently convey product superiority (and Yorkshire provenance) in a humorous (top 5%) enjoyable and ownable way (branding top 4%). The approach doesn't undermine the brand's value, quite the opposite, as the data below shows it makes people feel it's worth paying more for (top 24%).
*Data shown here is for 'Induction' featuring Sean Bean.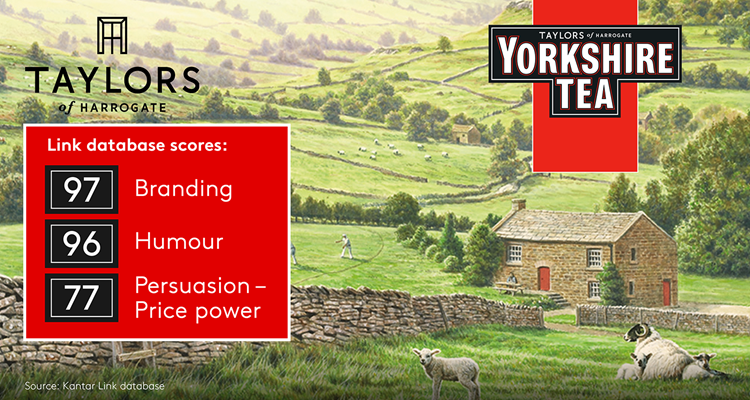 Between 2017 and 2023 YT's volume share of standard black tea rose from 18% (when it was the #3 brand) to 26% leading the market while the brand maintained a premium price index of 140 versus the market.
How Muller cornered people's attention
Cadbury and Yorkshire Tea are demonstrations of enduring campaign ideas and commitment to the brand's strategy. Muller is at a different phase on its brand rejuvenation journey but has started it brilliantly. It is however another example of a brand going back to its DNA, leveraging the things that make it special and different in the hearts and minds of its audience. The 'corner' of the famous Muller yoghurts is incredibly distinctive. Ethnographic research, watching people eating Muller corners, revealed the pleasure and rituals around eating it - yoghurt, delay, anticipation, excitement, pleasure.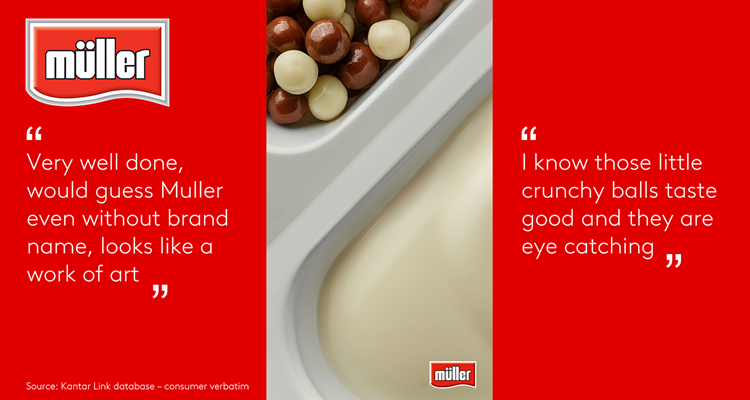 The highly effective OOH ad
is a celebration of this, a showcase of the product, it triggers people's desire, creating arousal by reminding them of the product and what they love - or perhaps once loved - so much about it. The apparent simplicity of the execution (the beautifully shot product imagery showcases a product) is its magnificence – – and what makes it so distinctive that it speaks for itself. The in-market results are testament to the predicted effectiveness of the ad, delivering more than 10% increase in sales.
Three common practices underpinning these success stories.

1. Build and maintain strong relationships they are foundational to the most effective work.
- Chemistry matters.
- Trust, the strength of bonds between the team and feeling 'safe' to speak up are key to deal constructively and positively with the stresses, strains, tensions that are inevitable encountered along the way.
- The team need to believe in each other and in each other's capabilities.
Emma Paxton (Cadbury) referenced that 'Important to invest in personal chemistry when you're working with agencies. Silver bullets don't exist, you need to build partnerships. Dom Dwight (Marketing Director, Yorkshire Tea) talked about the great open relationship with their creative agency Lucky Generals, about their chemistry and Dom's desire to be genuinely fun to work with. Not necessarily nice or easy. He talked about the importance of ensuring that the briefing process isn't boring. He took the agency to the hilltop where the last campaign was developed to keep things interesting. He also emphasised that clients shouldn't do creative.
Have you given your relationships an open and honest health check lately? Have you had open conversations to celebrate what's working and what isn't and agreed a plan to move forward positively?
2. Develop and commit to campaigns and executions that are fuelled by culture and are relentlessly brand centric.
- Commit to a clearly defined strategy and the idea that brings it to life. Consistency and coherence are massively undervalued drivers of marketing effectiveness and brand success.
- A strategy is inspired by a product/brand/corporate truth is more instantly meaningful to the target audiences and resonates with them (cultural pulse x brand pulse). It often also resonates within the business itself. The best inspiration often comes from a brand/product/business' DNA.
- Distilling and encapsulating the brand's strategy/vision into a single line/thought is incredibly powerful.
- The emotive territory/tone of voice should be a clearly defined and shared part of that vision.
- A tightly and clearly defined space to play opens room for more creativity (space to play). 'There is nothing so inspiring as a tight brief'.
- The brand's essence should underpin all encounters with the brand (through the line, including experiential, social etc) and the portfolio of brands/products. Design for consistent and coherent difference across all your brand encounters (and pipeline developments).
Be honest, is there a clearly defined shared vision of your brand's strategy and identify across your business and agencies that shapes all you do? At Kantar we help our clients develop strategies to meaningfully differentiate their brands. We help clients embed this into their business and partner with them on the journey to making this a reality across all brand created encounters, not just creative executions.
3. Nurture ideas that the audience loves.
- Make marketing effectiveness with consumer insight and understanding at its heart central to your ways of working.
- Always have clearly defined and shared goals/objectives/ambitions.
- Have a shared commitment to doing things differently, and united courage to challenge and overcome hurdles along the way. Get comfortable with the uncomfortable.
- Consumer understanding plays a fundamental role in defining the strategy and bringing it to life. Tap into culture, human insight, trends etc to keep the idea relevant and meaningful to your audience.
- Accept and embrace the fact that you can't evaluate work as a consumer would. Use creative development research and audience insights to inform optimisation of the idea, campaign, and individual executions within it. The earlier on the journey the better.
- Commit to making work that the target audience will enjoy, appreciate, and engage with.
- Ensure that each element of the campaign is effective in its own right - and connects coherently with the rest of the campaign (does it have glue that makes it easier for your audience to stick the pieces together)
- The benefits of brilliant creative extend far beyond your audience (retailers, employees, agencies etc).
- Great work builds confidence to develop more brilliant work.
Kantar's latest work with WARC shows the highly effective advertising (as measured by our LINK+ suite of solutions) delivers more than 4 times the profit (ROMI) of low-quality advertising. We partner with our clients and their creative and media partners to develop and optimise their advertising campaigns to maximise the ROI that they achieve and make great advertising a source of competitive advantage and a driver of commercial success. We help uncover insights and tensions to make emotive connections with your audiences and inspire creative ideas. We know what it takes to create content that is effective in different contexts. The earlier in the creative development journey you start to listen to the audience voice, the more effective the outcomes will be.
These wonderful campaigns, the brilliant teams behind them and the outcomes that they have achieved are truly inspiring. They provide a fantastic foundation from which to learn. We are grateful to Emma Paxton (Cadbury), Dom Dwight (Yorkshire Tea) and Max Keane (VCCP) for sharing so candidly their journeys to success, to Sarah Virani from the Advertising Association for teeing up the session and its value so compellingly and to Russell Parsons for hosting and chairing the panel discussion with his usual intelligence, wit and incredible ability focus the discussion on the stuff that really matters. Together, these success stories, the teams behind them and the agencies they partner with, demonstrate the importance of strategic thinking, genuine consumer insight and audience research as a springboard for advertising effectiveness. They provide unquestionable evidence that committing to that strategic vision and bringing it life through advertising (and all other experiences and encounters) in way that engages the hearts and minds of the audience (making it meaningfully different), builds a feeling of rightness for your brand, which makes it the instinctive choice that is worth paying more for and enhances the actual experience of using and enjoying the product.
At Kantar, we can help you with all aspects of this journey, please reach out to find out more.