As discovered in Kantar's 2020 DIMENSION study, with the issue of trust now central to many brands' thinking, where you say it is as important as what you say. Indeed, knowing the proper channels to use is more crucial than ever with ever evolving consumer attitudes in response to COVID-19.
The DIMENSION report Media and Me investigates how brands, media owners and agencies can all win in an increasingly personalised media world, drawing on perspectives from both leading industry practitioners and the consumers they are trying to reach. Combining DIMENSION findings from before the onset of COVID-19 along with current data from Kantar's COVID-19 Barometer study provides great clarity into how consumer habits are shifting, and how the industry can react to reach them in a way that resonates.
The trust gap
Kantar's 2020 DIMENSION study found that print and broadcast media are more trusted than digital platforms, however company websites are also more trusted than not.
Social media is the only media form with a trust deficit across the total sample – the range of content posted online is enormous and the opportunity for incorrect information to be posted and reposted over and over again, giving it an air of 'truth', is increasingly recognised.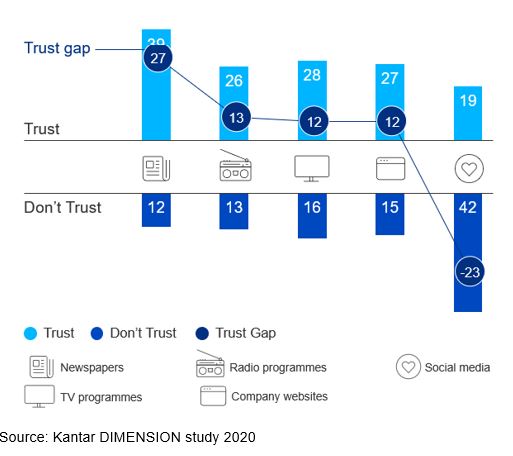 Breaking it down by age tells a different story. Though 18-34-year-olds place high trust in print, digital is almost as strong for this group.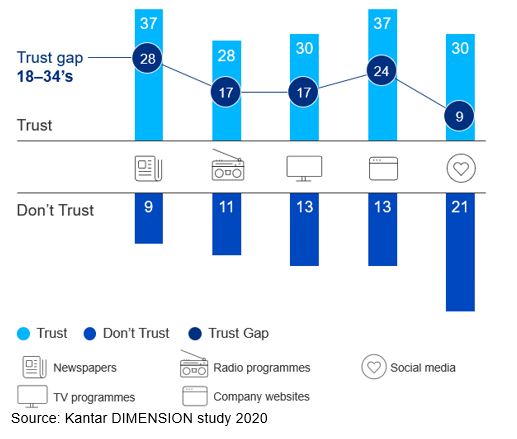 Trusted news organisations have an impact on your brand messages
With politics driving much comment and content on social media, concern is growing over how much news and information (via any medium) can be trusted. Our research from DIMENSION reveals that across seven of the eight markets surveyed, the news organisation publishing a story is a greater source of trust for connected consumers than either the journalist writing it or the person sharing it.
Industry leaders told us they believe in the importance of news organisations and appreciate the impact the halo effect can have on brand messages.
Gianfranco Brunetti, Lidl's Head of Brand & Strategy and PR & Social Media, said: "We operate in an omnichannel landscape and need to have a holistic approach to our communications across paid, owned and earned media. If I advertise in… The New York Times, that delivers some sort of positive message about our company. It magnifies the impact of our communications."
Trusted news organisations also have an impact on your brand messages. PR & Communication professionals should consider extending their relationship with trusted news organisations beyond the journalists. Editorial partnerships, event collaborations or promotional opportunities could be explored.
A new world: Changing attitudes and behaviours
In the wake of the pandemic, consumers' behaviour and attitudes are both changing. First, as would be expected, consumers stuck at home due to lockdowns are spending more time consuming both traditional and digital media. Kantar's COVID-19 Barometer has been finding that particularly TV and Radio consumption have been increasing since the start of the pandemic, as is TV on demand streaming. Whereas traditional TV has seen a slight decline since peaking in April, TV on demand streaming has remained steady.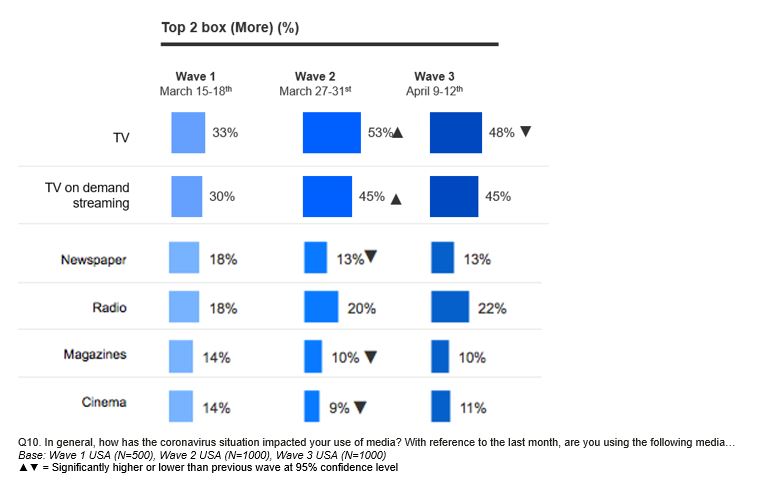 Digital platform usage is increasing significantly as well, with growth outstripping most traditional media channels except for TV and streaming.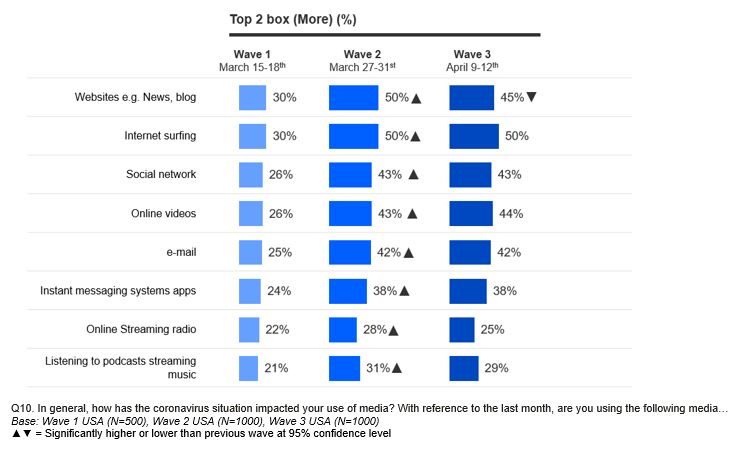 Social networks are amongst the digital platforms seeing significant increases in usage, with 43% of US consumers stating they were spending more time on these as of mid-April. Yet consistent with findings from DIMENSION, Kantar's COVID-19 Barometer also shows that there is less trust in social media.
In the US, national media channels are the most trusted source of information related to the situation, with 48% of consumers finding these trusted, followed by government agency sites, at 44%. Just 12% of consumers trust social networks.
How are consumer attitudes evolving about advertising? We are finding that consumers don't expect brands to stop. In fact, just 5% believe brands should stop advertising, and that represents a decline from 7% in early March.
However, consumers do feel that brands should be adapting their advertising to recognise and respect the situation, and to show what relevant thing they may be doing to help consumers in their everyday life. The key is being relevant; brands must be careful not to force themselves into a position that doesn't align with their identity and products.
Rightly, consumers don't want brands to exploit the situation; they want authentic and relevant connections with brands. Ads that are informative, helpful and reassuring are all viewed positively. And as the crisis wears on, consumers are increasingly open to lighter tones and humour in ads, with just 29% believing brands should avoid humour as compared to 41% in the earlier days of the pandemic. This transition can increasingly be seen in new TV ads, with earlier spots focused on safety measures and essential workers giving way to ones that poke gentle fun at common experiences like videoconference mishaps.
As the COVID-19 situation unfolds, consumers are continuously adjusting to changes in their lifestyles and behaviours – and so brands must as well. What's especially important to consider is the need to stay on top of these evolving trends, to stay in communication with consumers, and properly prepare yourself for the future.