A year and a half after GDPR (General Data Protection Regulation) was passed into EU law, Kantar has found there is a vibrant industry in the United States dedicated to helping U.S. companies comply with the new rules, as evidenced by paid search advertising activity throughout 2019.
Kantar analysed U.S. Google desktop and mobile text ad clicks on ads displaying for 10 GDPR-related keywords from January through September 2019, including 'gdpr', 'gdpr compliance', 'gdpr requirements' and 'what is gdpr'. During the nine-month period, we found 283 advertisers in a wide range of industries sponsoring GDPR keywords, including IT companies, online security firms, software manufacturers and business consultancies.
As for why U.S. companies are complying with a European Union law, GDPR is essentially a protection for EU citizens wherever they go on the Internet. So if a U.S. company collects contact information from its website visitors, they could be liable if EU citizens enter their database and they do not handle the individuals' information according to GDPR rules. Hence, GDPR has become a de facto law in the United States as well.
The top GDPR advertisers in Paid Search
The following is a ranking of the top ten GDPR advertisers for desktop and mobile search, respectively, based on each advertiser's percentage of the total clicks on the keyword group in each search medium.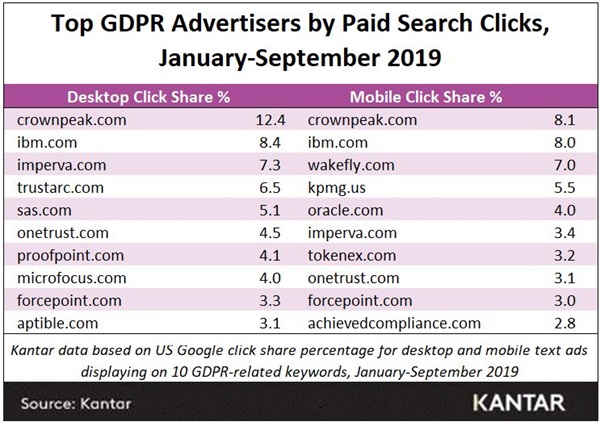 Offering a step-by-step guide to making your website GDPR compliant, CMS provider Crownpeak was the top GDPR advertiser in paid search, ranking #1 in both desktop and mobile search with a respective 12.4% and 8.1% share of clicks on the ten GDPR keywords.
IT giant IBM ranked second in both lists, generating an 8.4% desktop click share and an 8% mobile click share via ads promoting the company's data privacy services that promise to "go beyond complying with GDPR regulations."
Security software provider Imperva ranked third in desktop search with a 7.3% click share and sixth in mobile search with a 3.4% click share. Also offering a free guide, Imperva's creative took a more cautionary approach, warning readers to "become GDPR compliant before it's too late" and "avoid harsh penalties and costly fines."

Rounding out the top 5 advertisers in desktop clicks were privacy compliance company TrustArc (6.5% click share) and analytics firm SAS (5.1% click share).
Website development and marketing company Wakefly ranked third in mobile search with a 7% click share, followed by the US division of KPMG (5.5% click share) and Oracle (4% click share).
Desktop over mobile
Overall, we found more than double the number of desktop clicks than mobile clicks on ads displaying for the GDPR keywords during the period—a disparity between the two search media that is not particularly surprising given the service being advertised. GDPR compliance is geared toward a business audience and is also a more expensive solution that requires the kind of detailed consideration that is often carried out by business professionals sitting at a desk in their office, as opposed to a relatively simple consumer purchase like shoes or a video game, which can be quickly accomplished via the small screen of a mobile phone.