Consumers are using more connected personal devices to organise, curate and discover media. In other words, in theory, consumers can go anywhere they want for news and information. The industry is responding and is designing offerings to revolve around these personal preferences. This offers many new opportunities for brands but it also comes with challenges.
How do brands know which sources their target consumers use and trust for news and information? We asked connected consumers how much they trust each media channel for news and information sharing. They told us they trust the news and information they see in print and broadcast media more than that on social media. Company websites are also more trusted than not.
Social media is the only media form with a trust deficit across the total sample. By that we mean that more people distrust it than trust it. To be fair, the range of content posted online is enormous. The opportunity for incorrect information to be posted and reposted, giving it a patina of 'truth,' is increasingly recognised. Further, there has been plenty of news coverage around incorrect and/or misleading information being posted on social media sites.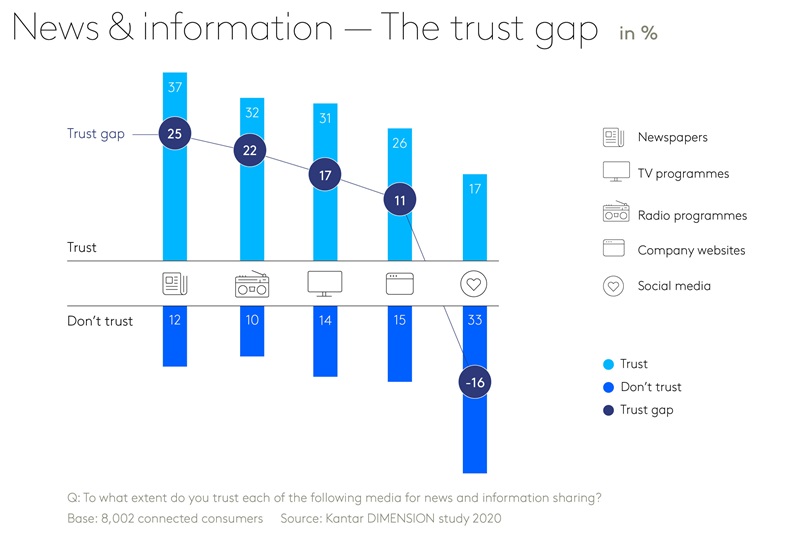 The generation gap
It is fair though to say that trust differs by audience group. In particular, some audience demographics will trust social media more than others. Some will trust those within their closed social media network more than those outside it. This trust in the news and information echo-chamber is particularly evident among connected consumers aged 18–34. Only in this age group is social media more trusted than not.
That said, this age group also trust newspapers. Newspapers score well across all age categories.
Social media is most trusted for news and information sharing among those aged 18–34, and least trusted among those aged 65+. This incorporates both closed platforms (e.g. Facebook) and open platforms (e.g. Twitter).
Newspapers are the most trusted medium for news and information sharing across all age groups, with no discernible decline among 18–34s.
Company websites are trusted as a source of news and information sharing except among the over 65s, who are less trusting than other age groups of all mediums except radio programmes.
The lack of trust in certain media forms is an important consideration for brands and public organisations planning communication strategies.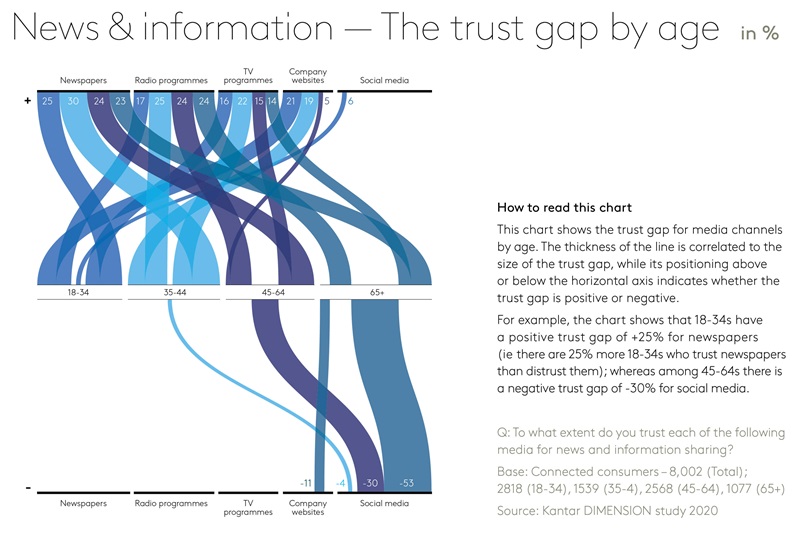 The geographical gap
While managing your reputation is a global issue, consumers' trust in media for news and information sharing varies by market. We believe this is a reflection of local media environments. The media themselves tend to be locally regulated, structured and funded, all of which have an impact on the degree to which they're trusted as a source of news and information.
As an example, the trust gap for social media is much deeper in Germany than it is in the UK. PR and communication plans must be sufficiently flexible for such local differences to be taken into account.
Discover the geographic differences by market in our full report here.
Size isn't everything
The size of audience attracted to a media form is still important in PR. But the degree of consumer trust in that medium and its content is increasingly significant. The positive effects of trust make it an important consideration – and a responsibility – for those safeguarding a brand or organisation's reputation when PR planning.
For media owners too, consumer trust in their news and information capabilities is important. To avoid damage to their business, they must manage their own reputations – not only in respect of those consuming their content but also in respect of those pitching content to them.
Editor's Notes:
To find out more about the fieldwork please see here.
Click to read Media & Me - Boosting Brand Reputation