This year marks Google's 20th anniversary and in that time the company has seen many changes in its search advertising business, from the introduction of cost-per-click (CPC) ads, to graphic-laden product listing ads, to eliminating text ads from the right rail and instituting a mobile-first policy. But one thing has remained fairly consistent—terms related to mesothelioma, the cancerous tumor that is at the center of many asbestos-related lawsuits, are the most expensive keywords for advertisers to sponsor.
Beginning with our former AdGooroo unit, Kantar has been tracking the most expensive keywords on Google for nearly a decade. Each time we visited this subject we found the same result.
Back in October 2009, the keyword 'mesothelioma' was the most expensive keyword in paid search, costing an average of $99.44 per click, according to Kantar data.
That figure ballooned in the ensuing years. In our analysis of the full year of 2014, the term 'mesothelioma attorneys tx' averaged $319.34 per click, the highest CPC of any term that year. And though the term 'mesothelioma' per se was no longer the most expensive keyword in terms of cost per click (it averaged a CPC of $82.69 for the year), 13 of the top 20 most expensive keywords in 2014 were, in fact, related to mesothelioma, generating an average cost per click of $216.17.
Once more Kantar has returned to this subject, this time analyzing the most expensive keywords on Google over the last four years, from August 2014 through August 2018. During this time we found mesothelioma terms accounted for 67 of the 100 most expensive keywords on U.S. Google, including all of the top 10: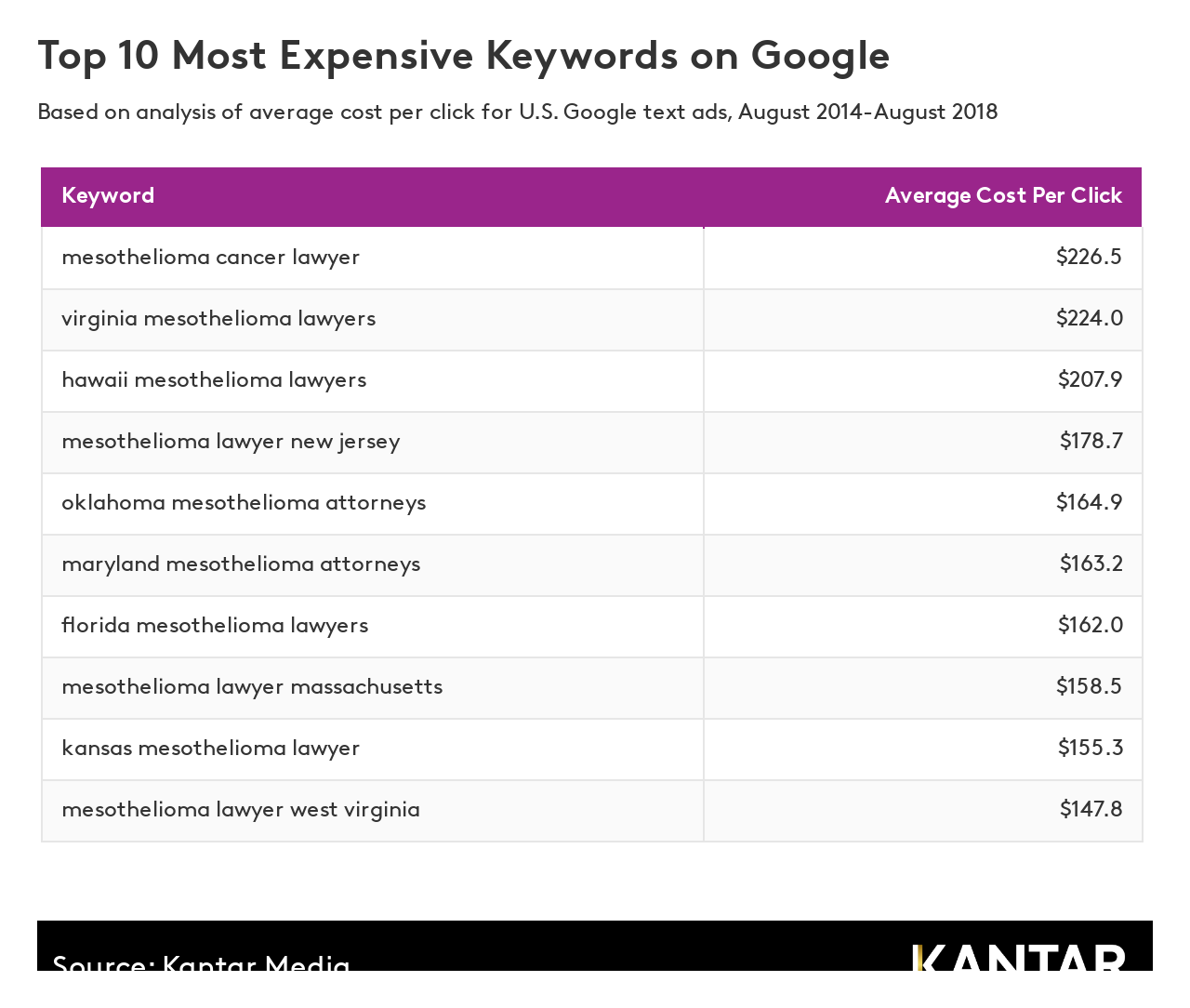 The common element among all top 10 are the terms 'mesothelioma' and 'attorney' or 'lawyer', with the majority also including a geographic location: Virginia, Hawaii, New Jersey, Oklahoma, Maryland, Florida, Massachusetts, Kansas and West Virginia.
Although still expensive, the average CPC for the top 10 mesothelioma keywords over the last four years was $185.86, a 14% decline from the average CPC for the top mesothelioma keywords for the full year of 2014, likely due to market conditions.
The reason these terms are so expensive in the first place is simple: competitive bidding. Attorneys are willing to bid high amounts for mesothelioma-attorney keywords because they stand to make a lot of money if they convert the searcher into a client and gain a favorable judgment or settlement; jury awards and settlements in asbestos-cancer lawsuits can range from tens of thousands to millions of dollars.
Along similar lines, 20 other terms in the top 100 most expensive keywords were also related to lawsuits, including 'california car accident attorneys' ($135.38 average CPC), 'structured settlement cash out' ($122.31 average CPC), 'settlement annuity payments' ($118.57 average CPC) and 'motorcycle injury attorney' ($103.75). The remaining terms in the ranking were related to business solutions such as 'business telephone provider' ($130.79 average CPC) and 'cloud computing collaboration' ($117.05 average CPC).