Last year, Bodyform/Libresse smashed taboos around periods by showing real blood on sanitary towels on their adverts, the first brand to ever do so. 'Periods are normal. Showing them should be too': theirs was a simple message, smashing the stigma around including periods in advertising, after years of adverts that replaced real blood with that unidentifiable blue liquid.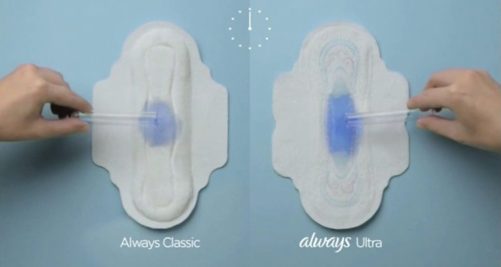 Source: Always
And their most recent campaign is a continuation of their mission to reframe how we think about women's bodies. 'Viva La Vulva' is a gloriously quirky and totally charming video in celebration of the vagina.
Smashing taboos: Libresse/Bodyform's Viva La Vulva ad
It's a bizarre idea: a lip-sync music video 'sung' by a series of yonic objects and visuals, from the beautiful (a pearlescent conch shell), to the delicious (a succulent papaya) to the downright odd (a knitted vagina puppet, anyone?). It's brought to life with the soundtrack of Camille Yarbrough's "Take Yo' Praise", where lines like 'I was afraid to say I love you' reinforce a message of intimate self-love.
What makes this advert feel so refreshing is that while its endeavour is serious and worthwhile – changing the conversation around women's bodies – its execution is fun and weird, not solemn or worthy. It's something that get people talking in real and informal settings, rather than a call to action. We'd love to see how other brands take this conversation onward, and the fun ways they might handle it.