Slashed budgets, layoffs, mergers and acquisitions, bankruptcy, social and political turmoil – the pandemic is adding additional pressures to the already fast-moving modern media landscape. Amongst this chaos, brands can struggle to develop advertising with appropriate tone and relevant emotional messaging for their audiences. In an environment of heightened tension, connecting with audiences through advertising that showcases creativity and emotional sensitivity may be more important now, than ever before.
Watch Affectiva's Co-Founder and CEO Dr. Rana el Kaliouby and Kantar's Global Head of Creative, Insights Division, Daren Poole in a live fireside chat, where they discuss how online creative testing can help brands develop emotional, effective advertising that lands with audiences. They draw on learnings from over 45,000 ads tested with Affectiva's facial coding technology and Kantar's validated Link solution.
With ever-changing government responses to the global pandemic, people's attitudes towards COVID-19 are also in flux, making it hard for brands to respond appropriately. Kantar's COVID-19 Barometer found in mid-March, with a third of the world's population in lockdown, that globally a large proportion people were looking to brands for practical and realistic messages – only 6% felt brands should stop advertising. Brands initially responded to the pandemic with communications conveying compassion and generosity. But as the pandemic waged on, by the end of April, people had grown feisty, and they were looking to brands to attack the crisis with power and command. By the end of July, people were looking to brands to guide the change they wanted to see in society.
Advertisers today are struggling to gauge the zeitgeist and develop appropriate creative that speaks to people with the right context. Going dark is not an option but should advertising be hopeful and optimistic? Should it try to reduce anxieties? Or should it explain and inform? More specifically, what kind of messaging will have impact and longevity?
Kantar analysis shows that creative that elicits emotion generates more impact, and is more likely to drive both short-term sales and long-term brand equity growth. Today it is more important than ever that brands stay close to the consumer and test brand content for that emotional reaction.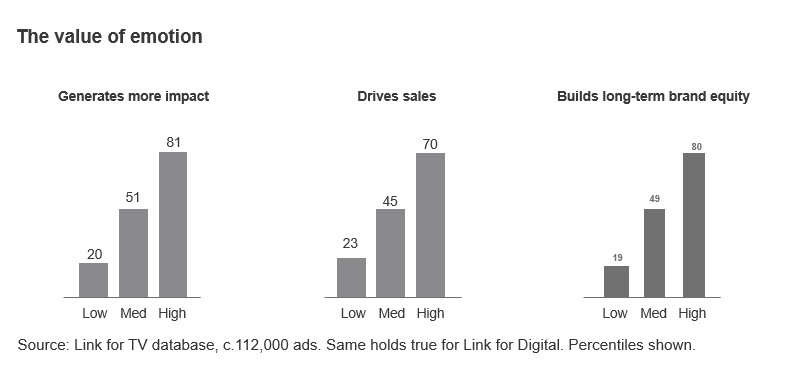 Social distancing makes traditional methods of creative ad testing, such as those using neuroscience or face-to-face video, difficult. But online testing from Kantar, which leverages Affectiva's proprietary Emotion AI, can elicit true emotional responses.
Get the emotion right in your advertising. Watch the on demand webinar.