Proving marketing effectiveness is not an easy ride – four in five of marketers reported that measuring and proving ROI is of utmost importance to them. Having the right fundamentals as meaningful data signals is one of the biggest challenges marketers face and, according to a recent Kantar report, less than 1 in 10 organisations said they have all the data they need. In fact, getting to the "ideal" will turbocharge the business challenge in having the right insight and effectiveness programmes.

Going beyond the data challenge, marketing effectiveness is riddled with challenges:


Fragmentation: The media landscape is changing – our Kantar Media Reactions shows that on average, there's an increase in spend across digital media channels of 56%, ranging from things such as online videos, streaming platforms, to newer channels such as the metaverse. With such a fragmented landscape, being able to drill down to granular detail when optimising will help marketers allocate their spend in the right place.


Cookie less world: This is at the forefront of most marketers' minds, with over half of them concerned with the ability (or lack of) to provide impactful digital performance measurement with the depreciation of cookies, and there's a need to look for alternative tracking and measurement solution.


Creativity: Time and time again, we have seen creative quality is a great multiplier to effectiveness. In fact, in our most recent analysis of winners from our creative testing Link database alongside WARC's Effectiveness Database, we can see that creative quality drives not just sales, but profitability by as much as x4 times. However, creative quality isn't often included in traditional econometrics approach.


Short-termism: There is increasing pressure from the business to drive short term sales, particularly given the challenging economic environment and with a reliance on performance marketing to meet the short-term sales demand.


Implementation: We know brand equity drives a significant part of your sales today, while there is the rule of thumb of a 60:40 balance of the long and short, putting it into practice with competing demands from the business makes it a challenge.


Agility: If we've learned anything from the past few years, is that change is constant. There is an increasing need for marketers to be able to pivot and change plans that reflect the latest change in the wider society.


easyJet is a case in point in trying to tackle a lot of the challenges highlighted in the past few years, particularly against the backdrop of the COVID pandemic, travel disruption, and economic uncertainty. Specifically, they were trying to understand:


What is contributing to bookings?


On things that they can control (paid media) - how has it performed in the long and short-term – i.e. across different ATL and digital PPC channels?


How can they apply the learnings for an optimum marketing mix in the future?


Emerging from the pandemic, easyJet retained its strong brand equity by maintaining spend consistently, balancing with a short-term strategy that adopted an agile approach to its channel strategy to reduce cost of sale and increase ROI. In their modelling, they identified that 23% of sales are driven by long-term brand equity, and 11% of PPC performance is driven by brand investment – pointing to having the right balance between channels in creating the halo effect.

At Kantar, we have developed a unified marketing framework to measure, predict and optimise effectiveness across all marketing channels, publishers and even campaign types. This is underpinned by our 'always on' marketing effectiveness platform, Hamilton AI, going beyond the traditional market mix models. Our framework takes into consideration organisations' sales and brand goals simultaneously to provide measurable links between marketing, sales uplift and brand equity. We can evaluate historical marketing ROI insight, provide a holistic overview for strategic planning, plus scenario planning that helps organisations optimize marketing investment and predict impact on sales in an agile manner. This framework has demonstrated to deliver greater increase in ROI of 20-40%, improve accuracy on sales predictions by 90%, and greater speed to market with higher granularity.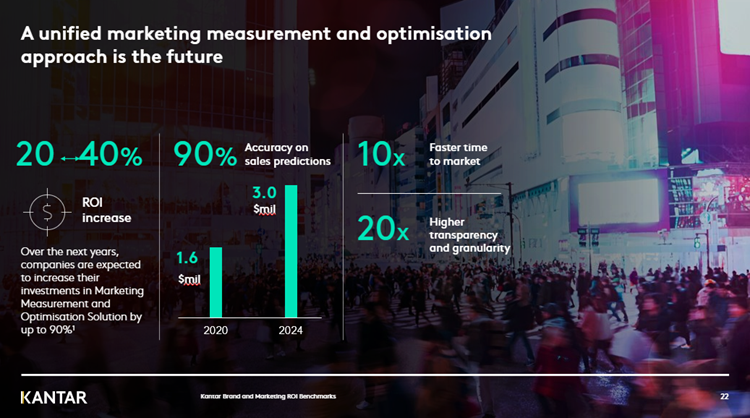 With special thanks to Andria Antoniou, Digital Analytics Manager of easyJet & easyJet holidays for sharing her insight and experience.

Catch up on our latest webinar: Cracking the Marketing Effectiveness Code and discover how to create and optimise your marketing spend by clicking here.