With the onset of generative AI's potential to create ads at scale, is the industry in danger of creating ineffective content efficiently? Or can AI help find the ultimate marketing sweet spot where efficiency meets effectiveness?

We wanted to explore how involving GenAI in the creation process could potentially improve the effectiveness of digital advertising. We did this by testing some fully AI-generated ads, along with others where GenAI played a partial role (i.e., writing the script or creating imagery), using Link AI for Digital – our AI powered ad-testing tool which uses data from 250,000 real-world ad tests to give indicative effectiveness results in as little as 15 minutes. In other words, we let our machines score the output of their fellow machines.
There are still relatively few ads created with at least some level of GenAI involvement, so we selected nine ads to explore, from high production value ads such as Masterpiece for Coca-Cola, to experimental ones such as Pepperoni Hug Spot that many will remember by its infamous tagline, "Like family, but with more cheese."
Lesson 1: GenAI ads performed strongly, but quality was variable
Kantar's Demand Power Contribution score in Link measures the long-term potential of an ad to drive meaningfulness, difference, and saliency for the brand. Of the nine ads we tested, six performed better than average by this metric and two of the three fully AI generated ads were in the top 30%. That said, there's a wide spread of results – with no particular pattern as to whether the ad was entirely or partially AI-generated.
Demand Power Contribution percentiles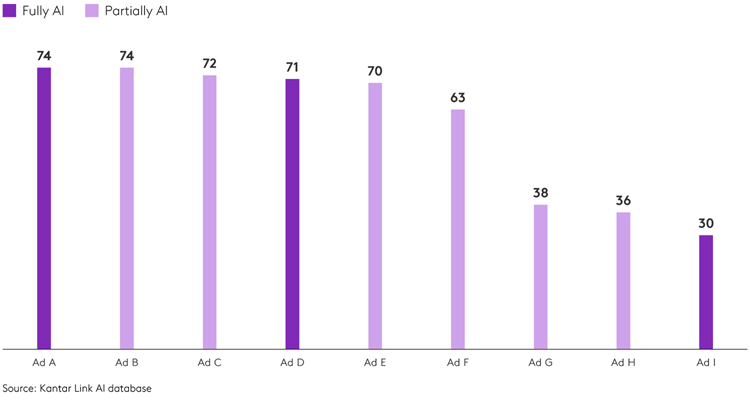 Lesson 2: There's more than one route to success
As with any new tool, the key to success is how you use it. As Brad Lightcap, the COO of OpenAI, said on stage at Cannes Lions "these tools still fundamentally need humans to be creative". Of the ads we tested, three stand out as good examples of the different approaches that can be taken to using AI.
Pepperoni Hug Spot
is a fully AI-generated ad for a hypothetical pizza chain that is a product of the creator's efforts to explore the world of AI-driven video. '
Masterpiece
' for Coca-Cola features a human-created script showing the journey of a bottle of Coca-Cola from canvas to canvas in an art gallery, where AI brought these famous paintings alive. '
Driven by intuition
' for Lexus has a story created by AI and brought to life by Oscar-winning director Kevin Macdonald.
Link AI for Digital predicted high brand-building potential for all three ads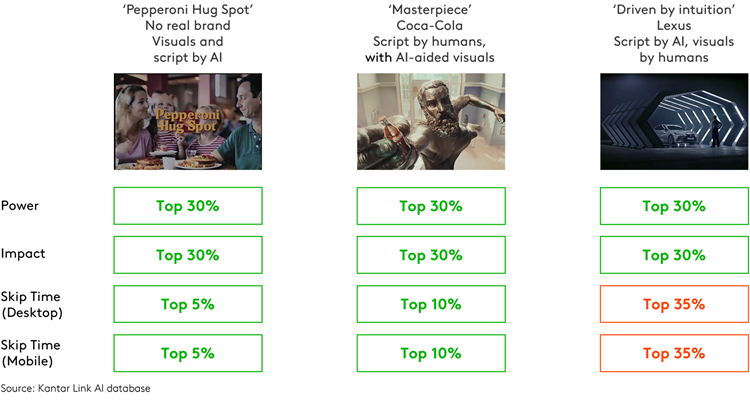 Attention is also a crucial element, especially in digital advertising where consumers are overloaded by stimuli. We know that higher attention measured by eye gaze results in
stronger brand endorsement
.
Masterpiece for Coca-Cola, for instance, not only is good at keeping the viewer watching but it also uses this time wisely. The product, hence, the brand is the hero of the story where it continuously attracts the viewer's attention, measured by AI-based, predictive eye tracking.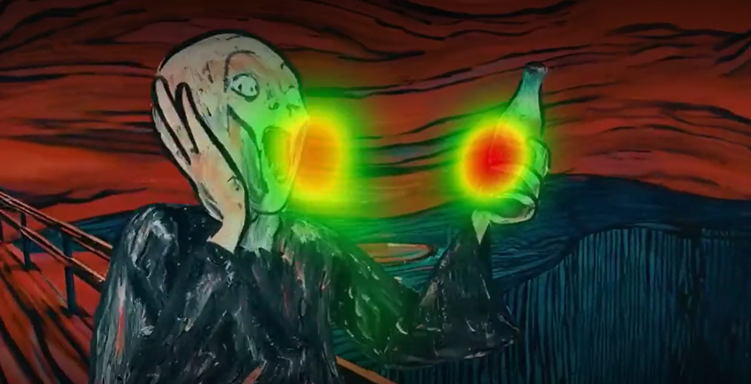 Watch here

Lesson 3: AI can assess different creative routes and variants as well as generate content
As the processes become more efficient, being able to execute more creative routes at scale will be also more feasible. However, brands cannot always afford to spend the time they gained during execution on deciding which route has more potential. This is where AI can again play a significant role, in testing, helping to select the most effective creative route.
Among the ads we tested, two were for the same brand, from the same campaign, and both fully AI-generated. We tested both routes in context for Facebook, and the results highlight how AI-powered ad testing could quickly help marketers select the route with more potential for certain online platforms. Our Link AI for Digital solution found that one of the ads carries better potential than the other in terms of enjoyment, persuasion and interaction – it's easy to see how this could save time and budget in a real-world setting.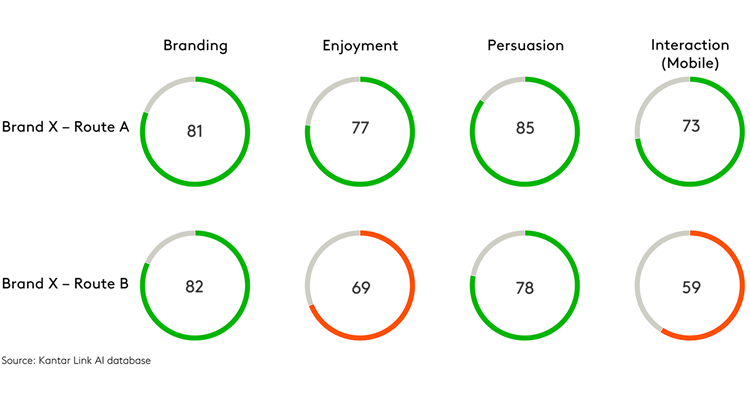 Link AI can not only be used to test different creative routes, but you can use it to ensure that the creative is tailored to the channel. Considering the budget and time pressures around digital campaigns, AI can again prove to be a great ally in asset creation here, making it possible for agencies to explore and produce different versions of the same creative execution at speed and at scale.

AI as a partner in shaping creativity
The common consensus on the use of AI in advertising is that we need to have humans at the centre of the creative process. And it's not hard to see why. It is not a thought partner in creation but rather a helping partner that allows agencies and marketers to explore new ways to be creative and impact.
We are also currently exploring the opportunities that generative AI technologies offer for enhancing the creative development process. We are looking into new ways of bringing our advertising optimisation recommendations to life, and helping our clients and their agencies rapidly shape and iterate their creative to develop the most effective version of each ad.
Finally, a word of warning, producing content more easily may also bring the temptation to produce high quantities of content, and marketers will need to keep their eye on quality. Producing a lot more advertising could also mean running the risk of just adding to clutter and not delivering on business objectives. With the arrival of AI, marketers need to remember that efficiency should never be at the expense of effectiveness.