With Elon Musk taking ownership of Twitter and making rapid changes to the platform, many of our clients have been looking for our point of view as Kantar's Digital (Dx) Analytics team on the impacts of Twitter's continued viability as a data source for social analytics research.

For the broader context of why we and our clients are looking to confirm the stability and health of Twitter data, a summary:

● After a protracted process started earlier this year, Elon Musk took ownership of Twitter on October 27th, 2022.
● Among the immediate actions in the weeks since Musk's takeover of the business were laying off a significant share of Twitter employees, asking some of those laid off employees to return, ending contracts with a large number of contractors without giving internal teams notice, changing Twitter's verification system to allow users to pay $8 for verified status, and launching, removing, and relaunching a separate "official" tag to identify authentic accounts for some entities.
● There are concerns from experts now that Twitter may soon begin to develop functional and financial difficulties as issues mount for the new leadership team.

For further context, the New York Times has a useful explainer here.

Given our deep expertise in, and regular usage of, Twitter data for our Dx Analytics solutions will be tracking the continued health of Twitter's usage, salience, and data clarity going forward.

Methodology
For this first update, we are focusing on whether there has been any substantial exit of influential accounts from the platform. Using our custom tech stack, we connected to Twitter's API and built a full list of all verified accounts before the changes to the verification system. There were ~408,000 "Pre-Elon Verified Users", including brands, politicians, journalists, celebrities, and other influential individuals across the world, on Nov 7th, and we are now able to compare that initial snapshot to the activity and account details of the same users in future periods to track deactivated or newly inactive accounts.

Nov 14th Update

While a small number of notable brands and celebrities left Twitter shortly after Elon Musk took ownership of the platform - including Whoopi Goldberg, Xfinity Mobile, and Balenciaga - these accounts represent a very small fraction of Twitter's Pre-Elon Verified user group. Overall, 99.9% of the users verified by Twitter before the rollout of Twitter Blue's new verification system have kept their accounts.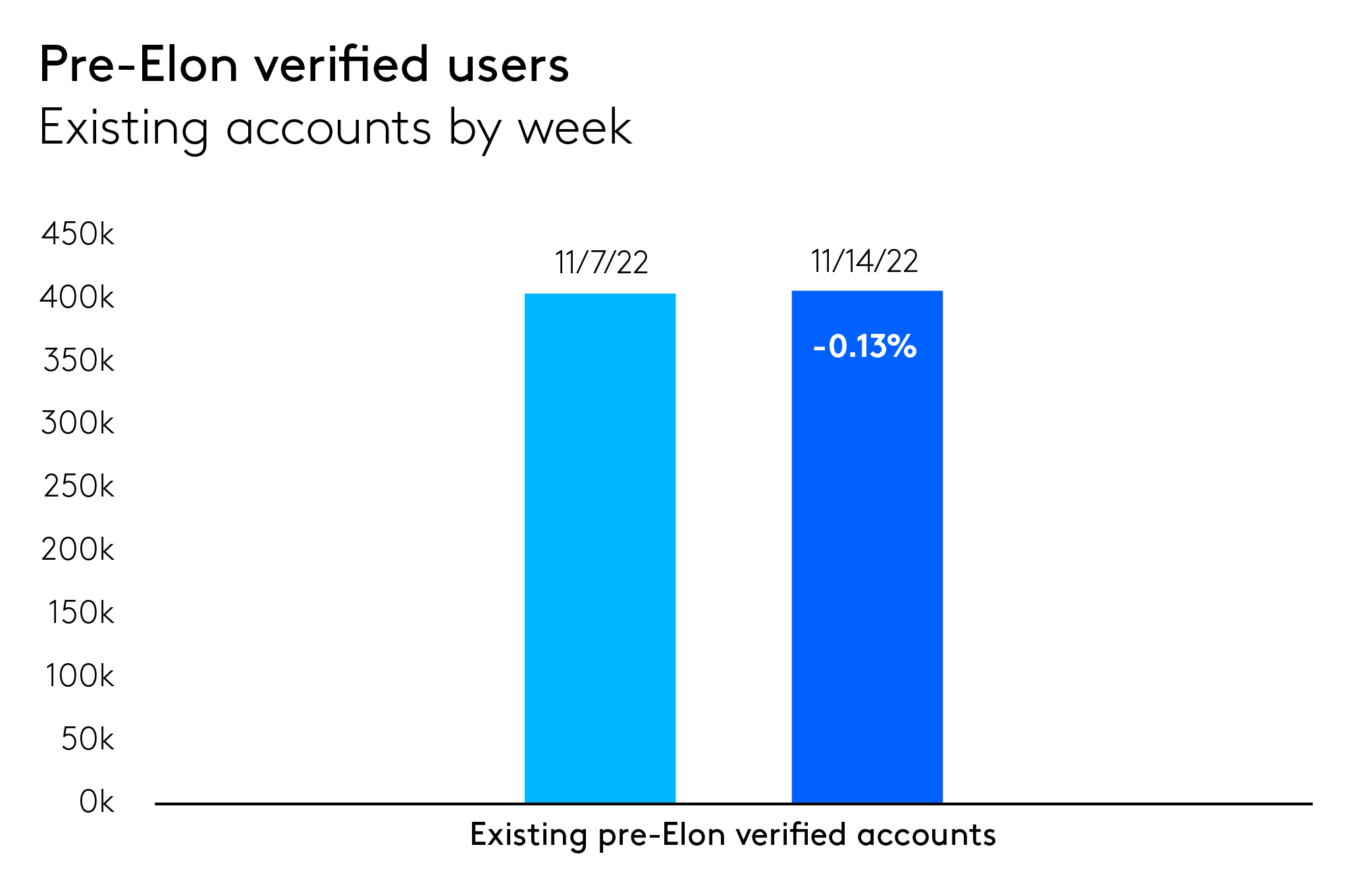 These accounts continuing to exist - as in, not having been deactivated or suspended - does not necessarily mean these accounts are still active. In NBC News' tracker of celebrities announcing that they plan to deactivate their Twitter accounts, many of these people - including Shonda Rhimes and Sara Bereilles - have not deactivated their accounts but have stopped using them.

To measure this impact, we have further analyzed our group of Pre-Elon Verified users to identify whether there is a material drop in the number of verified accounts which have posted new content in the past 14 days and in the past 7 days. In both KPIs, there has been a slight increase rather than any decrease in the number of Pre-Elon Verified Users that are actively posting on the platform, with 0.2% more accounts with new content in the past 14 days and 0.4% more accounts with new content in the past 7 days.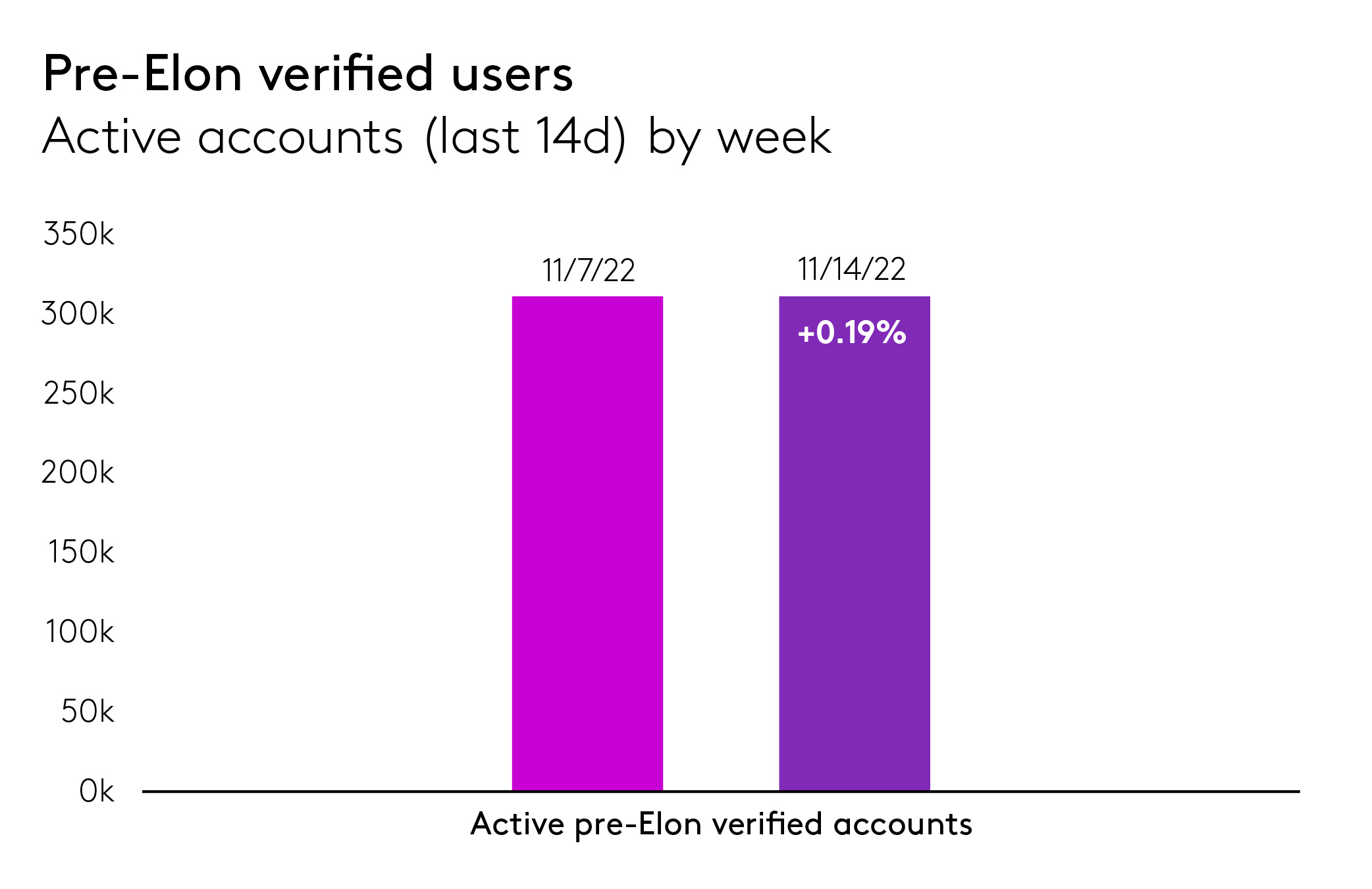 Next Steps
While the impact in the first weeks since the change in Twitter's ownership has not been significant, this is still early in Elon Musk's tenure and further changes and disruption to the platform are all but inevitable. Kantar's Dx Analytics team will continue to monitor Twitter and identify any issues with its usage for consumer insights and strategic research.

In future updates, we will include additional datasets to analyze Twitter's usage and salience, likely including:
● analysis of the salience of Twitter vs. its established competitors (Instagram, Reddit, YouTube) and newer competitors (Truth Social, Mastodon, etc.) using branded search interest data
● analysis of panel-based web traffic and app usage data to understand if there is any drop in general population site visits and DAUs on Twitter
● analysis of the continued usage of Twitter by priority Key Opinion Leader (KOL) groups, including Fortune 500 brands, journalists, and elected officials
● analysis of content moderation issues on the platform, including potential increases in hate speech, misinformation, and other brand safety risk factors

If you have any particular questions related to this topic and would like to connect with Kantar's Dx Analytics Team team on our solutions please contact us here.