Technology waits for no one. And as brands today brace for the inevitable impact of change and transformation, they continuously lean on Microsoft to build and sustain their business technology environments. After a two-year absence, Microsoft rose back into the Top 3 of the Kantar BrandZ Most Valuable Global Brands ranking, showcasing their leadership in digital workplace services. The tech giant earned a valuation of $502 billion in this year's ranking, which Kantar BrandZ determines using a combination of rigorously analyzed financial data and extensive brand equity research. As Microsoft sets its sights on artificial intelligence, they are creating valuable long-term shareholder returns.
Although Microsoft's brand value decreased by 18% since last year's peak of $611 billion, the decline is consistent with the 20% drop in the overall value of the top 100 brands in 2023, as well as the 24% decrease in the Business Technology and Services Platforms category. This year-over-year comparison does not tell the whole story, however; Microsoft's brand value has increased by a whopping 150% since 2018, according to Kantar BrandZ data, and despite this year's valuation decline, Microsoft ranked number one in the Business Technology and Services Platforms category.
Meaningful, Different and Salient
Offering consistent delivery of superior cloud, software and hardware products, Microsoft immediately stands out to business enterprise and consumer purchasers alike. This consistency drives outstanding performance for the brand compared to most others in the key areas of Kantar's proprietary brand value framework. Analysis of BrandZ data using Kantar's BrandSnapshot platform on Kantar Marketplace shows Microsoft's Salience is particularly strong, with an index more than double the category average, both among Business IT Software and Business Design and Publishing Software.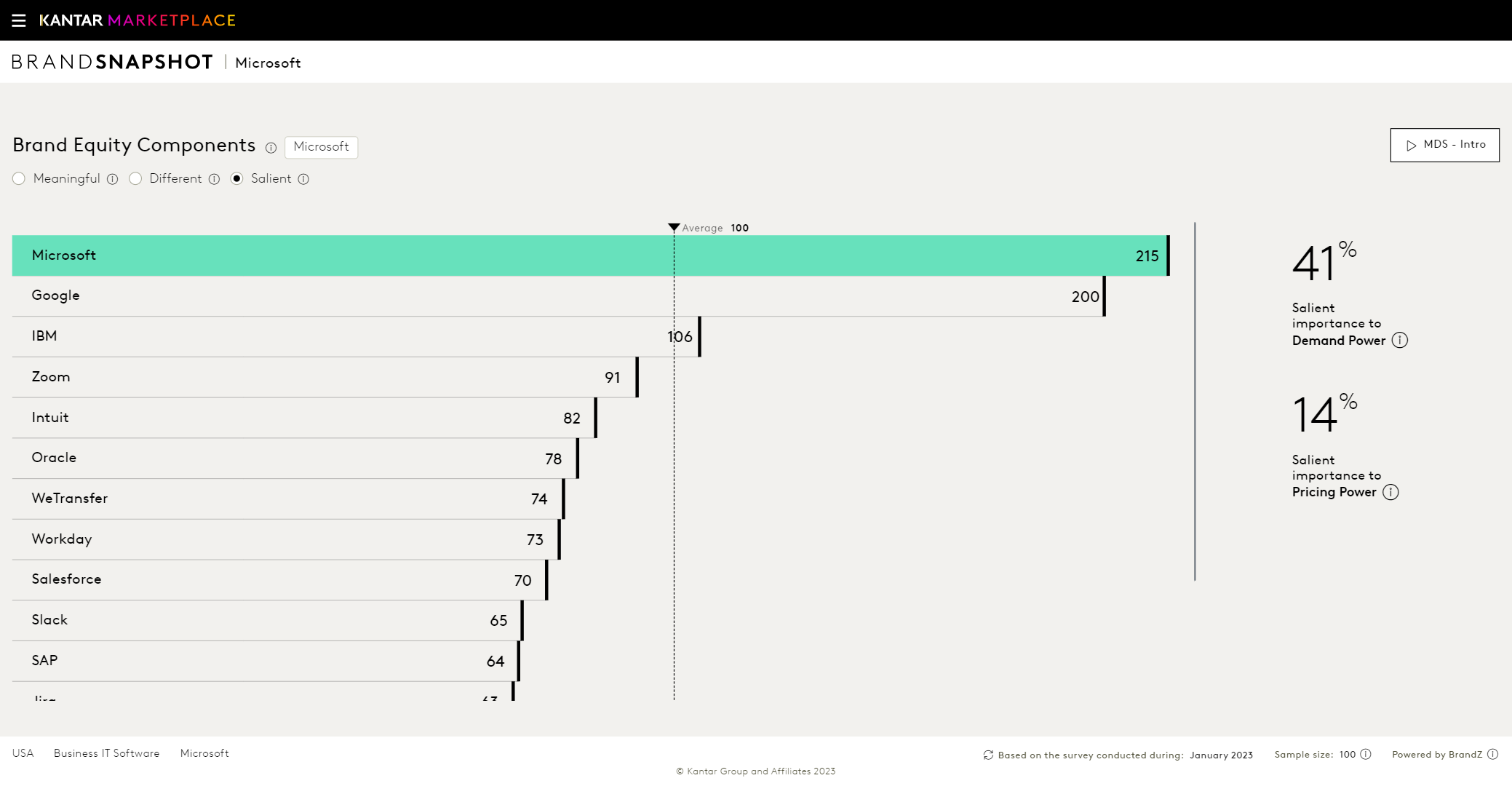 Pricing power
Strong Pricing Power gives brands a performance advantage, especially in today's marketplace, as buyers still claim they would rather choose preferred brands over opting for the cheapest option, despite growing budget pressures. While half of the most valuable brands in this year's BrandZ top 100 have strong Pricing Power, Microsoft rates especially high in this area, occupying the far upper tier of "Justified Premium" pricing, likely thanks in large part to the success of Microsoft Teams in the workforce's shift toward decentralized working and its continued successes across cloud computing. A prime example of leveraging strong Pricing Power, Microsoft recently announced that it will charge $30 per person per month to businesses that want to use the copilots for Office apps such as Word, Excel and PowerPoint – pricing that exceeded analyst expectations and drove Microsoft's market capitalization above $2.6 trillion for the first time.
Kantar BrandZ experts suggest that Microsoft should continue to be mindful of balancing its strong distribution advantage with preserving exclusivity, adding value through special editions and features, increasing occasions for consumption, enhancing customer relationships, and simplifying the purchasing process.
The AI arms race
Microsoft reported record sales and profits in July 2023 ($56.2 billion in sales in the three months that ended in June), pointing to early returns in the company's rapid investments in the technology topic of the moment: generative AI. Microsoft's adoption of AI in its Bing search engine and Edge web browser are prime examples of the agility required in the ongoing AI arms race, as are the promised additions of AI-powered "copilots" to Windows and Office.
Satya Nadella, the chairman and chief executive officer of Microsoft, recently commented on the organization's commitment to this area, saying that Microsoft remains focused on "leading the new AI platform shift, helping customers use the Microsoft Cloud to get the most value out of their digital spend and driving operating leverage." Most recently, Microsoft confirmed its ChatGPT-like Bing Chat was testing in third-party browsers like Chrome and Safari for select users, indicating the tech giant aims to compete on AI across platforms besides its own.
Microsoft's ongoing leadership in adopting AI to its products will be an important contributor to the strength of its brand value as businesses and consumers increasingly embrace and incorporate artificial intelligence into their daily lives.
Perceptions of sustainability
Sustainability—a company's responsibility to the environment, society, employees, and supply chain—is particularly important for business solutions brands, as it accounts for a 45% contribution to their corporate reputation. And while Microsoft has made sustainability a key part of its differentiated business proposition, committing to becoming a carbon negative, water positive, and zero waste company by 2030, its efforts may not be resonating with consumers as well as they could. Microsoft, along with most brands in the Business Technology and Services Platforms category, is perceived as "lacking" in sustainability by consumers. Microsoft knows the power of their consumer influence and, according to their latest sustainability reports, remains focused on delivering on their 2030 commitments.
In 2022, the brand launched Microsoft Cloud for Sustainability, a comprehensive suite of enterprise-grade sustainability management tools. However, given sustainability's importance to the reputation of business solutions providers, and the fact that it's a small but important lever to drive both volume share and justify pricing, Microsoft may benefit by doing more to communicate its laudable sustainability efforts to customers.
Explore BrandZ data for free
As Microsoft continues to meet its customers' needs and differentiate across AI and sustainability initiatives, its brand performance may see a payoff and its competitors need to keep pace. Kantar recently launched a new, free interactive tool using BrandZ's wealth of data where you can see an overarching view of a brand's performance. Discover your top brand equity indicators—and those of your competitors—in seconds with Kantar BrandSnapshot powered by BrandZ.