In the last 14 weeks we have experienced change at an intensity that couldn't have been predicted, which means that society's shopping and consumption habits will never be the same again.
The disruption caused by the pandemic is complicated and will not affect all sectors equally. While areas such as tourism and travel are quite damaged, there may be new opportunities in other areas, such as ecommerce and mass consumption.
This is the topic that experts at Kantar analysed in a virtual talk 'Redefining our Action Plans for Post-Lockdown', where they took an in-depth look at those consumer patterns that have changed during isolation, as well as the challenges that the 'new normality' will bring.
According to our data, the mass consumption sector in particular has seen growth rates of around 1% in 2019 to a surge of 26% since lockdown was declared. This boom in sales has had an enormous impact on the distribution of household expenditure, which is estimated to have grown by nearly 25%, suggesting that families are shifting spend which before would have been used for entertainment and eating out.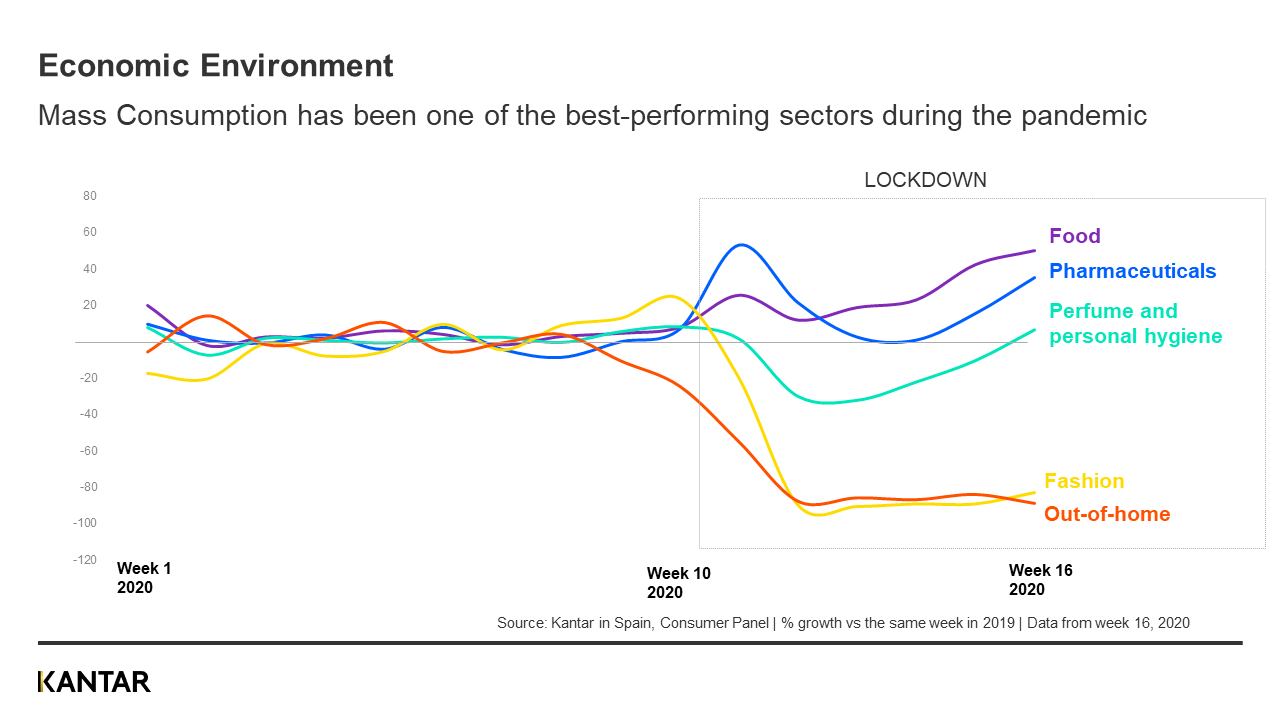 Shopping patterns have radically changed as we make fewer trips to the supermarket, but when we do, we spend 37% more. In this aspect, the chains which until lockdown had been leading sector growth, such as Mercadona or Lidl, have taken a greater hit. Local retailers, particularly regional supermarkets and chains such as Día, have capitalised on this growth, along with the online channel, which has nearly doubled its market share.
No two crises are the same, and what's more, in this one the health component must also be considered, which is going to mean very significant changes in shopping patterns, social interaction and our way of enjoying our free time, plus whether we work from home or not, or how and when the children go back to school. All this with consumers who are longing to get back to their everyday routines.
Different behaviours for certain product categories have also been observed. After the initial rush to fill the pantry, a group of categories has emerged that Kantar has called "new normality". These have been driven by these lifestyle changes and include: cleaning products (we clean more); bottled water (we are more cautious about what we eat and drink); soft drinks, beer, olives, nuts (we snack more at home); or pastries, biscuits and cereal (due to a change in breakfast habits). These categories are now entering nearly nine in every 10 households and experiencing an accelerated growth. At the other end of the spectrum we find those categories that the consumer now considers less of a priority, such as cosmetics or shoe-cleaning products.
What can we expect from post-pandemic consumption?
We are in a period of crisis and, in this context, we are facing a more rational, price-oriented consumer for whom promotions will play an important role, as well as the limited assortment channel. That said, household spending is very much tied to future prospects, and seven in every 10 consumers believe that their situation 12 months from now will be a better one.
To be specific, three areas are forecast to experience growth within this dual-crisis panorama. The first is in-home consumption, which will continue to grow in the new normal, especially products related to healthier, home-cooked food. Snack times/moments of pleasure is another area which has come out a big winner (+56%) with the emergence of new spaces for in-home consumption. Out-of-home consumption will experience a recovery, although it will be much slower than desired, which means the key here will be in generating consumer confidence.
The level of uncertainty over tourism plays a crucial role in this category, with the hope that domestic tourism will compensate in part for the downturn caused by the drop in overseas visitors; in fact, according to Kantar's data, 79.6% of Spanish households have said they will be remaining in Spain over the summer. This situation will continue to benefit in-home consumption, which means brands must be capable of defining their strategies according to these new consumption spaces.
Acceleration of known trends
In terms of what will be driving this new consumer forward, at Kantar we believe the quest for health will gain even greater prominence, despite already being a trend strongly on the rise. During lockdown we have taken better care of ourselves.
A second trend we will be focusing on the quest for pleasure, on the rise within the home to replace the lack of leisure activities and eating out.
The third of these trends refers to convenience, which has seen important gains in cooking aids such as stock, sauces or frozen foods. This inclination is likely to grow as we are able to go out more and schedules once again become tighter.
Lastly, another of the preferences that have flourished amongst consumers is the search for local products. In fact, according to Kantar's data, 33% of consumers say they will be buying more products from socially responsible brands in the future.
The one trend that seems to be most affected by this crisis is sustainability. Despite our steadfast desire to reduce our use of plastic, during lockdown we have seen an increase in the use of items such as plastic wrapping and disposable bags.
It is also noteworthy that in this period, many consumers have been forced to change brands. This offers a great opportunity to gain proximity to these new shoppers, to get to know them better and convince them to repeat the experience.
The new distribution panorama
Distribution in Spain has had a crucial role in the pandemic, enabling all households to keep well-stocked.
Proximity and the online channel have largely set the trends during the health crisis in terms of distribution. Limited assortment chains —those fundamentally committed to distributor brands— have seen their market share shrink by 2.5 points, conceding this to smaller supermarkets in closer proximity to the consumer.
The Internet has experienced its greatest increase ever, going from creeping upwards decimal by decimal in the last few years to gaining 1.3 points of market share in the most critical weeks of the crisis. Ecommerce in particular has been one of the channels to achieve the greatest gains and is now poised before its big opportunity, not only due to its historic market share in Spain (3.1%), but also in the 15.5% increase in shoppers. Its impressive gains amongst those aged 65 and older and in fresh produce in particular proves it is breaking through the traditional barriers.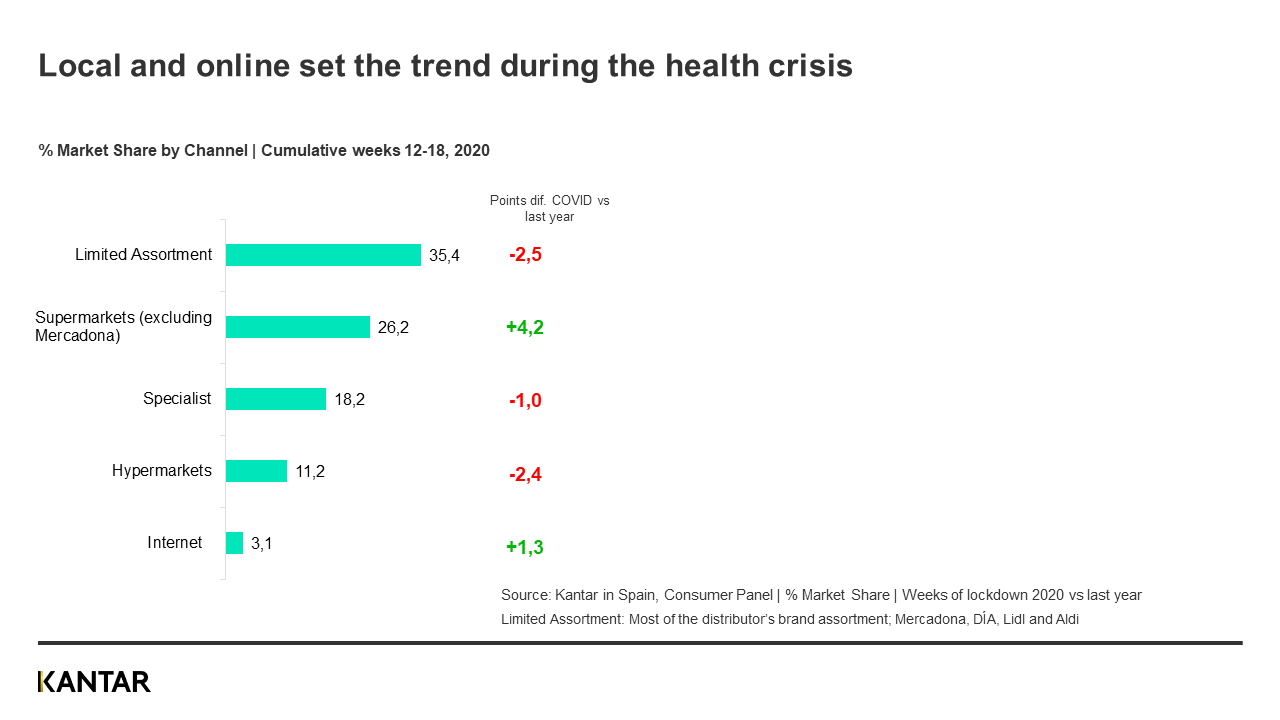 Nevertheless, all indicators suggest that these trends will return to their pre-crisis levels, provided that the health conditions permit. The exception being the online channel, which will keep rising where there is a pull to shop in the most safe way, either locally or online.
Essential levers to take into account in the post-isolation period
The intensity and speed of change in shopping patterns is so great that manufacturers and retailers will have to overhaul their marketing and sales plans. Price will once again become an important factor, with price-rounding formats and immediate discount or additional unit promotions. What is more, the current household stock levels in certain product categories will make quantity promotions inadvisable.
In any case, innovation and advertising will remain key factors. In terms of areas to explore when it comes innovating, the health and hygiene sectors will stand out within the new normal, as well as indulgence and all that is related to the new consumption spaces created by these lifestyle changes. Finally, it will be crucial for brands to take advantage of the opportunity for a greater media audience in order to communicate with their target market, taking into account that seven out of every 10 brands that managed to grow in the previous crisis maintained their investment in advertising.
The good news is that mass consumption has a sizeable impact, and in the months to follow its importance in household expenditure is more than likely to grow. However, the changes we have seen are significant. Consumers will not be the same after the crisis, so we encourage brands to be take a very critical look at their post-lockdown plans, making a distinction between beliefs that may still be valid and those that won't be.