As with so many sectors, the coronavirus pandemic has had a profound impact on the healthcare industry. Currently in most countries, pharma reps are off the road, hospitals are closed to non-acute patients and many health professionals have been reassigned to manage the health system's response to the outbreak.
Some see this crisis as an opportunity to rethink and reset both the industry's customer engagement model and its image. Will COVID-19 be a turning point for pharma, perhaps pushing it to truly embrace multi-channel or become digital-first? How will this change the nature of pharma's relationships with its customers? Can a single commercial model meet the needs of all countries and customer segments or will a more flexible solution be needed?
The industry perspective
The dominant theme that emerges from discussions with commercial leaders in Pharma and Biotech is one of turning the crisis into an opportunity. With so many reps off the road and access to hospitals restricted, many are embracing tele-detailing. Some are trialling or expanding their use of new platforms, while others are looking to connect with health professionals via whatever platforms they already use to make things as simple as possible.
Some companies are going further, seeing the crisis as a driver for fundamental change far beyond simply tweaking the commercial model. In reaching out to customers and other stakeholders to provide new types of support during the crisis, they see the seeds of an entirely new relationship, far more customer-centric relationship, with interactions driven as much by the healthcare professional as by the company, and with the frequency, style and content closely tailored to the needs of each individual.
The healthcare professional perspective
To understand pharma interaction from the healthcare professional perspective, the Profiles division of Kantar interviewed 8,500 physicians in the US, EU5, Taiwan and Korea and, with its partner iPanel, China. This very short survey was mindful of the time pressures on health professionals during this stressful period. The survey was conducted online during the first 2 weeks of April 2020.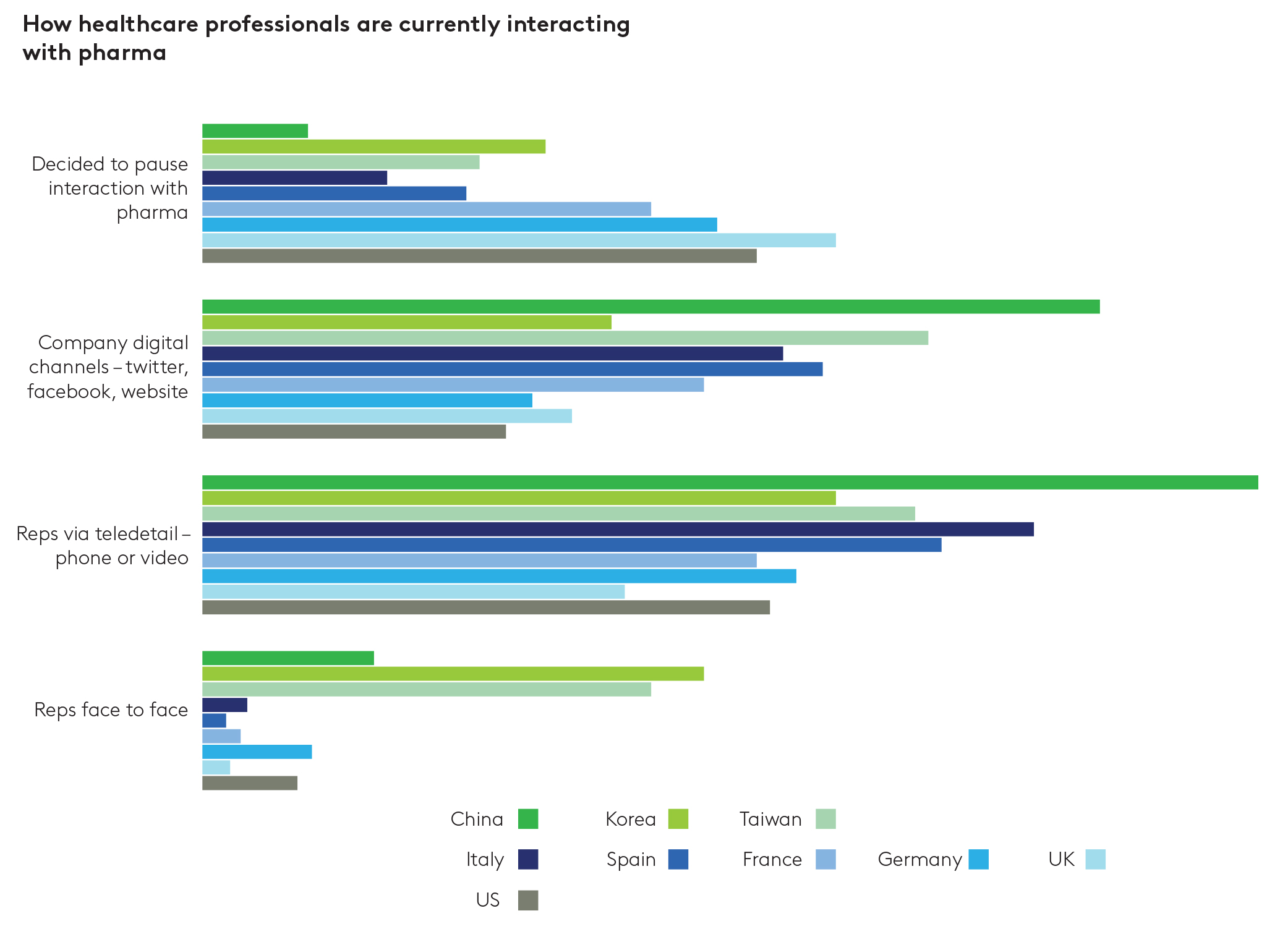 The survey highlighted significant variation in how pharma is interacting with HCPs across countries. This reflected both the stage of viral outbreak and the level of pre-existing digitisation of HCP communication channels in each country.
The Kantar survey also asked physicians about the level of interaction they predicted would take place in the post-COVID-19 future.
Physicians in China predict that face-to-face interaction with pharma sales reps will decline and that the strong shift to digital that has occurred in China over recent weeks will become established as the 'new normal'. In contrast, doctors in Taiwan see a future far more like pre-COVID-19 days, with face-to-face sales visits playing a central role.
However, this survey paints a picture of the future where digital channels play a far greater role in communication between pharma companies and healthcare professionals than before the pandemic. The optimal balance between digital and face-to-face channels may differ significantly between countries or even between sub-populations within each country.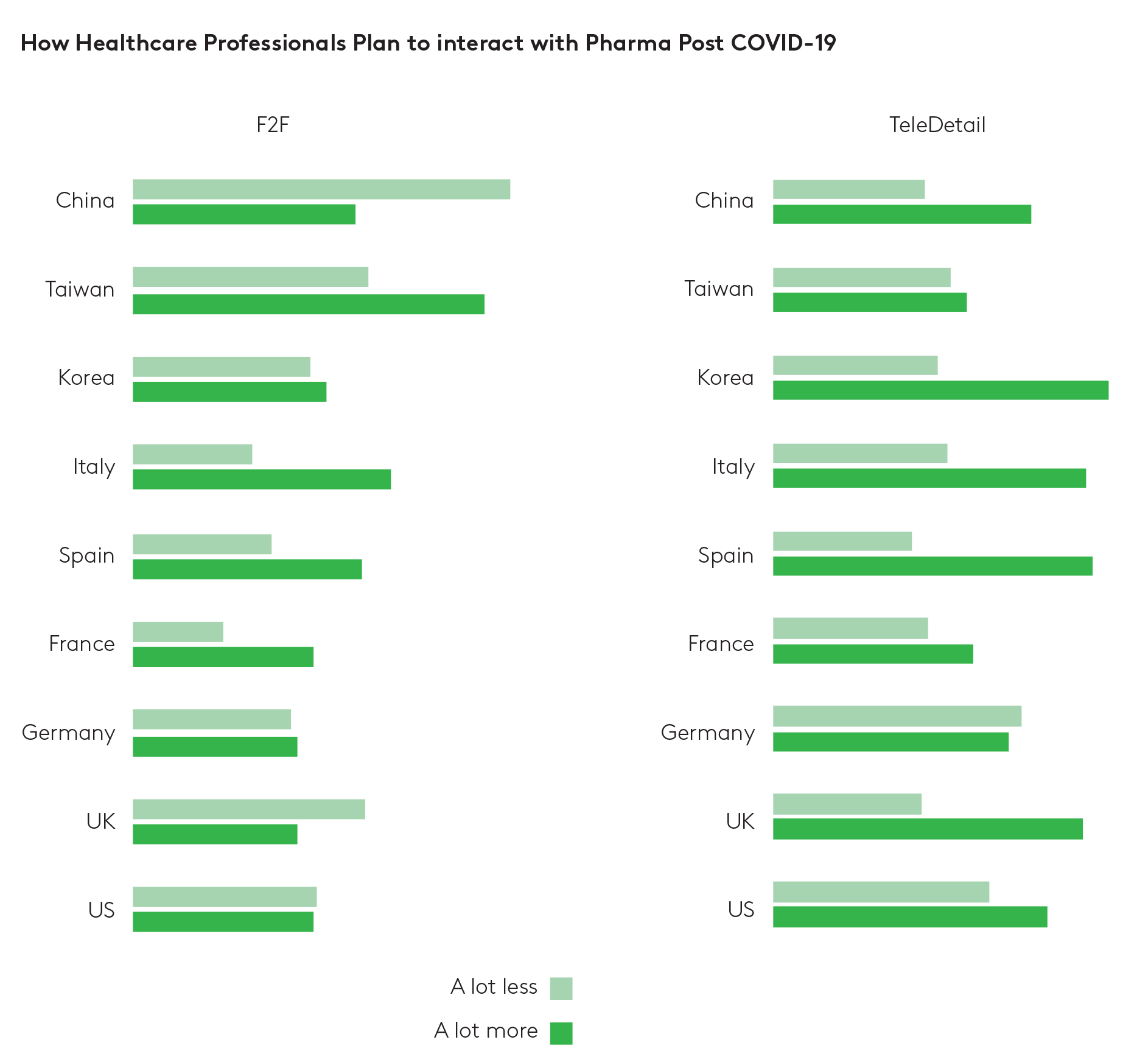 Our perspective
Within and during the transition between COVID-19 phases, there will be a unique chance to optimise resource and to plan for a new future, whilst understanding that one of the fundamental tenets of our whole industry – global strategy with local nuance – may have to be turned on its head.
We propose three potential commercial models that companies may choose to adopt.
Revolution: a digital strategy

Evolution: a conservative strategy

Agile Solution: a flexible strategy
Many considerations for pharma companies are model-agnostic and can be included in any possible future. We have 10 rules for the road, including: Use this time to pilot ideas, hone (or build) your multi-channel model and understand synergies; work out how quickly you can personalise your interactions and understand audience creation; and reskill reps in virtual communication and relationship building as they will need to start wearing more hats.
These rules, backed by a strong evidence-based framework for decision making, can help pharma to shape its commercial future as we come to terms with the fundamental changes that COVID-19 will bring to our industry.
All the rules, the details of these models, plus a framework for decision making, are outlined in our white paper, "Revolution, Evolution or Agile Solution." Complete the form below to gain access.