As COVID-19 settles into the day to day reality across the globe, the question of how to keep at-risk patients safe from infection continues to be a struggle, particularly for cancer patients. While teleconsultations are increasing, doctors are faced with making treatment decisions with reduced reliance on bloodwork or imaging, reducing the use of certain prophylactic medications, cancelling surgeries deemed by their practice as "non-essential" and switching their standard of care treatments to those which enable the patient to stay out of the hospital as much as possible, even if the trade-off is efficacy.
While physicians and their hospitals are attempting to reduce contact with cancer patients as much as possible, many patients are turning to social and digital channels to express their frustrations. They see their treatments as essential to their survival and do not agree with the risk-benefit conclusions of caregivers.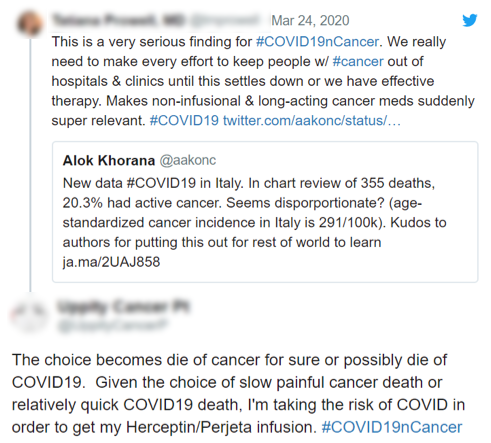 In this context, at this stage in the COVID-19 outbreak, we will explore how decisions are being made and the frustrations caused by these decisions for both doctors and patients.
Decision-making during COVID-19
Due to the accelerated nature of the pandemic, guidelines are changing at record speed. Since 25th March, 12 new guidelines have been published on cancer treatments, and even among them, 3 have been updated at least once since that time.
While attempting to follow ever-changing guidelines, physicians are making risk-benefit analyses daily without being able to rely on concrete data. Others are frustrated by the hold on screening programs and what this will mean for patients in a key time window where their cancer remains curable. Doctors are turning toward social media and digital platforms to look for guidance and to vent frustrations.
When referencing some of these guidelines on Twitter, which include infusion delays, surgery cancellations, and the sometimes unsuccessful, forced adoption of telemedicine, the doctors are already advocating for the (immediate) future. They are referencing the new guidelines issued in the last weeks to push for oral and long acting cancer agents, and requesting a review of the clinical trial process:
Information access and sharing through social and digital channels
On March 13th, Gilberto Lopes MD, created the hashtag #COVID19nCancer. A month later, it is now commonly used by physicians and patients, reaching 3,048 tweets (including retweets) in the US and the UK. This is very interesting as it represents 22% of the Twitter conversations on COVID-19 and cancer treatments.
Dr. Gilberto Lopes focused on sharing as much information as possible around COVID-19 and highlighted the lack of data available to physicians to make informed decisions. The ASCO article The Blind Leading the Blind: COVID-19, Cancer, and the Need for More Data is a good summary of the situation, and gathers the perspective of several oncologists such as Dr. Nicole M. Kuderer, Dr. Brian I. Rini, Dr. Petros Grivas.
To fill this data gap, an initiative was launched in the US on March 18th by the same Dr. Gilberto Lopes and many other colleagues: The COVID-19 & Cancer Consortium, also known as CCC19. The objective is to gather data around cancer patients having been, or currently diagnosed with COVID-19 including: patient demographic information, COVID-19 diagnosis and course of illness, cancer diagnosis and treatment details, and information about the healthcare professional (Read Cancer Registry Launches to Inform COVID19+ Patient Demographics).
As it is gaining momentum very slowly, with only 79 centers across the US participating by April 9th, it is difficult to assess the initiative's success as no data has been published or shared yet. While this initiative makes a valuable effort to centralise information, it is counterbalanced by other players advertising and creating their own communities, fragmenting further the access to information. On top of the Facebook groups (as described in our previous report, The Impact of COVID-19 on Oncology), new communities are regularly created by large organisations such as ASCO or ESMO.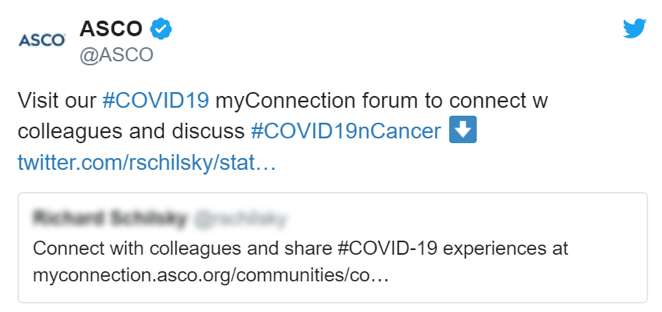 Impact on receiving cancer treatment
Several news articles written from both the physician and patient perspective have received a lot of attention in the last four weeks. The majority focused on how cancer patients will either not receive treatment or face delays as the overall healthcare system is overloaded by COVID-19.
Frustrated by what is happening, patients and caregivers are turning to social media to vent via Twitter, Reddit1 - 8th most popular site in the US, 12th in the UK2 - and oncology support group/forums, such MacMillan.

It is interesting to note that, when looking at Reddit, the number of COVID-19 posts on the biggest cancer subreddit3 is quite significant.
In these posts we can find evidence of cancer patients not being able to receive what they consider to be proper care. The most upvoted comment (equivalent of liked on Twitter or Facebook) from 4th April received 44 comments, which is high for such a subreddit, and is unfortunately quite symptomatic of what some patients are experiencing in the US: "Cancer treatment considered Non Essential".
The emotional impact and patient empowerment
An interview with Benjamin Brewer, PsyD, University of Colorado Cancer Center investigator and health psychologist at the UCHealth University of Colorado Hospital Bone Marrow Transplant Program, was published on April 6th regarding the potential new mental health challengess faced by cancer patients.
On top of the emotional charge, Dr. Benjamin Brewer also highlighted that some patients developed psychosomatic issues, such as diarrhea, muscle stiffness, headaches, and panic -related symptoms, e.g. sweating or increased heart rate.
With a bit more data to look back on since the start of the COVID-19 crisis, we can observe very different emotional reactions from cancer patients. Although patients can understand the risk of contracting COVID-19 while going to hospitals to receive the treatment needed to avoid disease progression, they are being more and more vocal about their situation, sometimes openly confronting doctors on Social Media. COVID-19 is indeed a dangerous disease, especially for some cancer patients but they believe that not treating their cancer is even more dangerous.
Beyond defiance, there is also a feeling of indignation and we found several petitions demanding access to care for cancer patients. There were also calls for help as delaying and stopping treatments becomes more and more common despite cancer still being a deadly disease:
"Now they are stopping my bone cancer treatment because "it is a risk for me to go to hospital once a month" for my calcium injection. Nobody has a clue about what is going to happen to my treatment. And what about other cancer patients' treatment? It feels the hospital is privileging COVID-19 patients over cancer patients! This is brutal!" Along with the most "aggressive" reactions, we observed a wide range of emotions displayed by patients and physicians, with emotions becoming more and more negative as time passes.
Conclusion
All indicators are leading us to believe COVID-19 is accelerating oncology transformation towards what the HIMSS (Healthcare Information and Management Systems Society) called Consumer Enabled health in its very insightful report Digital Health: a Framework for Healthcare Transformation
"Consumer-enabled health is defined as focusing of a health system on meeting and delivering on the consumer's individual needs, values, and personalised health goals. It recognises the value and importance of connectivity between consumers and their care teams, creating a partnership based on consumer needs and choice. It leverages digital options (such as online tools, handheld devices for "care anywhere" approaches, or apps that enable on-demand health and wellness care), to support self-management of personal health and wellness goals, shaped by the unique life circumstances, preferences, health needs and choices of the consumer."
References
Reddit is an American social news aggregation, web content rating, and discussion website. Registered members submit content to the site such as links, text posts, and images, which are then voted up or down by other members
(Source: Similarweb.com – March 2020 – Excl. Google.com(.uk) & Adult websites)
A subreddit is a specific online community, and the posts associated with it, on the social media website Reddit. Subreddits are dedicated to a particular topic that people write about, and they're denoted by /r/, followed by the subreddit's name, e.g., /r/cancer