As the world grapples with the devastating impacts of COVID-19, society has not become more progressive in how it views equality in leadership, as measured by the Reykjavik Index report from Kantar and Women Political Leaders.
The Reykjavík Index for Leadership measures the extent to which society is comfortable with women in leadership positions, as compared to men, across 23 sectors – from pharmaceutical to government, childcare to media. A score of 100 would indicate complete agreement that men and women are equally suited to leadership, and any score of less than 100 indicates prejudice.
Despite widespread global movements calling for greater equality between men and women, the 2020 research finds that the average G7 Index score remains at 73 – no change from 2019, and up only one point since 2018.
| | | | |
| --- | --- | --- | --- |
| | 2020 | 2019 | 2018 |
| G7 Average | 73 | 73 | 72 |
| UK | 81 | 73 | 77 |
| Canada | 81 | 77 | 76 |
| USA | 76 | 75 | 76 |
| France | 74 | 77 | 76 |
| Italy | 68 | 68 | 63 |
| Japan | 68 | 70 | 67 |
| Germany | 66 | 69 | 66 |
Key findings in the G7
Among the findings for the G7 countries, the report shows that:
The UK and Canada have the most progressive views in the G7, with scores of 81.
Both women and men hold views that are prejudiced against women leaders, but women across the G7 are more likely to think that men and women are equally suited to lead than men are.
Germany's position in the G7, according to Index score, has declined since 2019.
On average in the G7, young men demonstrate less progressive views than their female peers.
British women have the highest Index scores – meaning they are most likely to say women and men are equally suitable to lead.
Media and entertainment (81), natural science (81), economics and political science (81), and banking and finance (80) are the sectors with the highest average G7 Index scores.
New baselines and extended studies
The research was conducted in India – building on the study from 2019 – and also extended to create new baselines for Kenya and Nigeria. The key findings from those countries are:
India scores 68 out of 100, up just one-point vs 2019.
India has the smallest 'dissonance' between the Index scores for women and men, meaning that across the ten countries studies, the attitudes are most closely aligned in India.
Kenya scores 53 overall, with the highest Index scores for education, pharma and media.
Nigeria scores 47 overall, with the highest Index scores in the sectors of education, banking and media.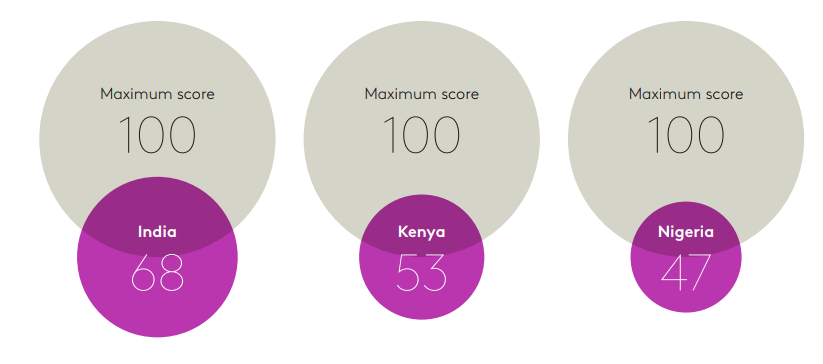 Graph: Average Index scores for India, Kenya and Nigeria
Young men are less progressive
The new research shows a gap between how men and women perceive suitability for leadership – and our 2020/2021 data shows that in the G7, young people aged 18-34 have lower Index scores than older groups. Young men are the least progressive – on average in the G7, nine points less than their female peers (67 vs 76), and four points less than older men aged 35-54 (at 71).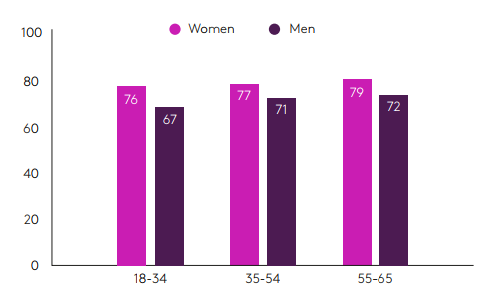 Differences between women and men
Overall, across all the countries measured, the average Index score for leadership is higher for women than for men. The Index is higher for women in almost every sector, in every country, meaning that women are more likely than men in all countries to perceive men and women as equally suitable for leadership.
However, it is important to note that in no country measured do women have Index scores of 100. This means, across the ten countries, women, as well as men, demonstrate prejudice against women in leadership roles.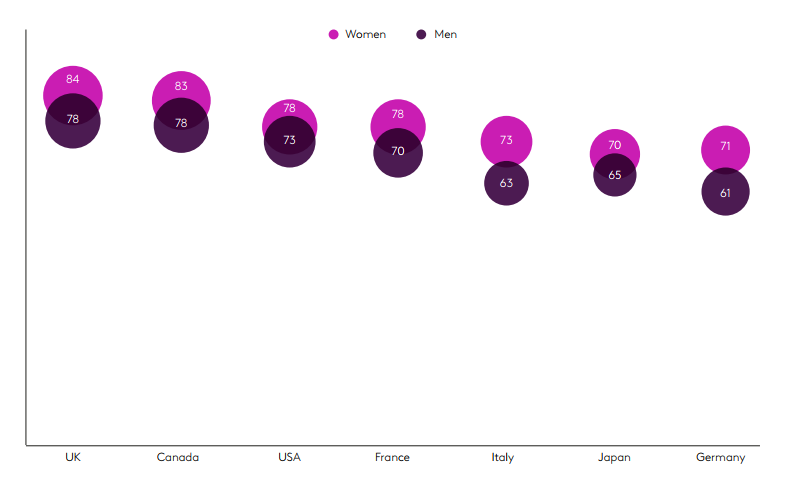 Graph: G7 country-level scores for women and men
Leadership roles on frontline of COVID-19
The pharmaceutical and medical research sector has an Index score of 80 in the G7 – one of the highest scores for a sector, but it is not reflected in participation. UNSECO research shows that less than 30% of the world's scientific researchers are women and, in many countries, women are absent or underrepresented on COVID-19 national scientific advisory teams.
The healthcare sector, in which 75% of the workforce is female, lands in 18th place out of 23 sectors with a score of 71, behind other sectors historically led by men including the judiciary (79), high-tech and AI (78), and aerospace and engineering (both 72).
Prejudice against men
The Reykjavik Index also shows the degree of prejudice against men – where it exists. Childcare and fashion and beauty are two sectors where people believe women are more suited to lead than men. Childcare has an average score in the G7 of 54 and fashion and beauty 56 – indicating notable prejudice against men's perceived suitability to lead in these sectors.
Find out more
For more of the findings from the Reykjavik Index 2020/2021 report, please download the report.