There's been a raft of articles published this year making a strong argument for continuing to advertise through the COVID-19 pandemic, as well as the recession that will follow. You may or may not agree but perhaps an understanding of just how much you stand to lose could help when thinking about your short to medium term plans. Where and what are the risks of stopping or cutting back on advertising and how do you mitigate against these risks through the worst recession on record?
It's widely accepted that brands must still invest in advertising in times of disruption. Maintaining share of voice, positively influencing consumer decision-making and finding new shoppers are constants – recession or not. However, what is the broader risk of cutting back and if you do, where should you focus your investment for maximum impact? Managing costs will still be a priority, so understanding how to optimise spend has never been more important.
CPG companies took a range of approaches during the first few months of the pandemic. Coca-Cola – which cut its advertising spend completely – is now back with its multi-channel Open Like Never Before campaign. Diageo reduced its rate of investment in advertising and promotion (its spend as share of sales) by 4% between April and June. Unilever took a different tack, keeping its budget between 23 March and June relatively stable at £27.4m, a slight year-on-year increase of £765,000. Procter & Gamble increased its ad spend by 8.5% in the year from June 2019 to June 2020.
The impact these decisions will have on their brands' bottom line – and their long-term market and brand growth – remains to be seen. What we do know from conducting media effectiveness studies all around the world, however, is that choosing to stop or significantly reduce advertising could have impacts that take years to recover from.
Lost sales and reduced penetration
The average short term effect from advertising is an incremental 4.5% sales increase, recorded in the month after a typical eight-week campaign.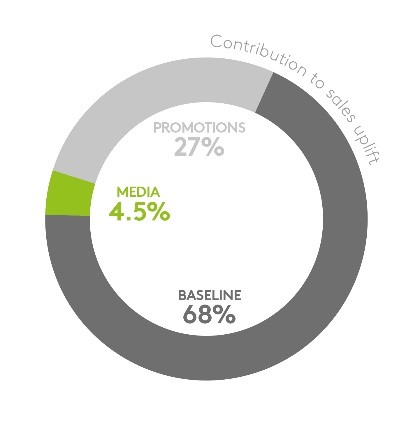 The rise in sales is higher for a brand that operates in the Health/Beauty and Homecare categories, and lower for a Food and/or Beverage manufacturer.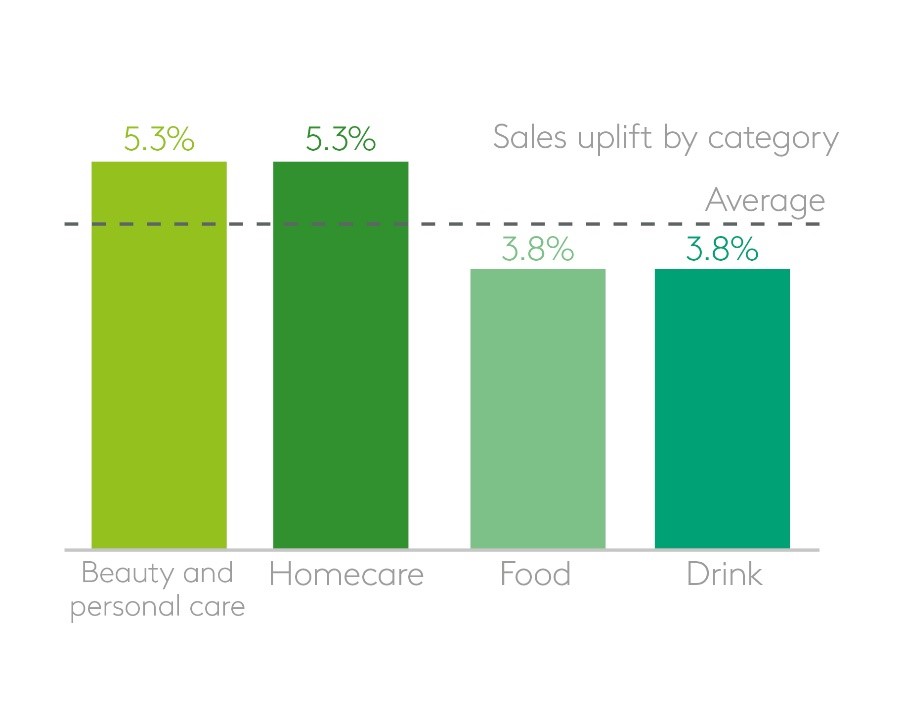 This is what you need to defend just to stand still, and what you stand to lose if you choose not to advertise. Multiply this by the usual level of activity over the course of a full year and you start to get a sense of the longer-term impact. Taking the example of a brand that generates $10m worth of sales in a six-month period, if the brand would ordinarily run two ad campaigns during that time, but decides to postpone or cancel, it stands to lose an average $900k in revenue.
It's also imperative to consider the impact of an advertising hiatus on the penetration of a brand. Almost nine in 10 (86%) of the brands that grew globally in 2019 did so by increasing their penetration. Worldpanel studies show that a brand must replace 50% of its buyers each year just to defend its current position. Recruiting shoppers is a continuous cycle, and it's crucial to keep gaining new shoppers in order to secure the long-term health of the brand and build its potential for growth.
Typically, in the short term, growth driven by penetration gains accounts for two thirds of the post campaign sales uplift – so any marketing lever that can be pulled to help maintain and grow penetration should not be compromised. If you won't collect those gains from advertising, other levers must work harder. Advertising also reminds and retains existing shoppers, and it can take many years to recover from the loss of heavy buyers – particularly for bigger brands who have a slightly heavier reliance on them for their sales.
Defending brand value – keeping the love
The grocery industry does have an advantage over other sectors. Firstly, it is largely recession-proof. Everyone still has to eat, after all, and consumers are much more likely to cut back on bigger ticket items in times of financial hardship. Secondly, in-home treating tends to do well as consumers divert spend from eating out. Having said that, CPG brands can be impacted by external factors that are out of their control, such as competitor activity – only serving to reinforce the vital role advertising plays in a crisis.
The fact is, recessions disrupt loyalty: financial concerns and consumer confidence affect our choices, making where we buy and what we buy more important. Decisions are made at the shelf every day and consumers need a good reason not to default to the cheapest option available. Also, can we really be confident that retailers will resist embarking on price wars? This carries considerable risk, particularly as CPG brands are already defending significant price differentials between their products and the private label equivalent (or those of a local country brand).
The table below illustrates an example from the UK, summarising at a sector level the typical price difference between a manufacturer brand and the private label equivalent, and the percentage of sales attributed on the basis of 'brand'.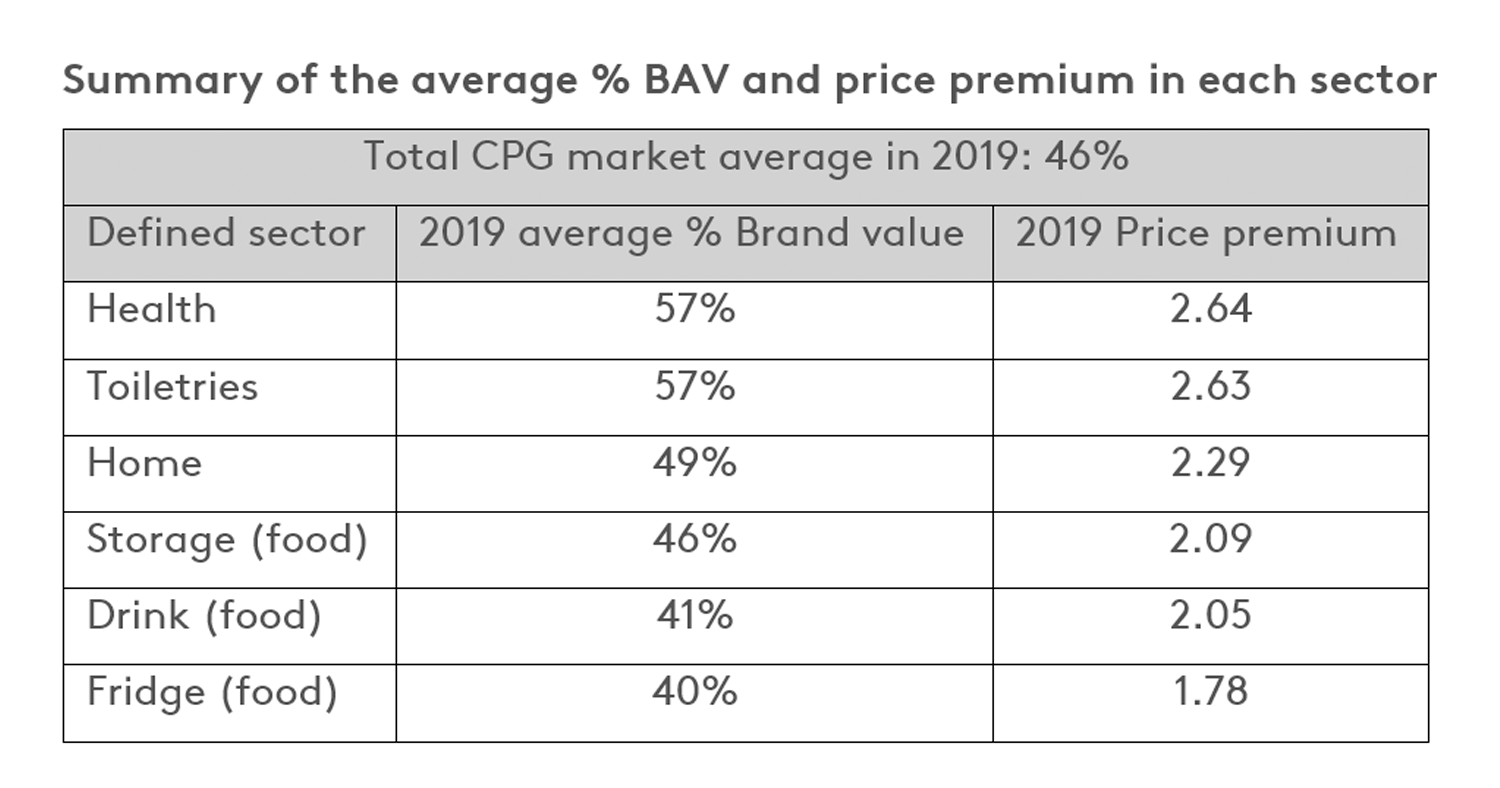 In this environment, advertising plays a crucial role in a brand's ability to reinforce its value, and successfully maintain the messages of quality, trust and differentiation that earn it the right to charge a higher price. Without creative and effective brand advertising, the shopper choice risks becoming a simple one based on price alone. In addition to exposing a brand to immediate losses, this will make it harder to launch premium variations in future, and drive retailers to push the brand even harder on price as we enter the recession.
We would go further. Reducing advertising activity is not an option because share changes have lasting impact. Once lost, chances of recovery are not good. However, the opportunity is clear with longer term gains there for the taking.

Optimising the media plan
Having made a decision to continue advertising, it's important to get the best bang for your bucks in terms of shopper recruitment, retention and sales. We're seeing media consumption behaviours shifting because of the pandemic, so media buying must shift in response. Understanding the effect of advertising through the consumer lens presents an unparalleled opportunity to optimise spend.
TV represents the best way to reach as many people as possible and gives a brand the best chance to recruit larger numbers of shoppers. Social media and other digital platforms can provide very efficient return on ad spend (ROAS), however. The synergistic effect of advertising on both Digital and TV together boosts the likelihood that a customer will buy by 15%.
Digital also offers an opportunity for precise targeting – particularly valuable if you can target based on behaviours that define a shopper's propensity to purchase. For example, a Tate & Lyle case study illustrating the positive impact of direct targeting showed an increased performance of 3.9 times the average on ad recall, 1.9 times on unaided brand awareness, 4 times on consideration and a significant 2.9 times on sales uplift.
To determine how much to invest in advertising, and where, an approach that measures impact at an individual consumer level is imperative. This helps disentangle the effect of one medium compared with another and enables the brand to understand just how many exposures are needed to tip the consumer over to a purchase – saving on unnecessary investment in the process.
There are obviously no golden rules when it comes to preparing a media plan. Each brand and each market will have its own unique optimum media mix which drives additional sales. The recent sales uplifts achieved by two famous alcohol brands in the UK were influenced by media in a very different way. For one brand, digital platforms contributed 1.4 times more to the sales uplift than TV, while for the other TV contributed 4 times more than digital.
Being able to simulate shopper responses in today's changing environment gives brands the best opportunity to ensure their ad spend is working hard, and in the most effective way.
In conclusion
In a recession – and with the very real potential of retailer driven price wars – only the strongest brands will survive. Boosting the impact advertising has on sales has a huge part to play in sustaining brand strength.
Brands that trade on more than just price simply must continue to remind their buyers why they should pay more than for low-priced or private label equivalents. If they don't, the long-term picture will be challenging.
This means brands need to sustain their commitment to advertising, continue to offer great value for money, adapt their media deployment to align with changed viewing habits, and understand the new needs that have arisen as a result of the pandemic – especially those that can drive new users and premium price.
By understanding and simulating buyers' responses to exposure, brands will ensure they're not wasting spend in areas (and at a frequency) that limits return on investment. Ultimately, it will ensure they know exactly what each dollar spent on advertising is delivering.