The Asia-Pacific region's FMCG industry continues to evolve in a highly dynamic fashion. The latest Asia Pulse report for Q1 2023, published by Kantar Asia's Worldpanel Division, paints a vivid picture of the multitude of trends and developments that have shaped consumer behaviour and market forces across various countries.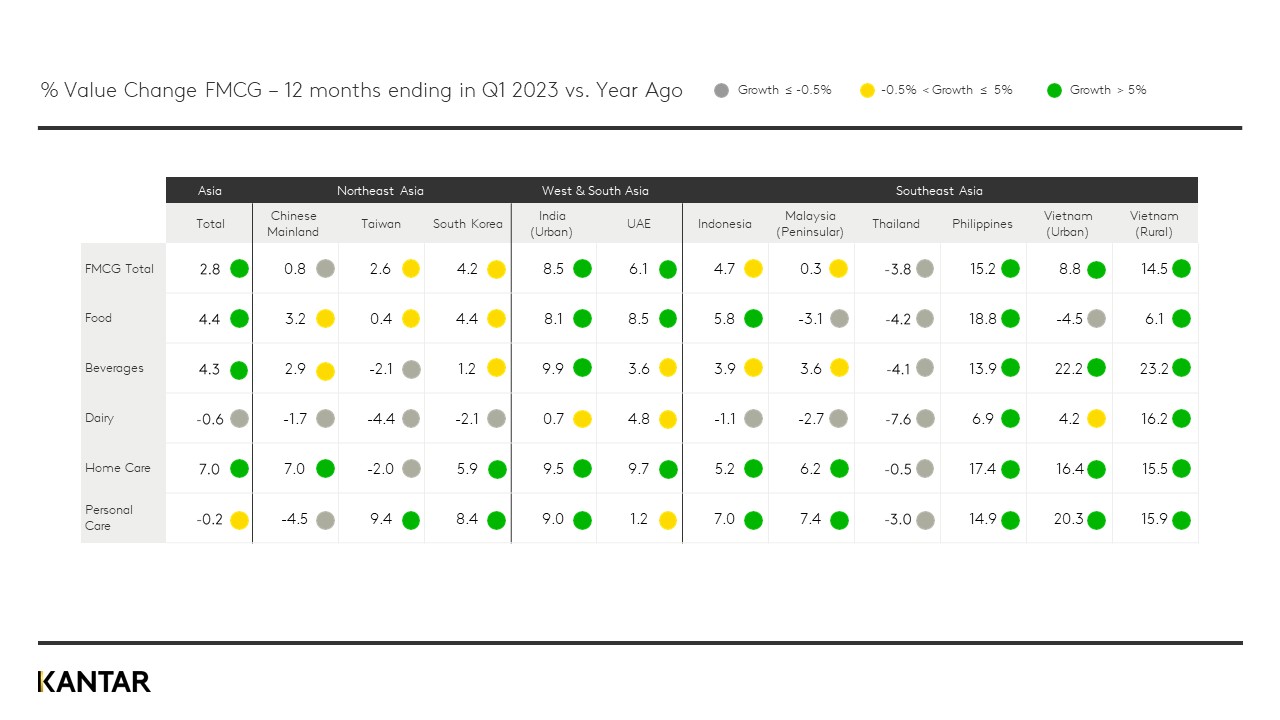 In the Chinese mainland, the economy exhibited remarkable resilience despite unprecedented challenges. New ways of shopping – such as interest commerce and O2O – thrived, while outdoor consumption experienced a resurgence as COVID control policies eased.
Taiwan's FMCG market stabilised in the post-pandemic era, with personal care emerging as a strong performer. Ecommerce continued to flourish as Taiwanese shoppers embraced online shopping for a wide range of products, particularly health food, and skincare.
The FMCG sector showed signs of recovery in India, with cautious optimism prevailing. Indian consumers adopted a more prudent approach to spending, downscaling their purchases per trip. The ecommerce sector doubled its value share, reflecting the growing importance of online channels.
South Korea witnessed FMCG market growth driven by inflation and a growing 'healthy pleasure' trend in the beverages sector. Ecommerce continued its upward trajectory, contributing significantly to the growth of both food and non-food categories.
The UAE's economy demonstrated resilience, particularly in the non-oil sectors, including FMCG. Shoppers actively rationalised their spending in the face of price inflation, prompting a fresh approach to portfolio management. Hypermarkets adapted to changing consumer behaviours, while online shopping witnessed a notable increase in depth.
Indonesia's resilient economy displayed steady growth, particularly in consumer spending on FMCG, transport, and fashion, driven by the upcoming festive season. Growth in the food and beverages sectors was driven by price increases, necessitating effective price-pack strategies to secure shopper recruitment.
In Malaysia, household spending began to normalise after a post-pandemic spending boom, albeit cautiously due to rising inflation concerns. Malaysians adopted discreet spending habits, downgrading to cheaper brands and downsizing volume. Proximity stores remained important, while ecommerce experienced a slowdown.
The Philippines faced slower GDP growth amidst high inflation, leading Filipino shoppers to focus on purchasing staples. Proximity stores played a crucial role in providing affordable options to help consumers cope with rising prices.
A bumpy economic start in urban Vietnam was offset by a solid Vietnamese New Year season, which drove growth in the FMCG sector, particularly in beverages and personal care. Retail channels experienced positive growth, with specialty stores and online platforms recording increased frequency and spending per trip.
Rural Vietnam showcased significant potential for growth, with personal care leading the way. Modern trade channels gained importance among rural consumers, indicating further opportunities for manufacturers and brands to penetrate these markets.
As you delve into the Asia Pulse Q1 2023 report, we hope the insights provided will serve as a valuable resource, empowering you to navigate the diverse consumer landscapes and seize emerging opportunities across the Asia-Pacific region. If you have more thoughts and questions, please do contact us to discuss them further.
You can download our full Asia Pulse report for Q1 2023 using the form below, and reach out to our experts to get a full picture on your category and brand performance across Asia.