In the 11 years since we launched the Brand Footprint ranking, The Top 25 most chosen Latam brands have grown their Consumer Reach Points (CRPs) year after year despite the pandemic, the war in Europe, and civil unrest in Ecuador, Panama and Peru. However, inflation is taking its toll. In 2022, for the first time, the total number of CRPs has declined by 2.4% according to this year's Brand Footprint Latam report.

Price rises hit hard
Inflation is a global phenomenon, but the impact in Latam has been especially harsh. Inevitably, this has driven people to rein in their spending. The purchasing power of Latin American shoppers has dropped by 25% over the last two years. Even though consumers made more shopping trips in 2022 they made 1.3 billion fewer brand choices than the previous year. And because 13% of all brand choices globally are made in Latam, what is happening has a significant impact at a global level.
Paying more for less is shrinking baskets.
Annual spend on FMCG rose by 11.1% in 2022, with the average spend per trip going up 13.9% - much higher than the global increases of 4.8% and 3.4% respectively. But this does not represent growth in real terms, as the increase in spend has largely been due to rising prices. Inflation is driving down FMCG volume and has led to people shopping less often .
More choice – less loyalty
There are more potential brand and channel choices available to consumers in Latam than ever before. Consumers are shopping around to find the best value for money, visiting 18% more channels in 2022 than they did the previous year. This has made the market incredibly fragmented and competitive for brands and manufacturers. They are having to fight harder to be chosen among a rising number of options. They have had to behave differently here compared to other regions of the world, using all the tools at their disposal to be seen and to be selected.
Small is beautiful
This year, smaller brands prevailed over the 'big hitters'. Small and medium sized brands represent 71% of the ranking's growing brands. Of the smaller brands in the ranking, 50% have grown their CRPs and 50% declined. For larger brands, the proportion sits at 40% and 60% respectively. Small brands achieved the strongest penetration growth in all baskets except for health and beauty.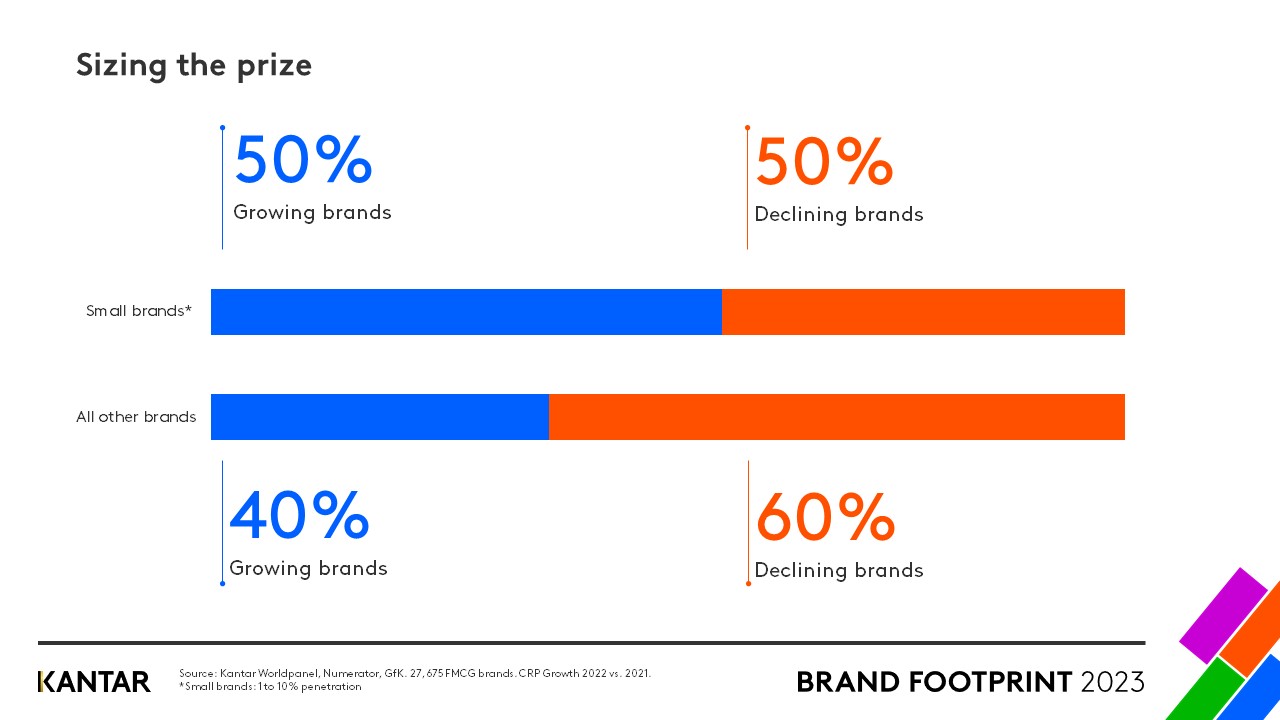 The secrets to success
Despite the fiercely competitive world of FMCG in Latam, some brands are getting it very right. Brand Footprint Latam 2023 explores the FMCG categories, shining a light on the brands that are gaining ground this year and looking at the secrets of their success.
The brands that have successfully built their presence in Latam reached new markets and found new shoppers in a number of ways. These include extending into fresh categories, making products relevant to new needs and innovating with new flavours, formats and functionality that made them stand out from the crowd. The top 10 brands get close to consumers by developing an in-depth understanding of nuances in shopper behaviour and circumstances so they can stay relevant to their evolving needs.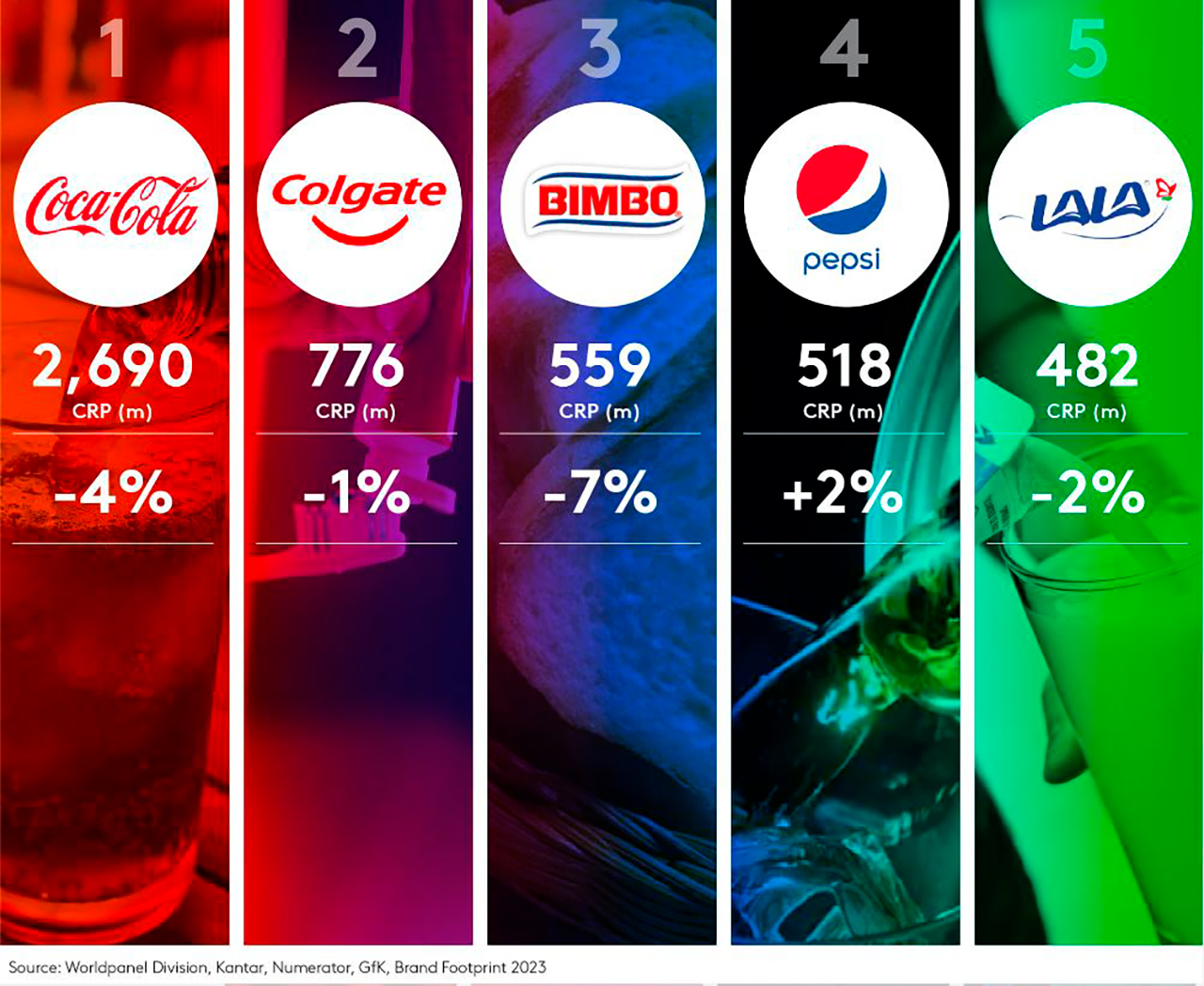 Global or regional, big or small - Latam's most chosen brands share not only the same pressures and struggles, but a winning formula for growth. Today, boosting penetration – the number of shoppers who buy the brand – has become practically the only growth driver that matters. An overwhelming 93% % of the brands that grew their CRPs in Latam in 2022 grew through penetration. And the proportion of brands that grew through higher penetration alone has risen from 35% in 2020-2021 to 52%.
All markets in Latam are feeling the effects of inflation, but there is a lot of variability between countries. Brand Fooprint Latam 2023 lifts the lid on the three distinct trends playing out across the region to help you understand the differences. It reveals the brands with the highest growth and tells the stories behind their success and looks at the regional factors driving the Top 25. We explore how shoppers behaviour is changing and explain how omnicannel, penetration, differentiation, adaptation are key to winning in FMCG in Latin America today.
You can also watch our webinar on demand here, where our experts unravel the secrets of the top brands successes.