Consumers want innovation and the markets need it. Despite innovation driving FMCG growth in Spain by an additional 18% in 2022, there has been a 45% drop in innovation over the past 12 years. The latest Worldpanel study on innovation in Spain explores what is driving this growth in FMCG, which retailers in Spain are supporting innovation, and what is needed to reverse the decline.
Disruptive innovation reaps rewards. Not only does innovation drive sales for the brand, but it also causes the markets to grow. It's the manufacturer brands, in particular, that are driving this growth - manufacturer brand innovations boosted FMCG growth by an additional 18% in Spain during 2022.
Despite this, the report reveals that innovation in FMCG plummeted by 45% in Spain between 2010 and 2022. In 2022, 7.5% fewer new innovative products were launched than in 2021.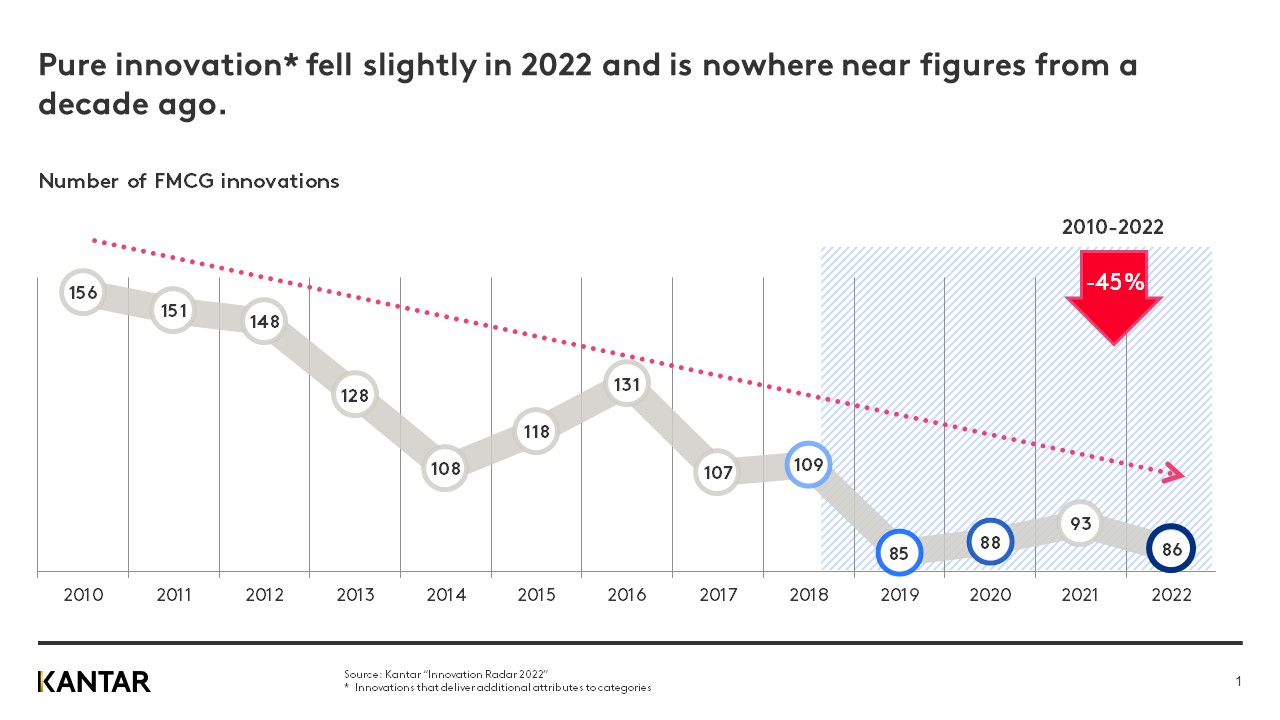 Manufacturers are driving innovation
Over the past 12 years, manufacturers have introduced the majority of innovations to the market. In 2022 87% of all innovations to the market came from manufacturers and the incremental value of innovation was 15%, three points higher than in 2021. When looking at innovation from manufacturer brands, this number increases to 18%. And it's not just the big global brands that are innovating - four out of every 10 innovations were launched by Spanish companies.
Despite some retailers offering greater support for innovation, the number of innovative products introduced is still low among some of the main players. Distribution of innovative products failed to pass the 30% barrier and is still hindering manufacturers' access to consumers.
Mercadona had the lowest levels and was responsible for distributing just 4% of innovative products in 2022. Lidl performed only slightly better at 5% - a massive drop from 18% the year before. Gadisa also fell from 19% to 17%, whilst Grupo Eroski and Aldi increased their distribution of innovative products by 9% and 5%, respectively. The three chains that introduced the highest levels of new products on their shelves in 2022 were Carrefour (61%), Alcampo (40%), and El Corte Inglés (40%).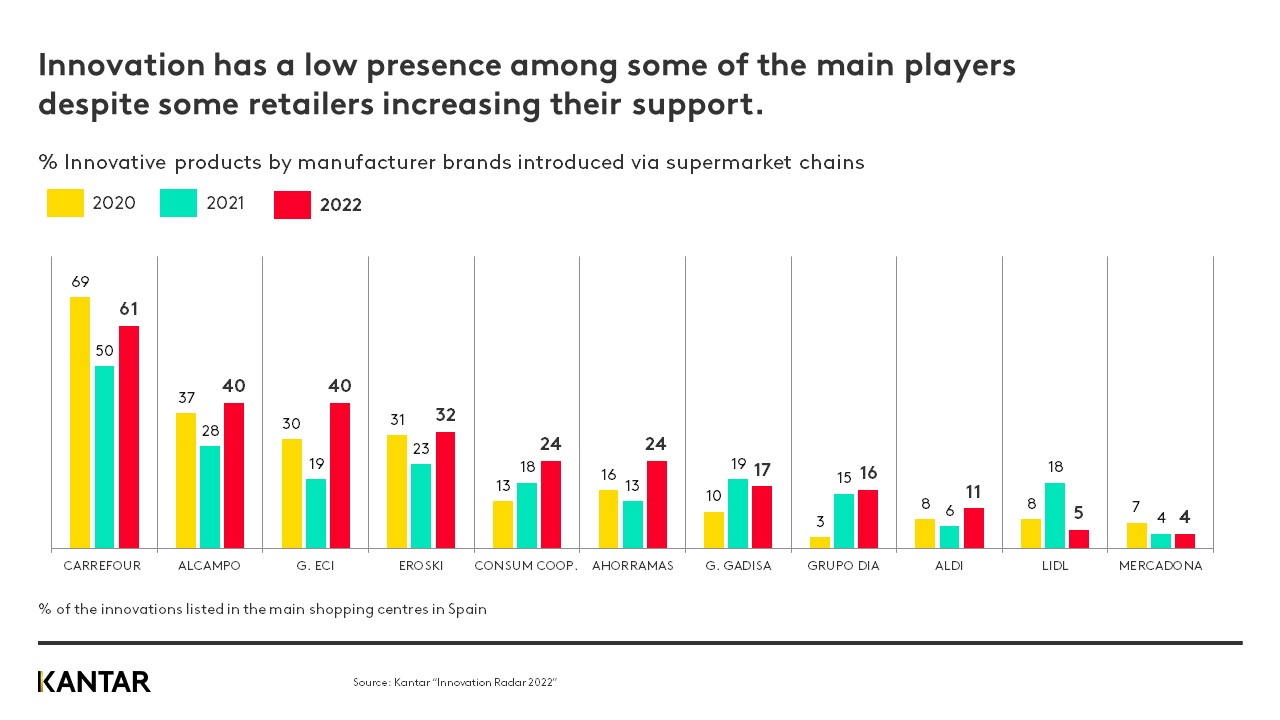 Innovation benefits all the food chain players and consumers. The positive effect of innovation on market growth is a huge incentive for manufacturer brands to continue to support innovation. However, for all this to be fully leveraged, it needs the support of intermediaries - i.e. the supermarkets – to stock the innovative products on their shelves.
Food dominates this year's top 10 innovations
Our Innovation Radar report shows that six of the ten most innovative products were in the food category and one was in beverages. The ranking is based on penetration and the repeat rate of innovation compared to the average in the category. Of these products, those aimed at delivering pleasure were the greatest drivers of growth.
Of the other three innovative products in the Top 10, 30% correspond to Home and Personal Care, a clear indication of the importance of innovation for this type of product, since it almost doubles their FMCG share (17%).
"Cruapán" - the bread-croissant from Bimbo - is the most innovative product, followed by Nestlé's "Jungly" cookie and chocolate bar product.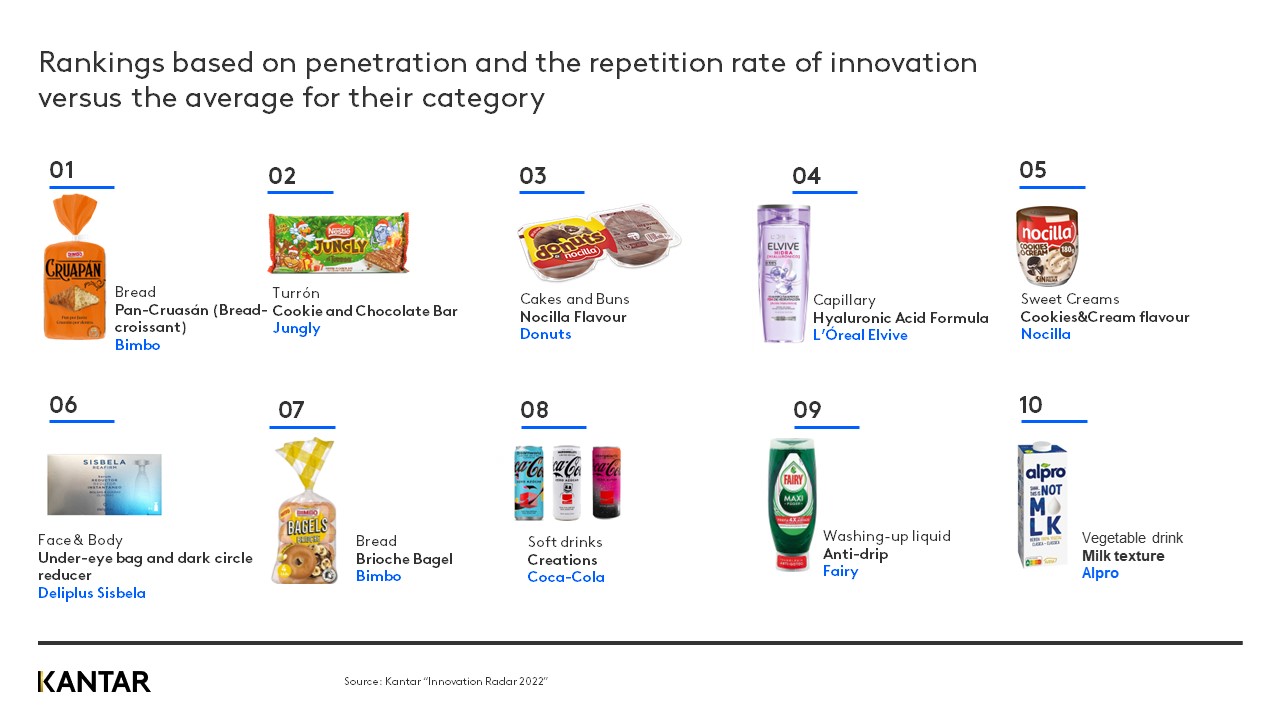 Novelty and meeting consumers' unmet needs are the keys to a successful innovation
The success of innovations depends largely on their degree of novelty and ability to cater to consumers' unmet needs. And it also relies on good distribution by the chains. Successful innovations had a 47% share, whereas the innovations that ultimately failed were only available in 16%.
Innovation – wanted by consumers, needed by the market
Innovation continues to be the best driving force for generating sustainable growth in the Spanish market, although it continues to languish at an all-time low. Despite the inflation crisis, there is still room for relevant innovation. Consumers want it and the market needs it. Manufacturers and distributors need to find ways to work together that lead to greater and better support for innovation.
Innovation is critical to the creation of value and employment. It affects brands, distributors, and consumers alike, and ultimately contributes to the Spanish economy. With the launch of innovations declining by 45% over the last three years, turning this negative trend into a positive will be near impossible without the support of the large supermarket chains.