The top 22 Fast Moving Consumer Goods (FMCG) companies in China added 82 million more consumers this year, despite the COVID-19 crisis. This indicates that trusted companies have emerged from the crisis stronger than before.
The latest data from Kantar Worldpanel shows that 22 FMCG companies all attracted over 100 million urban Chinese households during the 52 weeks ending 9 October 2020. Of these, Yili, P&G and Mengniu each attracted more than 160 million households. Yili group, who rose to the top spot for the first time, was chosen by 92.2% families in urban China.
In terms of growth rate, Shuanghui, Haday, PepsiCo, Master Kong and Wilmar are the top five risers, posting the fastest gains in consumers compared to the rest of the league.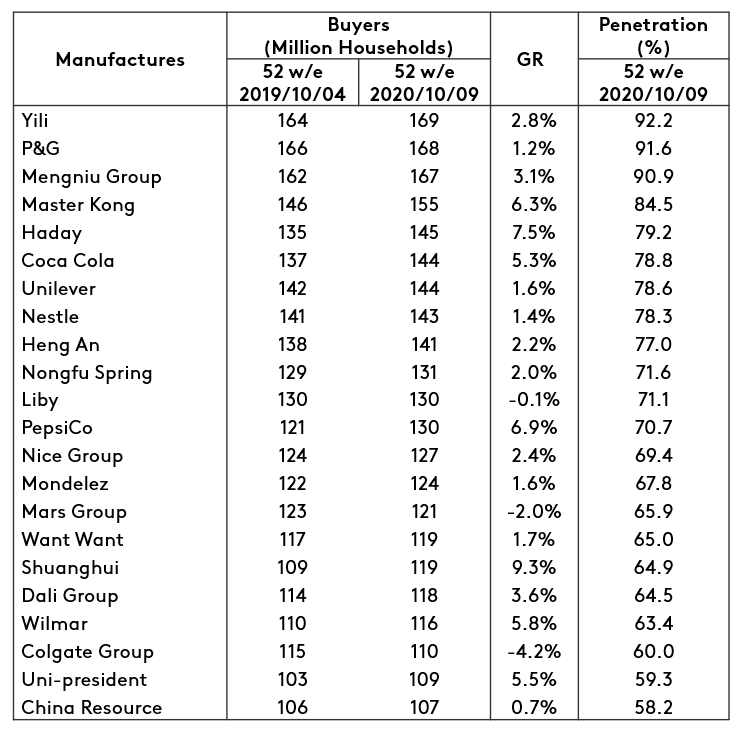 Despite challenges due to the pandemic, 19 out of the top 22 companies in China grew their shopper base, demonstrating there are ample growth opportunities for even the biggest players. The disruption caused by the pandemic has impacted different sectors, yet successful players have managed to respond rapidly to changes in consumption needs and shopping behaviour.
Riding the new waves of opportunities
COVID-19, the most unexpected factor in 2020, transformed the FMCG market dramatically. Dairy players, such as Yili and Mengniu group, have won more consumers because their products are well placed to take advantage of the increased importance people have put on health and immunity. With restrictions on travel and a lot of time spent at home, consumers in China enjoyed more home-cooking occasions. This has enabled seasoning and cooking aid category leaders, such as Haday and Wilmar, to thrive and grow faster.
Driven by the consumer need for convenience and stocking up, Shuanghui, Master Kong and Uni-President grew their customer base through packaged sausages/meat and instant noodles. On the non-food side, hygiene-conscious consumers are buying more cleaning-related products such as hand wash and anti-bacterial wipes to protect them from the virus.This trend also helped to boost buyers of P&G, Unilever and Hengan.
O2O – changing the game in offline retail
As the footfall to offline stores fell during and after the outbreak of the pandemic, 41% of Chinese families ordered FMCG through delivery platforms and retailers' own channels such as apps. Despite the decrease in penetration in Q3, O2O (online to offline delivery) still attracted 31% of families in China. O2O has played a critical role in recouping lost traffic in offline stores and tapping into the new growth 'moment'. All major players have been rallying to work with retailers to build their presence in the last 12 months, with Yili, Mengniu and P&G leading the pack.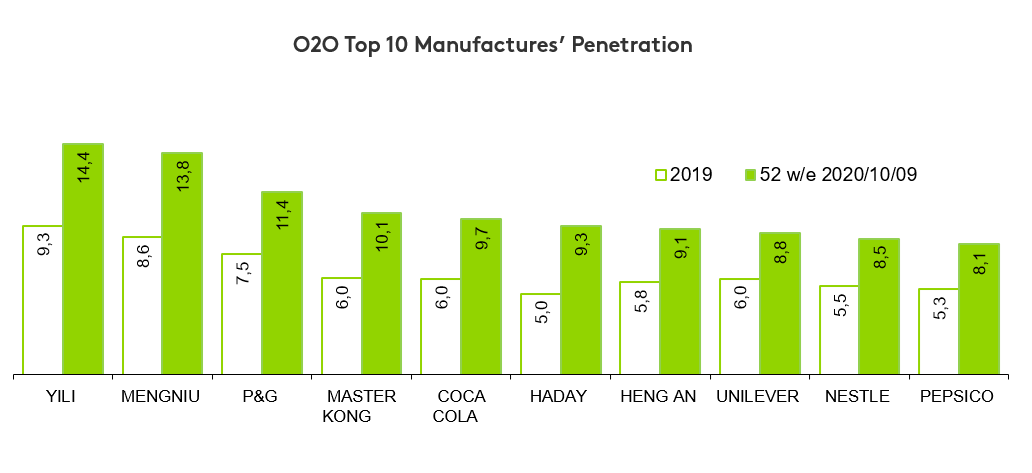 Ecommerce instrumental in attracting new shoppers
Pure-play ecommerce (excluding O2O) remained a major driver of FMCG growth in China. In the last 12 months, 85% of Chinese families bought FMCG through the ecommerce channel, almost 20% more than in the previous year. We know leading players can only sustain growth through wider and deeper ecommerce deployment. Yet there are still opportunities for expansion in the offline world. Shuanghui, a traditional food brand, attracted 4.6 million new buyers through ecommerce, but 8.9 million is coming from offline. In total, Shuanghui increased its consumer base by 10.1 million. This shows that shopper growth from offline channels is still far from saturated.
Market leaders such as P&G, Yili and Mengniu are all enjoying strong shopper growth through online channels, as they try to make their products more accessible to Chinese consumers. Yet all of them enjoyed incremental shopper gains, indicating that manufacturers will have to build an effective omni-channel strategy in order to maximise their growth.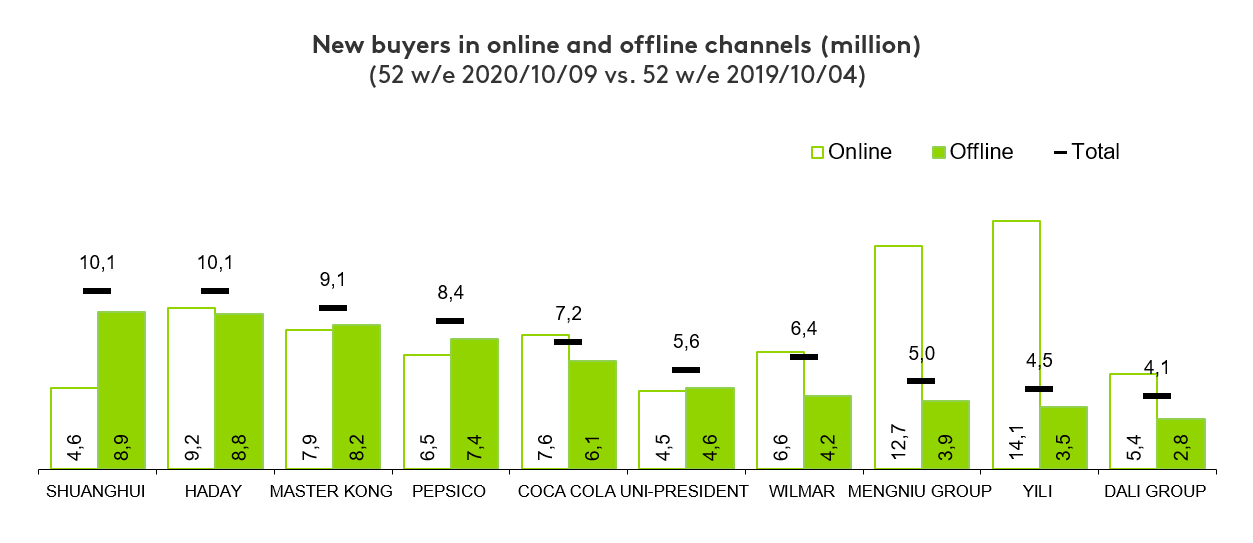 Unleash growth opportunities among lower-tier city consumers
Lower-tier cities in China were even more important as the overall FMCG market was hit by COVID-19. As consumers in lower-tier cities start to embrace short video and mobile commerce, more and more growth opportunities are emerging. Tier 3-5 cities saw a faster growth, growing by 2.7% in comparison to the smaller growth of tier 1-2 cities in the 52 weeks ending 9 October 2020. Among the top 22 companies, consumer gains in lower-tier cities accounted for 75% of their total buyer base expansion.
Master Kong, with over 80% penetration in total, still found room to grow its shopper base in lower cities to strengthen its position after the COVID-19 outbreak. Overall the company added 9.1 million more consumers, especially in counties. Similarly, Shuanghui also added 7.4 million households from lower-tier cities in the latest 52 weeks.