Mainland China's FMCG sector has demonstrated its resilience in 2022, with 3.6% year-on-year value growth for the first three quarters. In both Q2 and Q3, for the first time since 2020, this growth exceeded that of the country's GDP. Purchase volume was the big 'hero', rising 5.9% compared to the same period last year. Pandemic-fuelled stockpiling behaviours are the likely cause, with volume rising across all sectors.
Packaged food and home care continue to lead growth
Packaged food averaged 7.4% value growth in the first three quarters, with a 4.6% increase in volume and a 2.6% rise in average selling price (ASP). Home care saw a value increase of 6%, due to heightened health and hygiene concerns, driven largely by a 5.4% volume increase and 0.6% increase in ASP.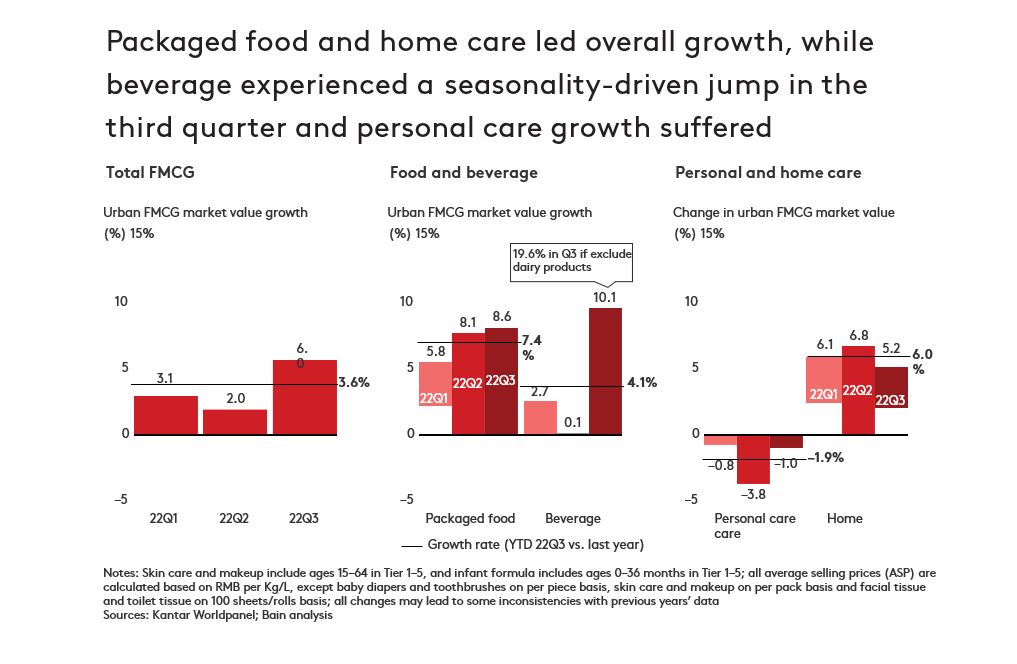 The beverages category also did well. Its 4.1% value rise was shaped by a volume increase of 7.2%, mitigating a decline in ASP of 3%. Pent-up demand following the lockdown was part of the equation, but so was the summer heatwave. In contrast, personal care dropped 1.9% in value, with a slight increase of 0.7% in volume and a 2.5% decline in ASP. Cosmetics categories drove this plunge, with COVID providing the push.
Ecommerce stagnates, O2O soars
The unpredictable nature of Mainland China's pandemic restrictions introduced new channel dynamics. Ecommerce grew at a similar pace as the overall FMCG market during the first three quarters, while smaller offline store formats and online-to-offline (O2O) commerce rode on COVID's tailwinds. In the third quarter, O2O saw 17% value growth compared to last year as consumers sought to stock up and meet instant needs while avoiding the fulfilment issues causing problems with online-only orders. Frozen food, toilet paper, and facial tissue were among the categories that saw huge growth in O2O penetration.
Interestingly, convenience stores and grocery stores also gained traction, growing 9% to reverse last year's non-existent growth trend, suggesting a change in consumer preferences. Pandemic-related disruption to transportation, along with concerns about the risk of exposure to the virus in large crowds, had consumers gravitating to the predictability, convenience and safety of shopping at nearby locations.
Average selling price continues deflationary trend
Despite inflation which stood at 2% in the first three quarters, ASP continued its downward trend for the third consecutive year. The 2.1% year-on-year drop is its steepest since 2020. Reactions to the decline differed by sector.
Only a few categories showed real ASP growth above inflation level, largely in the food and beverage and home care sectors due to pandemic-related consumer behaviour changes. Faced with rising costs, FMCG brands understandably pushed for price increases to manage their margins. However, how consumers reacted to these differed significantly.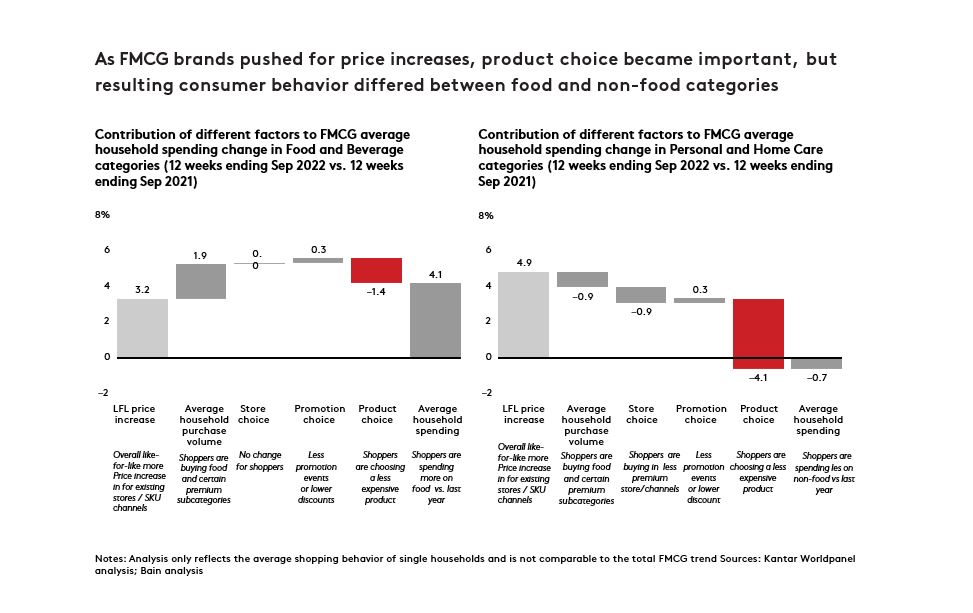 While seeking better value for money seems to be a common trend, food and beverages saw a volume increase as consumers stocked up on larger pack sizes. Personal care and home care, on the other hand, saw a shift toward less expensive products and channels.
Category and pricing patterns suggest consumers have learnt to cope with COVID
The four distinct trends we identified in 2020 as COVID erupted in Mainland China still largely prevail: premiumisation, trade up to mid-range, larger pack stock up, and flight to value. Consumers, particularly those from Tier 1 cities, continued to favour premium products in the carbonated soft drinks, beer, and fabric detergent categories due to the introduction of new formats and flavours. In the trade up to mid-range cohort, toothpaste, personal wash, and infant formula brands were strong players.
Consumers veered more towards larger pack stock-up during this year's COVID outbreaks than in previous years. Meanwhile, their preference for 'value-for-money' options rose with inflation: in skincare, for example, there was a notable shift towards buying more affordable products from local brands.
There are three ways FMCG brands can position themselves for success as they enter a volatile 2023.
Identify new growth engines: By thoroughly assessing market and consumer trends, they can expand into new geographies, enter or create new market segments, sell into new channels, and interact with consumers via new touchpoints.
Improve efficiency: Adopting a test-and-learn approach to continuously optimise marketing effectiveness, while dynamically adjusting pricing, assortment, packs, and promotion.
Plan for uncertainty: Scenario planning can help them make the right moves, and develop contingency plans for different events based on signposts and triggers.
Retailers, on the other hand, should consider the following actions:
Transform business models with a balanced score card: Shifting focus from gross merchandise value (GMV) and topline growth to sustainable operations and profit margin.
Improve loyalty with distinct shopper experiences: Focusing on core consumer segments and providing differentiated services and consumer engagement across multiple channels.
Build differentiation with exclusive assortment: Establishing a differentiated portfolio, using private label or exclusive products to help draw traffic and attract new consumers. 2023 is likely to remain volatile, with a continuation of some of the trends we have witnessed in 2022. However, the gradual relaxation of COVID restrictions is bringing back some consumer confidence, while both brands and shoppers have adapted well to changing circumstances. If FMCG companies can keep their fingers on the pulse of consumer needs and remain nimble, they can chart a path towards a healthy performance.
The insights in this article come from joint research carried out by Kantar Worldpanel Greater China and Bain & Company. Download the 11th annual China Shopper Report Vol. 2 below.